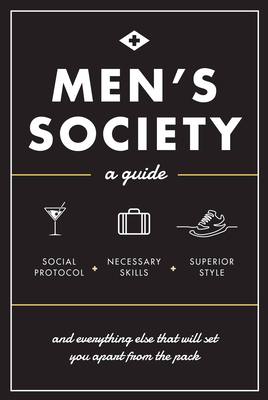 Men's Society (Hardcover)
Guide to Social Protocol, Necessary Skills, Superior Style, and Everything Else That Will Set You Apart From The Pack
Rock Point, 9781631064432, 152pp.
Publication Date: May 8, 2018
* Individual store prices may vary.
Description
In the complicated modern world, not every man is born with those necessary things he should know or have. Let the minds behind the successful Men's Society brand instruct you in everything about being a man that they forgot to teach you in school.
With the 
Men's Society
, you'll learn the skills that every man needs to impress those around him and stand out from a crowd. Whether you want to mix a martini, build a campfire, or pack the perfect outfit for a weekend getaway, this collection of must-know skills will make you the impressive specimen that everyone wants to be around.
Other skills taught in this book include:
Basic knowledge of wine, beer, and liquor
How to get what you want from a barber, and fix your hair and beard if you don't
How to avoid, withstand, and cure a hangover
How to deescalate a fight before it starts
Important books, films, and musicians to know in order to impress a date
Six things every man should do with his hands, including cook an omelet, build a fire, and more.
About the Author
Men's Society is an award-winning destination for men's style and quality gifts. They believe every item they sell and make should be as good looking as it is good quality, and work hard to source the most excellent items; unusual, quirky classics which delight and do not date, but rather improve with age and use.
 
Founders Hugo and Bella Middleton have worked hard to curate a selection of men's gifts which they both believe fit their strict criteria of quality and style.  Started in 2012 in London, they have slowly established Men's Society as one of the leading independent men's gift suppliers in Europe, selling their curated range of brands and products to the best concept stores, independents and department stores worldwide, including Liberty's, Selfridges, Harrods and Bon Marche, as well as great Independent stores like Franc et Fils and Home Autour du Monde.