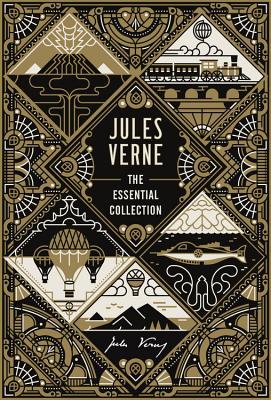 Jules Verne (Hardcover)
The Essential Collection (Knickerbocker Classics)
Race Point Publishing, 9781631065026, 728pp.
Publication Date: April 17, 2018
Other Editions of This Title:
Hardcover (8/1/2011)
* Individual store prices may vary.
Description
This superb collection of classic science fiction features the best of Jules Verne's epic adventure stories, including Five Weeks in a Balloon (1863), A Journey to the Center of the Earth (1864), From the Earth to the Moon (1865), Twenty Thousand Leagues Under the Sea (1870), and Around the World in Eighty Days (1873).

Often called the "father of science fiction," Verne was a masterful storyteller and visionary, anticipating such technological marvels as the submarine and skyscraper. For nearly 150 years, his unusual characters, outlandish plots, and vivid descriptions have captivated readers, and now they are available--complete and unabridged--in this gorgeous slipcase edition.

The stylish clothbound hardcover also features a ribbon marker, historical timeline, and comprehensive introduction, enlightening the reader on the author's life and works.
About the Author
Jules Verne (1828-1905) was a French novelist and playwright best known for his epic adventures, including Twenty Thousand Leagues under the Sea, Journey to the Center of the Earth, and Around the World in Eighty Days. A true visionary and master storyteller, Verne foresaw the skyscraper, the submarine, and the airplane, among many other inventions, and he is often regarded as the "Father of Science Fiction."
Allen Grove is a Professor and Chair of the English Department at Alfred University. He holds a PhD in English from the University of Pennsylvania and his research and teaching focus primarily on eighteenth-, nineteenth-, and early twentieth-century British fiction.