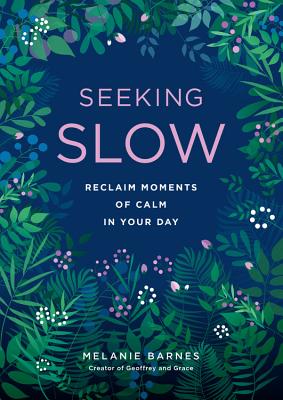 Seeking Slow (Hardcover)
Reclaim Moments of Calm in Your Day
Rock Point, 9781631066306, 128pp.
Publication Date: September 24, 2019
* Individual store prices may vary.
Description
Are you being consumed by never-ending to-do lists? Are you working harder and enjoying less? Seeking Slow provides simple ways for you to slow down and reconnect with yourself, your family, and your surroundings—while finding joy in doing so.

If daily life feels too busy and hectic, it's time to discover the beauty of slow living. Being fully present and intentional with your time allows you to embrace the wholehearted moments that are right in front of you every day. Take time to consider what your slow moments are, whether that is heading outdoors for a walk with family, learning to meditate, taking up a new craft, reading a book, or simply taking a long deep breath during a busy day. This soothing book includes helpful insights into:
Managing your time
Learning to nurture yourself
Making a slow home
Seasonal living
Living sustainably
Meditation and mindful living
Daily slow-living rituals
Feel your heart rate drop as you read this gentle guide to slowing down.
About the Author
Melanie Barnes is the writer and photographer behind the blog Geoffrey and Grace—a home for slow and simple living. With more than fifteen years' experience in movement and well-being, she is a trained yogi, meditation teacher, and massage therapist. She has always been guided by her body and is always looking for ways to be present and truly connected. Becoming a mother inspired her to look at her life and purpose, which is when she discovered slow living.

She shares advice on slow and simple living via her blog, ebooks, and slow-living retreats, and her work has been featured in the magazines Project Calm, Reclaimed, Country Home & Interiors, and Simple Things . She has collaborated with a number of well-known international brands, including The Linen Works, Smart Energy GB, 20th Century Fox, Jordans, Toast, Vitabiotics, and Denby.

Melanie lives by the sea in Sussex in the UK with her husband, daughter, and, cat, Juniper. She shares their slow moments on her Instagram account (@geoffreyandgrace), which has over 30,000 followers.