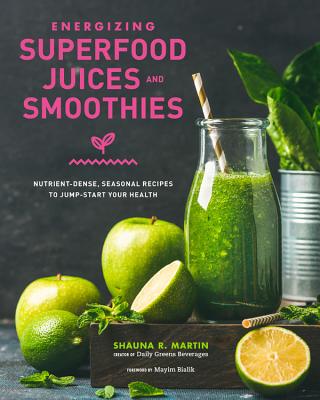 Energizing Superfood Juices and Smoothies (Hardcover)
Nutrient-Dense, Seasonal Recipes to Jump-Start Your Health
Rock Point, 9781631066429, 128pp.
Publication Date: December 24, 2019
* Individual store prices may vary.
Description
Are you craving junk foods? Feeling sluggish and tired all the time? Fueling yourself on caffeine and sugar? Then it's time to incorporate some Energizing Superfood Juices and Smoothiesâ?? into your day. Jump-start your body with superfoods in the form of juices, smoothies, and meals, with vegetables and fruits selected to coincide with fresh, delicious, seasonal produce.

With over 40 unique and delicious combinations of vegetables, fruits, herbs, and spices, you can make these yummy green juices and smoothies right in your own kitchen, anytime you want. And if you want to keep the green goodness going, there are more than 25 tasty vegetarian meal recipes included. Plus, the convenient, seasonal shopping lists will never have you overbuying produce that can go to waste.

So, if you're ready to reset your body, lose weight, or just give yourself a much-needed energy boost, Energizing Superfood Juices and Smoothiesâ?? has exactly what you need. With a foreword by author and Emmy-nominated star of The Big Bang Theory Mayim Bialik.
 
About the Author
At the age of 33, Shauna R. Martin was diagnosed with breast cancer. With a very young family to care for, Shauna had an extremely difficult time recovering from multiple surgeries and chemotherapy. The effect on her body was toxic, and she began eating raw fruits and vegetables and drinking a green juice every single day to promote her health and well-being. Eight years later, Shauna is still cancer-free, and she credits her recovery from breast cancer, in part, to her current healthy lifestyle which includes a regiment of drinking green juice every day. Shauna started Pink Ribbon Cowgirls for young cancer survivors, and a portion of Daily Greens sales are set aside to grant funding to groups that support young women with cancer. She started her company, Daily Greens, in 2012, and her juice line can be found in Whole Foods, Natural Grocers, and health food stores all across the country.
Mayim Hoya Bialik is best known for her lead role as Blossom Russo in the early-1990s NBC television sitcom Blossom. She currently plays the role of Amy Farrah Fowler on the hit CBS comedy The Big Bang Theory, a role for which she has received 3 consecutive Emmy nominations. After Blossom, Bialik took a break from acting to earn a BS and PhD in Neuroscience from UCLA. She is the author of Beyond the Sling (2012) and Mayim's Vegan Table (2014).