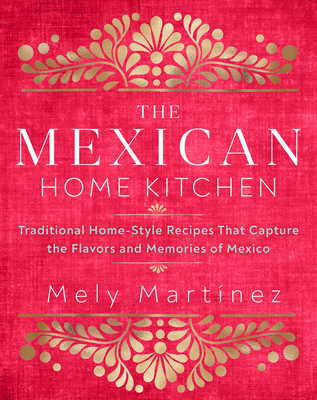 The Mexican Home Kitchen
Traditional Home-Style Recipes That Capture the Flavors and Memories of Mexico
Hardcover

* Individual store prices may vary.
Description
The long-awaited, best-selling cookbook from Mely Martínez, The Mexican Home Kitchen, compiles the traditional home-style dishes enjoyed every day in Mexican households, with influences from states like Tamaulipas, Nuevo León, Veracruz, Puebla, Estado de México, and Yucatán.
*As featured in The New York Times, New York Magazine, People Magazine, The Smithsonian Magazine, Eater, Epicurious, Chowhound, The Kitchn, Prevention, and Taste of Home*
Illustrated with stunning photography, this book includes recipes for stews, soups, and side dishes, along with famous dishes like mole, enchiladas, picadillo, and milanesa, and is rounded out with delicious salsas, drinks, and desserts.
For Mely Martínez, Mexican cooking has always been about family, community, and tradition. Born and raised in Tampico, Mely started helping in the kitchen at a very young age, since she was the oldest daughter of eight children, and spent summers at her grandmother's farm in the state of Veracruz, where part of the daily activities included helping grind the corn to make masa.
Mely started her popular blog, Mexico in My Kitchen, to share the recipes and memories of her home so that her son can someday recreate and share these dishes with his own family. In the meantime, it has become the go-to source for those looking for authentic home-style Mexican cooking.
Recreate these favorite comfort foods using inexpensive, easy-to-find ingredients:
Caldo de Pollo (Mexican chicken soup)
Tacos de Bistec (steak tacos)
Carnitas (tender, crispy pork)
Albondigas (Mexican meatballs)
Tamales (both savory and sweet)
Enchiladas (both red and green sauces)
Mole Poblano (one of the most classic and popular moles)
Nopales (recipes made with cactus paddles)
Empanadas (beef and cheese filled)
Chiles Rellenos (stuffed and fried poblano peppers)
Pozole (both red and green versions)
Camarones en Chipotle (deviled shrimp)
Salsa Taquera (salsa for tacos)
Pastel de Tres Leches (a luscious and moist cake that's a Mexican favorite)
Buñuelos (crispy dough fritters coated in sugar)
Aguas Frescas (horchata, hibiscus, and tamarind flavors)
and much more!
Complete with
easy-to-follow instructions
,
beautiful images
, and
stories from Mexico
, along with
recipes for making corn and flour tortillas
and
tips for stocking your pantry
,
The Mexican Home Kitchen
will have you enjoying this delicious cooking right in your own home.
Praise For The Mexican Home Kitchen: Traditional Home-Style Recipes That Capture the Flavors and Memories of Mexico…
"This book takes me back to my own mother's cooking, touching my corazón Mexicano. From the northern region's flour tortilla to the south's complex and elegant mole, this book offers it all, beautifully laid out and with easy-to-follow recipes. A real standout in the world of Mexican cookbooks."—Silvana Salcido Esparza, James Beard Award nominated chef and owner of Barrio Cafe

"I have always admired the culinary work of Mely, her passion for food, and the love she has for the Mexican gastronomy. This book will touch hearts with every one of its recipes, filled with stories, traditions, and a burst of Mexican flavor."—Omar Sandoval, chef, TV personality, author, and founder of the Sacchi Academy of Culinary Arts

"Mely's book is filled with memories that capture the essence of Mexican home cooking. Its recipes are the ones that I was brought up with, and are a fundamental part of our culture."—Adrian Herrera, chef, judge of MasterChef Mexico, owner of Fonda San Francisco and Paso Del Norte

"Mely's way of understanding Mexican home cooking manages to transmit the culinary heritage of our Mexico, and exalts it with both simplicity and sophistication. There is no doubt that with her recipes, we can taste the Mexican identity."—Lula Martin del Campo, chef, author, and owner of Cascabel restaurant
Rock Point, 9781631066931, 192pp.
Publication Date: September 15, 2020
About the Author
Mely Martínez started her blog, Mexico in My Kitchen, in 2008 for her teenage son, hoping that someday he will use it to recreate the Mexican food his mom made for the family. Mely was born and raised in the city of Tampico, Tamaulipas, and started helping in the kitchen at a very young age, since she was the oldest daughter of eight children. She and her siblings spent summers at her grandmother's farm in the state of Veracruz, where part of the daily activities included helping to grind corn for making masa and gathering firewood for the woodburning stove. At the age of twenty, Mely moved to southern Mexico, where she worked as a teacher. This job gave her the opportunity to travel to all the states in the Yucatán Peninsula, and enjoy their excellent and unique cuisine. Throughout the years, she lived in other states in Mexico, and has traveled to most of them. By now, she had moved more than twenty times! Mely enjoys cooking classic meals that are eaten every day in Mexico, and sharing them with her followers around the world. Her recipes are created from knowledge gained throughout her studies, travels, and life experiences. She lives in Dallas, Texas.
.