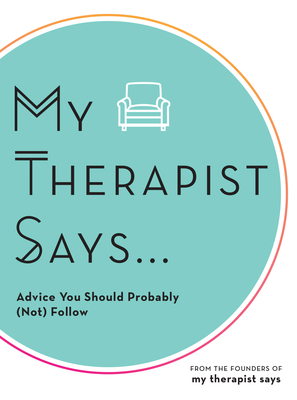 My Therapist Says (Hardcover)
Advice You Should Probably (Not) Follow
Rock Point, 9781631067372, 256pp.
Publication Date: September 29, 2020
* Individual store prices may vary.
Description
From the team behind the super-popular Instagram @MyTherapistSays comes this humorous guide that chronicles the exhausting task of navigating the daily, anxiety-ridden struggle that we fondly call life. Including hilarious memes MTS is known and loved for, along with checklists, prompts, questions from readers, and more. My Therapist Says is the guide you need to achieve your goals, one wrong turn at a time. 

Have you ever wanted something, pursued it (albeit not quite as gracefully as you would've hoped), failed, and then genuinely asked yourself the question, "Am I delusional?" Well, that's how I began penning this magnum opus. Like the Buddhist's have their Tripitaka, you have . . . moi. And my therapist, though it's unlikely she'll admit this in public. On the receiving end of one ghosting session? Needing a way to leave a work function without looking like a buzzkill? Having a hard time developing amnesia about your last relationship? Fear not, as I cover everything from circumstantial etiquette to blissful delusion when necessary.

So, grab a pen, a box of tissues, a glass of wine, and your bestie, because sh*t is about to get real. And remember, be yourself, be kind, and all that jazz, unless you're a Susan*. If that's the case, try to be literally anyone else. Ugh, my therapist hates that I wrote that.

*Susan: Noun and verb. Unpleasant, annoying, and delusional, the Susan is somebody who is literally awful in every way, is liked by no one, but has no clue, no matter how many open clues you give her. If you roll your eyes at this, you're probably a Susan. Uses: Susaning, Susanism.

 
About the Author
What started as a group chat of four girlfriends sharing hilarious memes turned into the super-popular Instagram @MyTherapistSays. Within a few months, My Therapist Says amassed a large following of millennials who related to what the girls had to say and their sense of humor, through original memes about struggles with anxiety, growing up in the social media generation, and figuring your life out in general.

Having grown so quickly and found a following worldwide, My Therapist Says turned into a real familial community where people from all walks of life came to share their stories and feel that they were not alone. It has now grown into something bigger than anything they could have imagined with almost five million followers. But the message has always stayed the same: no matter who you are, dealing with all the tribulations of life, you're never alone and never as "crazy" as you think.