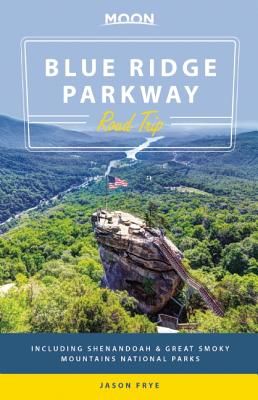 Moon Blue Ridge Parkway Road Trip (Paperback)
Including Shenandoah & Great Smoky Mountains National Parks (Moon Handbooks)
Moon Travel, 9781631210310, 360pp.
Publication Date: May 26, 2015
Description
Hit the Road with Moon Travel Guides
The Blue Ridge Parkway connects the green valleys of Shenandoah National Park to the Great Smoky Mountains. Drive America's most scenic highway with
Moon Blue Ridge Parkway Road Trip
. Inside you'll find:
Maps and Driving Tools 29 easy-to-use maps keep you oriented on and off the highway, along with site-to-site mileage, driving times, and detailed directions for the entire route
Eat, Sleep, Stop and Explore: You'll know exactly what you want to do at each stop with lists of the best hikes, views, and more. Listen to live bluegrass with a glass of local moonshine, drive past fields brimming with fireflies, and wander through American history
Itineraries for Every Traveler: Drive the entire two-week route or follow strategic routes like "Music of the Blue Ridge," as well as suggestions for spending time in in Washington DC, Front Royal, Waynesboro, Roanoke, Galax, Asheville, Cherokee, and Knoxville
Local Expert: North Carolinian and mountaineer Jason Frye shares his love of the Great Smoky Mountains (and where to find the best barbecue )
Planning Your Trip: Know when and where to get gas, how to avoid traffic, tips for driving in different road and weather conditions, and suggestions for LGBTQ travelers, seniors, and road trippers with kids
With Moon Blue Ridge Parkway Road Trip's practical tips, detailed itineraries, and insider's view, you're ready to fill up the tank and hit the road.
Looking to explore more of America on wheels? Try
Moon Nashville to New Orleans Road Tri
p Doing more than driving through? Check out
Moon Blue Ridge & Smoky Mountains
or
Moon North Carolina
.
About the Author
Though Jason Frye calls the coast of North Carolina home, his heart is with the mountains. Born and raised in the rugged Appalachian foothills in southern West Virginia, he developed an affinity for hiking and exploring the woods, coves, and hollows of the hills. His family vacationed in the Great Smoky Mountains National Park, deepening his love for this landscape with each visit. Jason first encountered the Blue Ridge Parkway on a dark night, en route to the beach, when his family briefly followed this two-lane ribbon of highway across the Virginia mountains. Though the detour onto the Parkway lasted less than an hour, he knew he wanted to explore it further. In his 20s, he followed the Blue Ridge Parkway through Virginia, even continuing onto Skyline Drive for an X-Files-inspired road trip. When he moved to North Carolina, he discovered the beauty of the southern end of this drive. To this day, he takes the Blue Ridge Parkway any time he gets the chance. Jason is the author of two Moon guidebooks Moon North Carolina and Moon North Carolina Coast. He also contributes to Salt magazine, AAA Go!, Our State and Our State Eats food blog, the Wilmington Star News, where he is a features contributor and dining critic, the Raleigh News and Observer, the Charlotte Observer, the blog of Virgin Atlantic Airlines, and a number of other print and online publications.
Advertisement