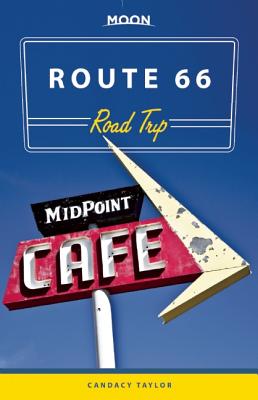 Moon Route 66 Road Trip (Travel Guide) (Paperback)
Moon Travel, 9781631210716, 352pp.
Publication Date: May 3, 2016
* Individual store prices may vary.
Description
Hit the Road with Moon Travel Guides!

Moon Route 66 Road Trip reveals the best of this iconic highway, from sweeping prairies and red rock mountains to the glittering Pacific. Inside you'll find:
Maps and Driving Tools: 37 easy-to-use maps keep you oriented on and off the highway, along with site-to-site mileage, driving times, and detailed directions for the entire route
Eat, Sleep, Stop and Explore: You'll know exactly what you want to do at each stop with lists of the best hikes, views, and more. Wander transcendent landscapes like Acoma Pueblo or Joshua tree. Immerse yourself in classic Americana with roadside attractions, outsider art, and kitsch masterpieces. Explore metropolitan icons like Los Angeles or Chicago, or stop for a drink at an authentic soda fountain
Itineraries for Every Traveler: Drive the entire original route in two weeks, or follow strategic routes for one- to two-days in Chicago, Los Angeles, St. Louis, Santa Fe, and the Grand Canyon, plus side trips to Taos, Las Vegas, Joshua Tree, and Santa Monica
Expert Perspective: Historian and Route 66 connoisseur Candacy Taylor provides critical insight into the history of the "Mother Road," including the women of Route 66, car culture, and the untold stories of the Green Book, which enabled African Americans to travel west safely
Planning Your Trip: Know when and where to get gas, how to avoid traffic, tips for driving in different road and weather conditions, and suggestions for LGBTQ travelers, seniors, and road trippers with kids
With Moon Route 66 Road Trip's practical tips, detailed itineraries, and insider's view, you're ready to fill up the tank and hit the road.Looking to explore more of America on wheels? Try Moon California Road Trip! Doing more than driving through? Check out Moon Grand Canyon, Moon New Mexico, or Moon Utah.
About the Author
Candacy Taylor is an award-winning author, cultural critic and photographer with a master's degree in visual criticism. She started driving Route 66 more than 20 years ago and fell in love with the Mother Road while researching her book, Counter Culture: The American Coffee Shop Waitress.

Taylor has traveled more than 300,000 miles documenting stories about American culture and identity and has a deep respect for hospitality industry workers because she worked in hotels and restaurants for 12 years. She has lived in every region of the country, eaten in over 8,000 restaurants and stayed in more than 4,000 hotels. Some of her best memories touring Route 66 are walking through the historic La Posada Harvey House in Winslow, Arizona, eating green chile enchiladas at Tia Sophia's in Santa Fe, going to the Sno-Cap in Seligman, AZ and listening to Angel Delgadillo tell stories about Route 66.

Her work has been featured by more than 30 major outlets, including the New Yorker, Wall Street Journal, the Guardian, The Library of Congress, Photographer's Forum, Rachael Ray, PBS, the CBC, BBC and NPR. Her exhibit based on Counter Culture made Southwest Airlines' top-ten list of things to see in America, and ABC optioned the book for a television series. She currently lives in Los Angeles.