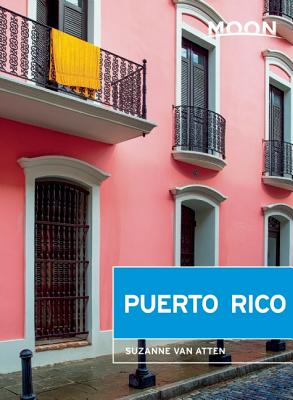 Moon Puerto Rico (Moon Handbooks) (Paperback)
Moon Travel, 9781631210907, 360pp.
Publication Date: September 22, 2015
* Individual store prices may vary.
Description
Relax beneath swaying palm trees, kayak through bioluminescent bays, or dance the night away to the sounds of salsa: Experience the Island of Enchantment with Moon Puerto Rico. Inside you'll find:
Flexible itineraries ranging from the best of Puerto Rico in one week to one day in San Juan, including day trips to Piñones, Río Grande, Luqillo, and more
Strategic advice for beach-lovers, adventure travelers, honeymooners, wellness-seekers, and more
The best spots for outdoor adventures like ziplining, kayaking, and spelunking, and the best beaches for surfing, swimming, snorkeling, and diving
Top activities and unique experiences: Visit a historic coffee hacienda during harvest season, or hop over to the secluded, romantic island of Culebra. Go ziplining in the lush jungle, hike through cloud forests, explore vast underground caves, or learn how to surf. Shop for hand-rolled cigars along San Juan's cobblestone streets, and savor a traditional lunch of mofongo. Spot iguanas on the wild island of Mona, visit ancient ceremonial bateyes, and learn about Puerto Rico's indigenous Taíno communities. Enjoy an al fresco dinner in the warm tropical breeze, and dance to bomba as the sun sets over the ocean
Insight from Puerto Rico expert Suzanne Van Atten on how to experience Puerto Rico like an insider, support local businesses, avoid crowds, and respectfully engage with the culture
Full-color photos and detailed maps throughout
Background information on Puerto Rico's landscape, history, and cultural customs
Handy tools including a Spanish phrasebook, packing suggestions, and travel tips for families with kids, seniors, disabled travelers, and LGBTQ travelers
With Moon's practical tips and local know-how, you can experience Puerto Rico your way.
Craving more tropical adventures? Check out
Moon Bermuda, Moon Belize,
or
Moon Dominican Republic
.
About the Author
Suzanne Van Atten has written about destinations throughout the United States, Mexico, South America, the Caribbean, and Europe. She has barhopped in Barcelona, slept in a Jesuit monastery on the Amalfi coast, crewed a hot air balloon in New Mexico, gone white-water rafting in Tennessee, and gotten lost too many times to count.
Amidst all these travels, she always returns to Puerto Rico, a place she fell in love with when she lived there as a teenager. The country's rich culture, postcard-perfect beaches, lush tropical jungle, cobblestone streets, pastel colors, lively music, and the joie de vivre of its people colluded to seduce her. No matter how many times she returns, she always discovers something new and delightful.
Suzanne is a creative writing instructor, an editor for the Atlanta Journal-Constitution, and a Pushcart Prize-nominated essayist who's been published in the Gettysburg Review, The Chattahoochee Review, and Full Grown People.