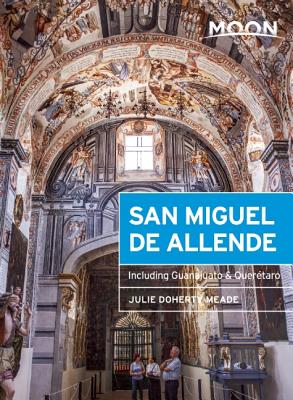 Moon San Miguel de Allende: Including Guanajuato & Queretaro (Paperback)
Including Guanajuato & Queretaro
Moon Travel, 9781631211591, 296pp.
Publication Date: February 23, 2016
Description
Professional writer and longtime Mexico resident Julie Doherty Meade offers up the inside scoop on San Miguel de Allende, from Queretaro to Guanajuato. Doherty also provides original trip itinerary ideas, including "Art Lover's Tour," and "Desert Chill." Complete with tips on the best museums, historic sights, shopping, and food in the region, Moon San Miguel de Allende gives travelers the tools they need to create a more personal and memorable experience.
About the Author
Julie Doherty Meade was born in San Francisco, California. She grew up in Marin County, and spent her childhood hiking, camping, skiing, and traveling throughout the Golden State. After graduating from Stanford University, she took her first trip to Mexico, where she was immediately drawn to the country's warm people and fascinating culture. The following year, Julie returned to Mexico and decided to extend her stay indefinitely. For almost ten years, Julie lived, worked, and traveled throughout Mexico, perfecting her Spanish and learning to distinguish between the flavors of different chili peppers. She saw Zapatista leader Subcomandante Marcos speak to a crowd in San Cristobal de las Casas, scaled pyramids in the southern state of Oaxaca, and taught English to five-year-olds in Mexico City before she settled down in San Miguel de Allende. During her years in San Miguel, Julie became intimately acquainted with the region's multicultural community, lively local art scene, and vivid history. In the meantime, she supported her nomadic lifestyle by working as a freelance writer, translator, artist, and graphic designer for various companies in Mexico and the United States. Julie lives in Brooklyn, New York with her husband, Arturo, and her transplanted chihuahua, Tequila. She spends a good deal of her free time trying to replicate traditional Mexican recipes in her tiny urban kitchen.
Advertisement