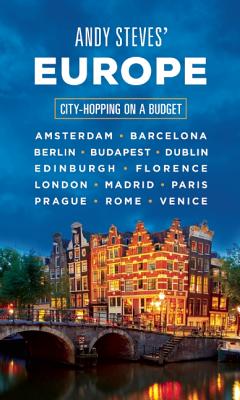 Andy Steves' Europe: City-Hopping on a Budget (Paperback)
City-Hopping on a Budget
Rick Steves, 9781631212505, 376pp.
Publication Date: June 7, 2016
Description
Pick a Weekend, Pick a City, and Go Andy Steves' travel guide picks up where crowdsourcing leaves off, covering the skills you need for spur-of-the-moment trips to Europe's top destinations. Follow three-day plans to explore each city. Learn which cities match your interests and which can be easily combined for a longer trip, including itineraries for Amsterdam, Barcelona, Berlin, Budapest, Dublin, Edinburgh, Florence, London, Madrid, Paris, Prague, Rome, and Venice. See iconic sights. Check the Eiffel Tower, the London Eye, and the Colosseum off your bucket list, and use Andy's tips to save time and skip lines. Hit the local hot spots. Chill at Amsterdam's coffee shops, study mixology at London's speakeasies, and bust moves at Barcelona's beach clubs. Enjoy the best and cheapest local cuisine. Graze at boulangeries in Paris, pubs in Dublin, and aperitivo bars in Rome. Become a temporary local. Engage with the culture to enjoy authentic, unforgettable experiences. Master digital travel. Make the most of your money in Europe with apps and other digital resources. Connect with other travelers. Head to the most popular hostels for a ready-made, real-life social network. Whether you're studying abroad or just looking to explore Europe without breaking the bank, Andy Steves' Europe will have you city-hopping like a pro.
About the Author
Andy Steves was born into a traveling family, heading to Europe each year while his father, Rick Steves, updated his guidebooks, made TV shows, and researched new tours. His father's passion for travel, in-depth cultural experiences, and efficient, affordable travel rubbed off on Andy during these family trips each year once he graduated from the stroller. A semester abroad during his undergrad at the University of Notre Dame opened his eyes to the fascinating world of independent, budget travel and the need for the next generation of travel tips and tricks became painfully clear to him. Upon winning Notre Dame's annual business plan competition with an idea for a student tour company, Andy launched Weekend Student Adventures in 2010 and now has guides and itineraries all across Europe.
Advertisement