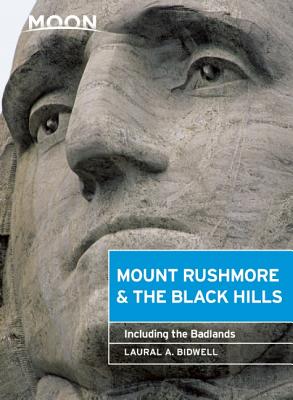 Moon Mount Rushmore & the Black Hills (Paperback)
Including the Badlands
Moon Travel, 9781631212741, 272pp.
Publication Date: April 26, 2016
Description
Moon Travel Guides: Find Your Adventure
One of America's most famous monuments rises amid breathtaking natural beauty. Experience the open skies of the Badlands and rolling prairies of the West with
Moon Mount Rushmore & The Black Hills.
Itineraries for every timeline and budget, tailored for adventure seekers, families, history buffs, art collectors, road-trippers, and more
Recommendations for outdoor recreation, including hiking, climbing, fishing, backpacking, and more, plus essential packing tips and health and safety information
The top activities and unique ideas for exploring: Say hi to the carved granite faces of the presidents, then hike red rock canyons and hills covered in ponderosa pine. Spot bison, elk, and mountain goats, and see wild horses roaming the grassy flatlands. Test yourself by climbing the tallest peak east of the Rockies, or get your adrenaline going at a local rodeo. Visit galleries, museums, and historic sites to learn about Lakota history. Soak in local hot springs, pan for gold, or enjoy the solitude of the prairie and sleep under a field of stars.
Valuable insight from seasoned explorer and local expert Laural A. Bidwell
Respectfully connect with Native American culture with tips on visiting the Crazy Horse Memorial and how to attend a powwow
Up-to-date information on park fees, passes, directions, and reservations to Mount Rushmore, Badlands National Park, Custer State Park, Wind Cave National Park
Full-color, vibrant photos and detailed maps throughout
Coverage of gateway cities and towns, including Rapid City, Hill City, and Keystone
Honest advice for families, seniors, international visitors, travelers with disabilities, and traveling with pets
Thorough background on the wildlife, terrain, culture, and history
With Moon Mount Rushmore & The Black Hills, you can plan your trip your way.
Craving more of the great outdoors? Check out
Moon Zion & Bryce
or
Moon Yellowstone & Grand Teton.
About the Author
Laural A. Bidwell grew up in Connecticut but left the rolling hills of the East years ago for the wide-open spaces of the American West. She first lived in Colorado Springs, then moved on to Denver before finally finding her home in the Black Hills of South Dakota. Like many, Laural discovered South Dakota more by accident than on purpose: on a rambling road trip, drifting north and east across the plains, she glanced at her map and realized she was within an hour of South Dakota, a state she'd never before visited. She decided to head for the border town of Ardmore to get gas and stay the night. Ardmore had (and still has) a population of four. There was no gas station. There was no place to stay. The dot on the map was larger than the town. Low on gas, she forged on to the next town on the map--Hot Springs--where she got gas, found a place to stay, and discovered the Black Hills. It was love at first sight: from the prairie grasslands and rolling hills of the south to the otherworldly badlands of the east to the craggy peaks and granite spires of the north, the Black Hills offer an amazing diversity of outdoor opportunities and scenic beauty. Now living in Hot Springs and playing in the beautiful Black Hills, Laural still enjoys road trips, as well as writing and spending time with her husband, Jim; her golden retrievers, Willow and Maverick; and her cat, Spike.
Advertisement