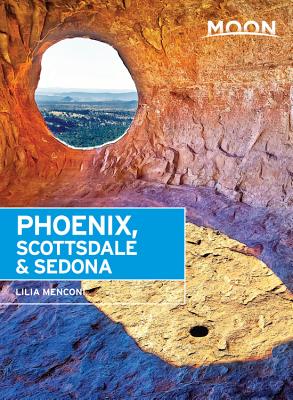 Moon Phoenix, Scottsdale & Sedona (Paperback)
Moon Travel, 9781631213403, 250pp.
Publication Date: May 9, 2017
Description
Make Your Escape with Moon Travel Guides
Wander world-class museums, relax in Scottsdale's resorts, and hike through red rocks in the Valley of the Sun with
Moon Phoenix, Scottsdale & Sedona
. Inside you'll find:
Strategic itineraries, including a luxurious desert getaway, a family road trip, and a 10-day "Best of the Valley of the Sun"
Full-color, vibrant photos and detailed maps throughout
Must-see attractions and off-beat ideas for making the most of your trip: Explore the local art scene, from Native American exhibits to contemporary galleries. Taste the best Sonoran-style cuisine this side of the Mexican border. Luxuriate in five-star resorts, world-class spas, and gourmet restaurants. Go stargazing in Sedona, or clubbing in Scottsdale. Browse new-agey shops or high-end boutiques, hike water-carved canyons and climb mountains, or go golfing at one of nearly 200 courses. Discover the rich culture of the Native American people who first settled the Valley, and venture to the leafy respite of Oak Creek Canyon to witness the red-rock monoliths
Honest advice from Phoenix local Lilia Menconi on when to go and where to stay, with special focus on the best resorts in the area
In-depth coverage of all three cities, including the Apache Trail and Superstition Mountains
Recommendations for visitors with disabilities and for traveling with kids
Thorough background on the culture, environment, wildlife, and history
With Moon's local insight, diverse activities, and expert tips on experiencing the best of Phoenix, Scottsdale, and Sedona, you can plan your trip your way
Expanding your trip? Try
Moon Arizona
. Hitting the road? Try
Moon Southwest Road Trip.
About the Author
Lilia Menconi is a Phoenix gal through and through. She was born and raised in Phoenix with the famous Camelback Mountain visible from her backyard and school playground. While she enjoyed the occasional day hike with her family during her childhood, she truly fell in love with the city's dusty trails as an adult. Lilia is an award-winning writer whose work has appeared in local publications, including Phoenix New Times, Arizona Republic, and Generation Health AZ, and on the blog The Broke-Ass Bride. She loves her day job as a communications coordinator and feels lucky to accept additional work as a freelance writer and blogger. She happily lives and works in Phoenix with her husband (who hiked almost every trail in this book with her) and two adorable cats.
Advertisement