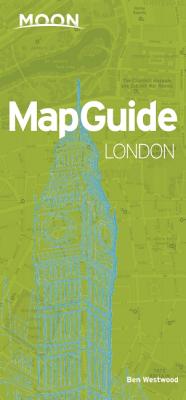 Moon MapGuide London (Paperback)
Moon Travel, 9781631213526, 168pp.
Publication Date: September 13, 2016
* Individual store prices may vary.
Description
Moon MapGuide London puts the best that London has to offer at your fingertips. This compact guide puts the essentials of London's must-see neighborhoods on discreet fold-out maps, helping you navigate the city without looking like a typical tourist.

Colored tabs make it easy to quickly flip to the location and activity you want. Find exactly what you're looking for—whether that's walking the boards of Shakespeare's Globe Theater, ordering aged Scottish steaks at The Guinea Grill, watching the changing of the guard at Buckingham Palace, or discovering the secret history of London on a guided walking tour—without wading through what you don't need.

Moon MapGuide London covers the following areas:

Bloomsbury
Camden
The City
Kensington and Knightsbridge
Notting Hill
Marylebone
South Bank
Westminster
Mayfair
Islington

Using Moon MapGuide London:
Two Ways to Navigate: Scan the map to find locations in your area to visit or explore, or browse listings to find a specific place you want to visit.
Orientation Essentials: Landmarks, shopping districts, and Metro stops are always prominent on the map, so it's easy to get your bearings.
Color-Coded: Color grid coordinates pinpoint locations on each map, eliminating time-consuming searches.

About the Author
Ben Westwood dreamed of being a writer and musician from an early age. Growing up in England, he combined the two by studying music and getting involved in student journalism in London. He wrote his first travel journal during a backpacking trip through Southeast Asia.

Ben worked for The Daily Telegraph and Telegraph.co.uk as a travel journalist and online travel editor, writing articles on everything from encounters with Maoist guerrillas in Nepal to encounters with drunken Brits in Greece. After a brief stint working in adventure tourism, Ben returned to South America to combine his passions for teaching and travel writing. He is the author of Moon Ecuador & the Galápagos Islands and co-author of Moon Peru. He has also contributed to the The Daily Telegraph, The Independent, and The Guardian.

Ben currently teaches journalism and tourism at Brighton University in the UK. He still finds time to sing and play the guitar, and has released one self-funded album, Keep Dreaming. Find him on Twitter @BenWestwood.