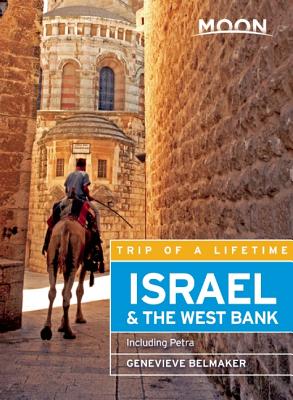 Moon Israel & the West Bank (Paperback)
Including Petra (Moon Handbooks)
Moon Travel, 9781631213618, 376pp.
Publication Date: November 15, 2016
* Individual store prices may vary.
Description
This full-color guide to Jerusalem includes vibrant photos and helpful planning maps.

Calls to prayer echo out over valleys and rooftops. The wailing siren for Shabbat and the ringing of church bells are omnipresent. This is a city of religious pilgrimages and a land of ancient stories, where even the bodies of water whisper of history and miracles.

This is the trip of a lifetime. It will leave you with a new sense of wonder—and some great stories to share. In this full-color book, expert traveler Genevieve Belmaker tells you everything you need to know to make this trip possible:

How to get there, how long it will take, and where to stop along the way—including information on Jerusalem, Tel Aviv, Haifa, the West Bank, Eilat, and Petra, Jordan

How to choose the best tours and means of transportation, including tips on border crossings.

Background on religious and cultural sites, from the Western Wall and Dome of the Rock to the Church of the Nativity—and where to find them
About the Author
Genevieve Belmaker is an American journalist and writer who worked and lived in Jerusalem and the surrounding region for more than three years. Born and raised in Olympia, Washington, she started traveling and living in new places at the age of 17. Since then, she has become an avid practitioner of Falun Dafa meditation, enjoying the serenity it brings her as she travels the world—she has lived, worked, and studied in places from Japan to San Francisco to Bowling Green, Kentucky.

In 2009, Genevieve met her future husband, an Israeli journalist, while he was visiting New York City. After traveling to Israel and working side-by-side as colleagues, they were married in 2010, and Genevieve returned to live in Jerusalem for five months. She reported on settlements, small businesses in the West Bank, and local news and politics, and authored a weekly column for The Epoch Times on her observations of the region as a journalist.

Genevieve is a graduate of the University of Southern California with a BA in international relations and a minor in East Asian languages and cultures. She studied journalism through New York University's continuing education program. As a writer and photographer, she has been published by several international print and online publications, including The Epoch Times, Poynter, Quill magazine, the Foreign Policy Association, Draft magazine, and Big World. She regularly reports on news and events in Jerusalem and beyond.

Genevieve recently moved back to New York City with her husband. Their son, Negev (named after her husband's favorite Israeli desert), was born in late 2011 and is already a skilled world traveler. Negev has accompanied her on several research trips throughout Israel. He was truly the inspiration behind the creation of this book.