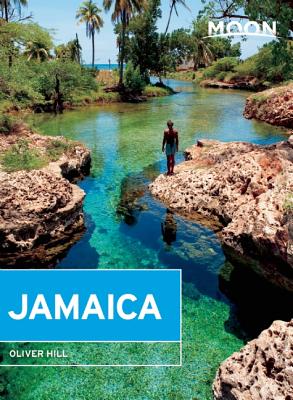 Moon Jamaica (Travel Guide) (Paperback)
Moon Travel, 9781631213830, 344pp.
Publication Date: October 25, 2016
* Individual store prices may vary.
Description
Come for the tropical weather and warm water, stay for the vibrant culture, rich history, and boundless adventure: Escape to the Caribbean with Moon Jamaica. Inside you'll find:
Flexible, strategic itineraries designed for backpackers, beach-lovers, adventure travelers, honeymooners, wellness-seekers, and more
The best spots for outdoor adventures like kayaking, hiking, biking, bird-watching, and fishing and the best beaches for surfing, sunsets, and seclusion
Top activities and unique experiences: Get your adrenaline fix by cliff-jumping into azure waters, surfing the waves, climbing the Blue Mountains, or hiking through lush jungle. Eat freshly picked fruit for breakfast, watch hummingbirds flit about tropical flowers, bathe in a crystal-clear spring on a hot day, or relax on soft white sands. See beloved local bands perform at a Negril nightclub, and move to the beat of Kingston's legendary music scene. Savor sweet Jamaican rum and coffee, chow down on authentic jerk chicken, or listen to soft reggae and the lapping waves during a romantic beachfront dinner
Insight from Kingston local Oliver Hill on how to experience Jamaica like an insider, support local and sustainable businesses, avoid over-tourism, and respectfully engage with the culture
Full-color photos and detailed maps throughout
Background information on Jamaica's landscape, history, and cultural customs
Handy tools including a glossary of Jamaican Patois terms, packing suggestions, and tips for women traveling alone, families with kids, seniors, and LGBTQ travelers
With Moon's practical tips and local know-how, you can experience Jamaica your way.
Exploring more of the Caribbean?
Check out Moon Bermuda, Moon Aruba
, or
Moon Dominican Republic.
About the Author
A dedicated reggae fan from a young age, Oliver Hill began his lasting relationship with Jamaica like many Americans-through the island's music. Friendships with fellow students of Jamaican heritage in high school ultimately led Oliver to visit the island, where he established a recording studio in a Kingston suburb in partnership with a local artist. Frequent trips to Spain and other destinations throughout his youth gave Oliver a global perspective on life and an unquenchable thirst for experiencing new places and cultures.

Later, a masters program in journalism at Columbia University took Oliver back to Jamaica with a film crew to shoot Coping with Babylon, a chronicle of contemporary Rastafarian philosophy that has appeared in international film festivals around the world and as part of an exhibition at the Smithsonian titled "Discovering Rastafari."

Oliver has worked as a video editor, ornithologist, and financial writer, and currently works as a correspondent for mergermarket, a Financial Times Group publication, in Latin America.

For more information on Oliver's film production company, check out Sonerito.com. Visit his website, MoonJamaica.com, for links to recommended lodging and services and up-to-date events coverage in Jamaica.