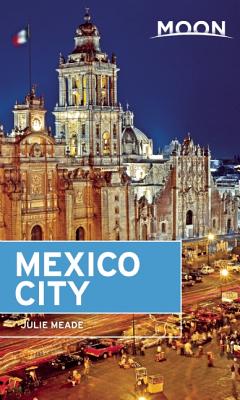 Moon Mexico City (Paperback)
Moon Travel, 9781631214080, 368pp.
Publication Date: October 25, 2016
Description
Experience the Life of the City with Moon Travel Guides
Baroque palaces and energetic streets, old-school taquerias and contemporary art: explore this beguiling metropolis with
Moon Mexico City
. Inside you'll find:
Experience the City: Navigate by neighborhood or by activity with color-coded maps, or follow a guided walk through Mexico City's most interesting neighborhoods
See the Sights: Wander the ruins of Tenochtitlan at the Museo del Templo Mayor, or visit Frida Khalo's childhood home. Explore the color and bustle of Mercado de la Merced, admire the sleek modernity of Mexico City's contemporary art museum, or take a day trip to see the temples of Teotihuacan
Get a Taste of the City: Sample your way through the city's famous food scene from charming cantinas to cutting-edge cuisine, and polish it off with traditional pulque
Bars and Nightlife: A dazzling array of traditional dance halls, chic nightclubs, and hip mescal-centric hideaways means that Mexico City parties well after the sun goes down
Trusted Advice: Local author and expat Julie Meade shares her cultural and artistic expertise on her adopted city
Itineraries and Day Trips: Head out to Cuernavaca or the ruins of Teotihuacan, or follow itineraries like "The Best of Mexico City," "Market Saturday," or "Mexico City with Kids," all accessible by bus, train, or public transit
Maps and Tools: Moon provides background information on the landscape, history, and culture of Mexico City, as well as vibrant, helpful photos and an easy-to-read foldout map to use on the go, packaged in a book light enough to toss in your bag
With Moon Mexico City's practical tips, myriad activities, and an insider's view on the best things to do and see, you can plan your trip your way.
Looking to experience more world-class cities? Try
Moon Buenos Aires
. Exploring more of Mexico? Check out
Moon San Miguel de Allende
or
Moon Yucatan Peninsula.
About the Author
Julie Doherty Meade grew up in the San Francisco Bay Area and spent her childhood hiking, camping, and traveling throughout the Golden State. After graduating from college, she took her first trip to Mexico, where she was immediately drawn to the country's warm people and fascinating culture. The following year, Julie returned to Mexico and decided to extend her stay indefinitely. For almost ten years, Julie lived, worked, and traveled throughout Mexico. She saw Zapatista leader Subcomandante Marcos speak to a crowd in San Cristobal de las Casas, helped run a fine-art gallery in San Miguel de Allende, and taught English to five-year-olds in Mexico City. During her years in the capital, she was schooled in advanced Mexican slang, developed a strong affinity for early-morning cafe con leche in old Chinese coffee shops, and spent hours seeking out the best bookstores, most interesting architecture, and tastiest bites in the city's diverse neighborhoods. Julie currently lives in Brooklyn with her husband, Arturo, her son, Mariano, and her Chihuahua, Tequila. She writes and copyedits for several New York publications and visits Mexico every chance she gets. Julie is also the author of Moon San Miguel de Allende, Guanajuato & the Bajio and Moon Living Abroad in Mexico.
Advertisement