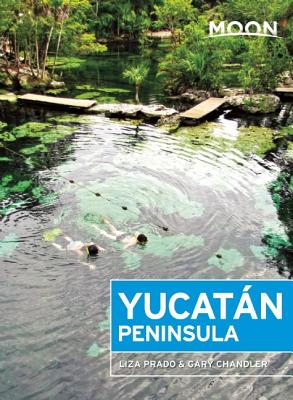 Moon Yucatán Peninsula (Moon Travel Guides) (Paperback)
Moon Travel, 9781631214103, 544pp.
Publication Date: December 27, 2016
* Individual store prices may vary.
Description
Make Your Escape with Moon Travel Guides!


The Yucatán Peninsula is rich with history, culture, and natural wonders. Explore its vibrant cities, ancient ruins, and boundless beaches with Moon Yucatán Peninsula.
What You'll Find in Moon Yucatán Peninsula:
Unique insight from lifelong travelers and Yucatán experts Liza Prado and Gary Chandler
Curated advice for culture buffs, honeymooners, foodies, outdoor adventurers, and more, whether you're visiting Mexico for a few days or a few weeks
Full-color, vibrant photos throughout
Detailed maps for exploring on your own, and useful tips on public transportation, car and bike rentals, and air travel
Strategic itineraries for every budget, passion, and timeline, including: The Best of the Yucatán, A Family Affair, 10 Days of Ecoadventure, Classics of Yucatán Cuisine, Pyramids and Palaces, Diving and Snorkeling, Cenote Hopping, and Into the Wild
Fun ideas catered your individual travel style: Spend a day relaxing on the beach or standup paddle boarding (SUPing) on the crystal-clear water. Take a short walk from the shore to visit jaw-dropping Mayan ruins, or kayak through lush mangrove forests. Peruse the markets, museums, and churches of Mérida or Tulum. Sign up for a mountain bike tour through the jungle for a peek at hidden ruins, remote beaches, and dazzling wildlife. Find the best spots to fill up on authentic salbute and panucho, and stay up late for live music, cocktails, and fire dancers on the beach
Focused coverage of Cancún, Isla Cozumel, the Riviera Maya, Tulum and the Costa Maya, Chichén Itzá, Mérida, the Puuc Route, Campeche, and Palenque
Thorough background information on the landscape, plants and animals, history, government, and culture
Handy tools including a Spanish glossary and phrasebook
Essential tips on health and safety, visa information, and accommodations
With Moon Yucatán Pensinsula's myriad activities, practical advice, and insider tips, you can plan your trip your way.
Can't get enough of the Yucatán? Try
Moon Cancún & Cozumel
. Exploring more of Mexico? Try
Moon San Miguel de Allende
.
About the Author
Gary Chandler grew up in a small ski town south of Lake Tahoe, California. He earned his bachelor's degree at UC Berkeley, and also studied abroad in Mexico City and Oaxaca. After graduation, Gary backpacked through much of Mexico and Central America, and later Southeast Asia, Europe, and the Caribbean. His first guidebook assignment was covering the highlands of Guatemala, which was followed by assignments in El Salvador, Honduras, Mexico, Brazil, the Dominican Republic, and elsewhere.

Gary has contributed to almost 30 guidebooks, many coauthored with wife and fellow travel writer/photographer Liza Prado. Between assignments, Gary earned a master's degree in journalism at Columbia University, worked as a news reporter and criminal investigator, and published numerous articles and blogs about travel in Latin America. He and Liza have two children and live in Colorado.

Liza Prado was working as a corporate attorney in San Francisco when she took a leap of faith and decided to try travel writing and photography instead. Twelve years later, she has coauthored twenty-two guidebooks and written dozens of feature articles about destinations in the Americas. Her photographs have been published in several travel books, apps, and websites like Gogobot.com and Away.com.

Since her first visit to the region in 2002, the Yucatán Peninsula has remained one of Liza's favorite places to travel. For this assignment, she went diving on coral reefs and snorkeled in cenotes, listened to howler monkeys and watched flamingos in flight, climbed Maya ruins and explored colonial cities, ate countless fish tacos and even learned to make a decent salbute. A graduate of Brown University and Stanford Law School, Liza has traveled extensively throughout the Americas and Europe. She currently lives in Denver, Colorado with her frequent coauthor Gary Chandler and their children, Eva and Leo.