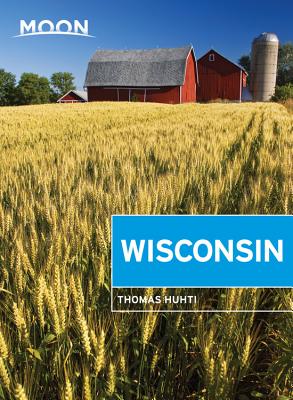 Moon Wisconsin (Travel Guide) (Paperback)
Moon Travel, 9781631214295, 525pp.
Publication Date: June 6, 2017
* Individual store prices may vary.
Description
Discover Wisconsin with Moon Travel Guides!

From lush forests and fertile farms to rushing rivers and tranquil lakes, experience Wisconsin's classic Midwestern charm with Moon Wisconsin.

What you'll find in Moon Wisconsin:
Strategic itineraries for any budget and timeline, from a long weekend in Milwaukee or Madison to a week-long getaway to Door County
Detailed maps and handy reference photos throughout
Curated trip advice for history buffs, foodies, outdoor adventurers, and more
Top attractions and off-beat ideas for making the most of your trip: Check out a typical Wisconsin dairy farm and sample fresh wheels of cheese, or let the kids try their hand at churning their own butter. Kayak to sea caves, cycle through rolling hills filled with apple orchards, or hike around a secluded island. Hit the slopes at a ski resort, go snowmobiling across a frozen lake, or explore unique glacial topography on the Ice Age National Scenic Trail. Wander Milwaukee's historic downtown, check out the Harley-Davidson museum, and unwind with a locally brewed craft beer
The best road trips in Wisconsin, including the state's designated "Rustic Roads"
Honest advice from native "cheesehead" Thomas Huhti on when to go, what to pack, and where to stay, from luxe hotels, to historic lodges and lakeside cabins
Recommendations for getting to Wisconsin and getting around, by plane, train, bus, or car (or even boat!)
Thorough background on the culture, weather, wildlife, outdoor recreation safety, and history
With Moon's expert advice, diverse activities, and local insight into the best of Wisconsin, you can plan your trip your way.
Can't get enough of Wisconsin? Try
Moon Wisconsin's Door County
. For more Midwestern adventures, try
Moon Minneapolis & St. Paul
or
Moon Michigan.
About the Author
Thomas Huhti is a native Cheesehead who wound up studying in China during university (wanderlust has been a familial curse) which ultimately led to a five-year stint traveling the globe and living out of a backpack. A fortuitous meeting with a travel writer on a Chinese mountain opened his eyes to the possibilities of combining travel and writing, his two loves, as a career.

Half a decade of wandering the world made him long for his birthplace, about which he realized he knew precious little. Thomas's four-year pilgrimage around the state to research the first edition of Moon Wisconsin was a gift for his parents, worthy Badgers both. Ultimately, he discovered he bled Badger red and understood where "home" really was.

Now it's a lifelong labor of love (at least outside of deadline crunch times). With the tent drying in the back of the car and a Brewers game on the radio, Thomas can be found wandering Wisconsin's highways, searching for the next hidden spot to uncover.