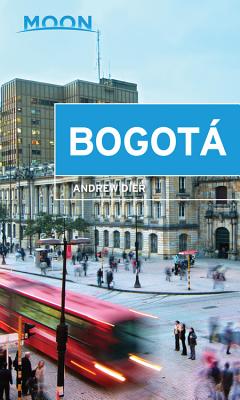 Moon Bogotá (Travel Guide) (Paperback)
Moon Travel, 9781631215889, 160pp.
Publication Date: July 3, 2017
* Individual store prices may vary.
Description
Moon Travel Guides: Your World, Your Way

Experience the freedom and sheer alegría Colombia's cultural epicenter has to offer with Moon Bogotá.
Strategic travel plans with an adaptable week-long itinerary for exploring the city, plus highlights for Boyacá and Santanderes
Curated advice from local writer Andrew Dier, who provides his American-expat perspective on his adopted city
Full color detailed maps and photos for exploring on your own
Activities and ideas for every traveler: Taste your way through nouvelle Colombian cuisine, or try puchero or ajiaco at a century-old restaurant. Wander through the Museo del Oro to learn about the indigenous Muiscas, or visit the historic district of La Candelaria. Salsa dance the night away, or discover Bogotá's thriving LGBTQ club scene. Explore the cloud forests, lakes, and alpine plains (or páramos) within a hours journey of the city and visit Laguna de Guatavita, supposedly the location of mythical El Dorado. Escape to nearby Boyacá to see beautifully-preserved colonial towns, or go white-water rafting, caving, or paragliding in the countryside
Current background information on the landscape, culture, history, and environment, as well as a handy Spanish phrasebook, all packaged in a book light enough to fit in your carry-on
Essential insight for travelers on trekking through jungles, accessing remote mountain ranges, and exploring ancient ruins, with tips for traveling safely and respectfully engaging with the local culture
With Moon Bogotá's practical tips, myriad activities, and an insiders view, you can plan your trip your way.
Expanding your trip? Try
Moon Colombia
. Country-hopping in South America? Check out
Moon Peru
or
Moon Ecuador & the Galápagos Islands.
About the Author
Andrew Dier and his Colombian partner Vio arrived in Bogotá from New York City in 2002. It was initially supposed to be a temporary move-a change of scenery for a while-but 10 years and a couple of adopted street dogs later, bustling Bogotá has gradually become their home.

Excited to share his newfound insider perspective on Colombia with others, Andrew traveled the country corner to corner to research Moon Colombia. Colombia has experienced great change during the past decade, transforming itself from a no-go to a must-see destination. Andrew is continuously astounded by the natural beauty of the country and touched by the genuine warmth of its people.

Andrew is a regular contributor to The City Paper, an English-language newspaper in Bogotá, and has written for a number of publications in the United States. He's also become a deft translator, mostly for local nonprofit organizations.