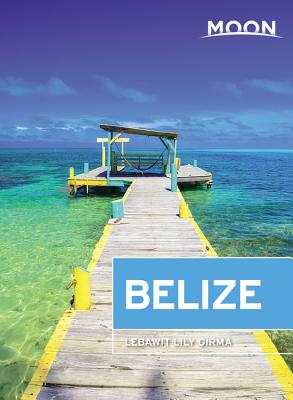 Moon Belize (Moon Handbooks) (Paperback)
Moon Travel, 9781631216336, 432pp.
Publication Date: October 17, 2017
* Individual store prices may vary.
Description
Make Your Escape with Moon Travel Guides
In Belize, no two days are ever the same.
Moon Belize
shows you how to uncover its never-ending natural, geographical, and cultural surprises, guided by local expert Lebawit Lily Girma.
What You'll Discover in Moon Belize
Local insight from Belize transplant and expert Lebawit Lily Girma
Full-color photos and detailed, easy-to-use maps for navigating the mainland and offshore islands independently
Strategic itineraries for every trip and budget, including: The Best of Belize, Flip-Flop Zones, Underwater Bliss, Adventure Junkies, Wildlife Encounters, Rhythms of Belize, and The Mundo Maya
Focused coverage of Belize City, The Northern Cayes, Belmopan and Cayo, the Southern Coast and Cayes, Punta Gorda and the Deep South, and Northern Belize
Honest advice on finding the right accommodations and navigating like a local

Activities and ideas for every traveler Canoe to the farmers market to sample fresh pupusas or drink cashew wine from a Kriol vendor. Hike rainforests filled with medicinal trees to the roar of howler monkeys, or explore ancient Mayan ceremonial caves and cool off beneath the waterfalls. Sample the melange of local cuisine, from coconut rice to fish stew, or spend your day at the beach and your night dancing barefoot to Garifuna drums
Detailed and thorough information, including crucial background on Belize's diverse culture and history, geography, and plants and wildlife
Handy tools such as emergency resources and tips eco-travelers and LGBTQ+ travelers
With Moon Belize's practical advice, myriad activities, and local insight on the best things to do and see, you can plan your trip your way.

Looking to explore the islands? Try
Moon Belize Cayes
. Exploring more of the Caribbean? Try
Moon Aruba, Moon Bermuda
, or
Moon Virgin Islands
.
About the Author
Born in Ethiopia, Lebawit Lily Girma was nine months old when her parents moved to the West African country of Cote d'Ivoire. She has loved travel ever since: exploring cultures and learning languages on various continents, including Europe and the Americas. After practicing law in the U.S., Lily took a leap of faith to pursue her passions: travel, writing, and photography. After a three-week visit to Belize in 2010, she was determined to return. A year later, Lily was commissioned as an in-house writer and photographer for the Belize Tourism Board for three months. She explored Belize extensively, sharing her adventures through a collection of online articles, blogs, and photo essays. Belize's diverse cultures and people struck a chord and she returned to Belize for long-term stays while researching freelance articles on the country. In addition to this title, Lily is the author of Moon Belize Cayes and Moon Dominican Republic, and her writing and photography have been published by CNN Travel, BBC Travel, Delta Sky, Sunday Times Travel Magazine, MorningCalm, Every Day With Rachael Ray, The Travel Channel, and AFAR, among others. She was also a major contributing writer and senior editor for the 2016-2017 edition of Destination Belize Magazine, Belize's main tourism publication. In 2016, Lily was awarded the Marcia Vickery-Wallace Memorial Award for Excellence in Travel Journalism from the Caribbean Tourism Organization. When she's not visiting family in the U.S., Lily is based in the Dominican Republic, and travels to Belize every year.