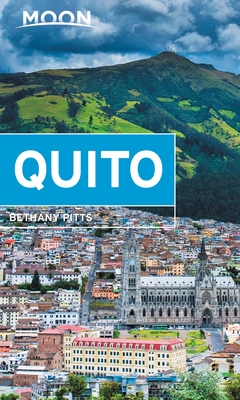 Moon Quito (Travel Guide) (Paperback)
Moon Travel, 9781631217142, 224pp.
Publication Date: December 17, 2019
* Individual store prices may vary.
Description
Quito is at once a vibrant young city and a traditional Sierra town, steeped in ancient culture and tucked between misty mountain peaks. Get to know both sides of this beautiful city with Moon Quito.
Explore the City: Navigate by neighborhood or by activity with color-coded maps, or follow a guided walk through Quito's most interesting neighborhoods
See the Sights: Stroll the cobblestone streets of Quito's Old Town (a UNESCO World Heritage Site!) and bask in the gilded glow of la Compañia church. Hike through cloud forests, spot Andean bears at a wildlife reserve, or climb the rugged Pichincha Volcano. Learn about the history of Ecuador's indigenous people and witness Guayasamín's masterpiece at the Capilla del Hombre
Get a Taste of the City: Savor fresh ceviche at a cutting-edge new restaurant or grab an empanada from a street stall
Bars and Nightlife: Linger at a local dive, dance the night away at the trendiest clubs, or bar-hop through la Mariscal
Expert Advice: Experience Quito like an insider with tips from expat Bethany Pitts on where to eat, where to stay, and how to get around, including advice on supporting local businesses and respectfully engaging with the culture
Itineraries and Day Trips: Spend a day or a full week in Quito, and explore nearby Calderón, Guayllabamba, Mitad del Mundo, and more
Full-Color Photos and Detailed Maps
Handy Tools: Background on the landscape, climate, and history, health and safety information, a Spanish phrasebook, volunteer opportunities, and travel tips for families with kids, seniors, travelers with disabilities, and LGBTQ travelers
With Moon's practical tips and local know-how, you can experience Quito your way.

Exploring more of South America? Check out
Moon Chile
or
Moon Galápagos Islands.
About the Author
When Bethany Pitts was planning her first round-the-world trip in 2004, she read that in Ecuador it is possible to have breakfast in the Amazon, lunch in the Andes and dinner on the beach, without setting foot in a plane. That was when she promoted Ecuador to the top of her list. That 9-month trip also took her to Fiji, Australia and several South East Asian countries, but Ecuador was the highlight, especially her time in the Amazon rainforest. She'll never forget paddling silently through a jungle lagoon at night in a dug-out canoe, the water's surface covered with lily pads illuminated by fireflies. Upon arriving home, she promised herself that she would return to Ecuador one day. After three years of dividing her time between Ecuador and the UK, she relocated there permanently in 2011.

Originally from England, Beth now lives in the coastal village of Manglaralto, where she loves that she can walk to the ocean, grow passionflowers in her garden, and spot otters swimming in the nearby mangroves.