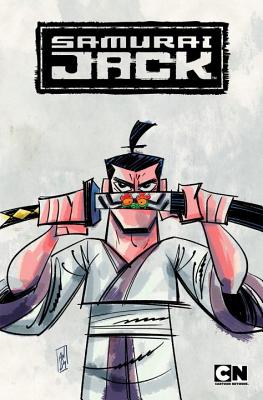 Samurai Jack Volume 3
Quest For The Broken Blade
Paperback

* Individual store prices may vary.
Description
After the Threads of Time failed to return Jack back to the past, he searches for a new way to return to his rightful era. But will Jack be willing to risk his magical blade in order to open a new portal to the past?
IDW Publishing, 9781631402456, 120pp.
Publication Date: April 21, 2015
About the Author
Jim Zub is a writer, artist and art instructor based in Toronto, Canada. Over the past fifteen years he's worked for a diverse array of publishing, movie and video game clients including Marvel, DC Comics, Capcom, Hasbro, Cartoon Network, and Bandai-Namco. He juggles his time between being a freelance comic writer and Program Coordinator for Seneca College's award-winning Animation program. His current comic projects include Dungeons & Dragons, a new series celebrating 40 years of the classic tabletop RPG, Thunderbolts, the return of Marvel's villainous superhero team, and Wayward, a modern supernatural story about teens fighting Japanese mythological monsters.

Originally docked in Detroit, Michigan, Andy Suriano hooked up with a circus-type, comedy/magic show when he was 18. He traveled the world performing for the next 7 years, sometimes on crazy European TV Variety shows, other times in historic Vaudevillian theatres, occasionally in front of ten thousand people, royal families, that sort of thing. The group even did a couple Fox specials here in the states way back in '95 called The Rudy Coby Show. Andy's specialty: walking on his hands as a two foot tall Elvis.

An accomplished graphic artist and illustrator, Andy's worked both in comics and animation—winning an Annie Award for his work on Samurai Jack. He has also designed on other Emmy Award winning shows like Fairly Oddparents, Star Wars: Clone Wars and a bunch of others. He has also had a few pilots in production at Cartoon Network, Warner Bros., BET and Disney respectively.
or
Not Currently Available for Direct Purchase