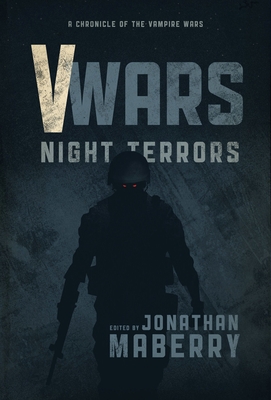 V-Wars (Paperback)
Night Terrors
IDW Publishing, 9781631402722, 384pp.
Publication Date: January 19, 2016
Description
The war is tearing our world apart. Instead of big armies with tanks in the field, the Vampire War is fought in the streets, neighbor against neighbor, family against family. Anyone can turn at any time. The blood hunger can suddenly appear in the middle of a kiss. The person who sleeps next to you every night could wake up in the dead of night...hungry. So hungry...
V-Wars: Night Terrors collects all-new stories from the reporters embedded with the beats (humans) and the bloods (vampires). Each tale explores the nature of terror and peels back another layer of our comfort. Each tale bares our throat to the bite.
New York Times Bestseller Jonathan Maberry and his team of front-line storytellers bring you all-new tales of horror and heroism, of pain and delight, of deadly despair and soaring courage. The war between beats and bloods is blazing. Pick a side.
About the Author
JONATHAN MABERRY is a New York Times best-selling and multiple Bram Stoker Award-winning suspense author, editor, comic book writer, magazine feature writer, playwright, content creator and writing teacher/lecturer. He was named one of Today's Top Ten Horror Writers. His books have been sold to more than two-dozen countries. Among his numerous book and comic credits are the shared-world anthologies V-Wars: Shockwaves and V-Wars: Night Terrors; the X-Files short story anthologies The Truth Is Out There, Trust No One, and Secret Agendas; the V-Wars comic series; and the comic series adaptation of his zombie novel Rot & Ruin; all from IDW Publishing.
Advertisement