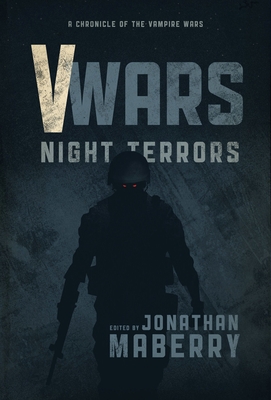 V-Wars
Night Terrors
Paperback

* Individual store prices may vary.
Other Editions of This Title:
Digital Audiobook (10/5/2015)
MP3 CD (10/6/2015)
Compact Disc (10/6/2015)
Compact Disc (10/6/2015)
Description
Now a Netflix series starring Ian Somerhalder.

The war is tearing our world apart. Instead of big armies with tanks in the field, the Vampire War is fought in the streets, neighbor against neighbor, family against family. Anyone can turn at any time. The blood hunger can suddenly appear in the middle of a kiss. The person who sleeps next to you every night could wake up in the dead of night…hungry. So hungry…

V-Wars: Night Terrors collects all-new stories from the reporters embedded with the beats (humans) and the bloods (vampires). Each tale explores the nature of terror and peels back another layer of our comfort. Each tale bares our throat to the bite. New York Times Bestseller Jonathan Maberry and his team of front-line storytellers bring you all-new tales of horror and heroism, of pain and delight, of deadly despair and soaring courage. The war between beats and bloods is blazing. Pick a side.
Praise For V-Wars: Night Terrors…
"The myriad of blood-sucking entities exposes readers to creatures of lore that are often maligned for the stereotypical vampire (There are no sparkling vamps in this book.), which should interest readers. Coupled with prejudices arising from the concept of "other" along with other societal issues should supply readers with thought-provoking, multi-layered stories that transcend the sheer entertainment value of this collection." –Fanbase Press
IDW Publishing, 9781631402722, 384pp.
Publication Date: January 19, 2016
About the Author
Jonathan Maberry is a New York Times best-selling and multiple Bram Stoker Award-winning suspense author, editor, comic book writer, magazine feature writer, playwright, content creator, and writing teacher/lecturer. He was named one of Today's Top Ten Horror Writers. His books have been sold in more than two-dozen countries.
Among his numerous book and comic credits are the shared-world anthologies V-Wars and its sequels, V-Wars: Blood & Fire, V-Wars: Night Terrors, and V-Wars: Shockwaves; the X-Files short story anthologies The Truth Is Out There, Trust No One, and Secret Agendas; the V-Wars comic series; and the comic series adaptation of his zombie novel Rot & Ruin; all from IDW Publishing.

James A. Moore is the award winning author of over twenty novels--thrillers, dark fantasy and horror alike--including the critically acclaimed Fireworks, Under the Overtree, Blood Red, and the Serenity Falls trilogy (featuring his recurring anti-hero, Jonathan Crowley). He's also written comics for Marvel and over twenty role-playing supplements for White Wolf Games.

Larry Correia is a fantasy and thriller writer, firearms instructor, accountant, and retired Merchant of Death. He describes himself as "Male. Very large. Very bald." He lives in Yard Moose Mountain, Utah (his name for it). He's best known as the writer of the Monster Hunter series of horror fantasy novels.

Scott Sigler is a #1 New York Times best-selling author who's written fifteen novels, six novellas and dozens of short stories. He lives in San Diego, with his wee little dog Reesie. Both Scott and Reesie are diehard Detroit Lions fans.

Weston Ochse is a former intelligence officer and special operations soldier who has engaged enemy combatants, terrorists, narco smugglers, and human traffickers. His military sci-fi series has been praised for its PTSD-positive depiction of soldiers at peace and at war. Weston likes to be called a chaotic good paladin and challenges anyone to disagree. A writer of more than 26 books in multiple genres, his supernatural military series SEAL Team 666 has been optioned for film. He is married to writer Yvonne Navarro.
or
Not Currently Available for Direct Purchase