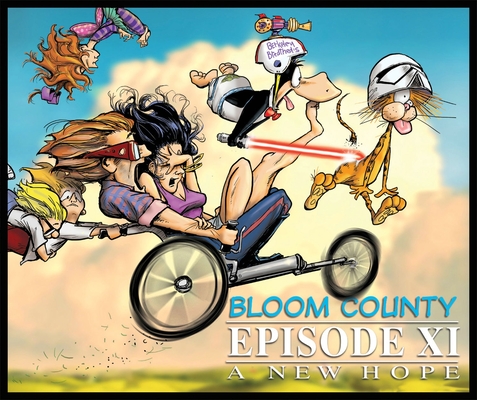 Bloom County Episode XI (Paperback)
A New Hope
IDW Publishing, 9781631406997, 144pp.
Publication Date: September 27, 2016
* Individual store prices may vary.
Description
OPUS AWAKENS!

In 2015, Pulitzer Prize-winning cartoonist Berkeley Breathed began (without warning!) producing ALL-NEW Bloom County strips—for the first time in more than 25 years! Breathed released the new Bloom County strips exclusively through his Facebook page, to the cheers of devoted and delighted fans everywhere. These brand new strips have NEVER before been available in print—until now! All the wit, charm and biting satire that are trademarks of Bloom County and Berkeley Breathed are clearly on display and evident in this handsome new volume. Featuring all your favorite characters: Opus, Milo, Bill the Cat, Steve Dallas, Cutter John, and many more. Bloom County has come home… and it's about time!
About the Author
Berkeley Breathed lives and works in Santa Barbara, California and is the proud owner of a gentle pit bull named Ridley, a deaf dachshund named Milly, and a refugee mutt from the Puerto Rican streets named Pilar--splendidly flawed dogs, every one.
Praise For Bloom County Episode XI: A New Hope…
"Bloom County is both an escape from and a mirror to our complicated modern world." —Publisher's Weekly (starred review)

"Cracking open Episode XI took me back a couple of decades, where I could lay on my bed and laugh at the naivety of Opus, the chauvinism of Steve Dallas, and the unblinking devotion to science of Oliver Wendell Jones. And that's worth every cent." —Ars Technica