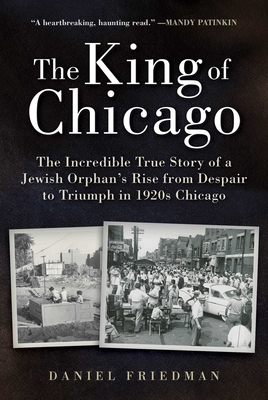 The King of Chicago (Paperback)
Memories of My Father
Carrel Books, 9781631440823, 184pp.
Publication Date: June 2, 2020
Other Editions of This Title:
Hardcover (5/23/2017)
* Individual store prices may vary.
Description
The King of Chicago is the story of a father-son relationship as real and hugely loving as that in Philip Roth's Patrimony. At its heart is a young son who tries furiously to heal his father from a violent childhood inside a Chicago orphanage. The orphanage, the Marks Nathan Home, still stands today on the West Side of Chicago, marked by a tarnished, barely legible plaque. Once home to 14,000 Jewish orphans, it is now just another barely remembered relic of a great city. Using original articles from the orphanage newspaper, Friedman attempts to reconstruct and understand his father's childhood, a time that his father never discussed.

Expanding its reach, The King of Chicago becomes a multigenerational saga of Jewish life, moving from a mysterious little man named Kasiel, who arrived in the Port of Baltimore in 1903 with two dollars to his name, to the factory floor of a scrap paper business, a golf course where children played without knowing the rules, and a home on the North Shore among fellow immigrants looking for something better for their children.

At its core, this memoir is both a snapshot of immigrant life in Chicago in the early twentieth century and a poignant reminder about the need to never forget who you are and where you come from.
About the Author
Dan Friedman was born in Chicago, graduated from Oxford University, and taught writing at the University of Virginia. He founded Albemarle magazine, was founding editor of La Belle France, and is author of a travel memoir, My Mother's Side. His writing has been praised by the New York Times, Gourmet, and Money. He lives in Chicago, Illinois.
Praise For The King of Chicago: Memories of My Father…
"A heartbreaking, haunting read, mining to connect a sons timeless desire to belong and understand the irrevocable generational consequence of rejection. A story told by a relative I never knew existed. Welcome to the clan." –Mandy Patinkin
"They raised us, but who were they . . . really? Dan Friedman's magnificent search for his roots made me ask, achingly: 'Where do I begin?' Read it and start searching!" –Andy Shaw, Chicago Sun-Times journalist and president of Illinois's Better Government Association

"More than a son's paean to his father, The King of Chicago is an intergenerational portrait of the quintessential American Jewish family, a rags-to-riches story that confronts the issues of assimilation and identity with courage and humor." —Ethan Michaeli, author of The Defender: How the Legendary Black Newspaper Changed America, from the Age of the Pullman Porters to the Age of Obama.

"We all have fathers, but not all of them are perfect. Friedman's father was brought up in an orphanage, and in the book, Friedman sorts through his strengths and weaknesses as he evaluates how his father affected his own life. His moving story is a love letter to an imperfect father." —Tony Vanderwarker, author of Writing with the Master: How One of the World's Bestselling Authors Fixed My Book and Changed My Life

Friedman personalizes the American Jewish immigrant experience. With Marks Nathan as a fulcrum point, he traces the story of his family from a shtetl in 1903 Pale of Settlement to Chicago, through a total name change of the family forebear, to the breakup and re-uniting of family around the orphanage and on to tony suburbia in Glencoe. Then the road leads east to Charlottesville, Va., where Jews were a curiosity and anti-Semitism was Southern genteel, and finally coming back home to Chicago." —George Castle, Chicago Jewish News

"Mr. Friedman's memoir is a touching story of a son's unqualified love for his father."—Jewish Child & Family Services, Chicago