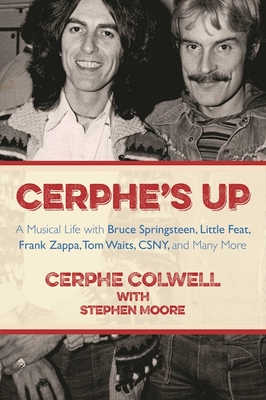 Cerphe's Up
A Musical Life with Bruce Springsteen, Little Feat, Frank Zappa, Tom Waits, CSNY, and Many More
Paperback

* Individual store prices may vary.
Other Editions of This Title:
Hardcover (11/15/2016)
MP3 CD (4/11/2017)
Description
Cerphe's Up is an incisive musical memoir by Cerphe Colwell, a renowned rock radio broadcaster for more than forty-five years in Washington, DC. Cerphe shares his life as a rock radio insider in rich detail and previously unpublished photographs. His story includes promotion and friendship with a young unknown Bruce Springsteen; his years at radio station WHFS 102.3 as it blossomed in a new freeform format; candid interviews with Little Feat's Lowell George, Tom Waits, Nils Lofgren, Stevie Nicks, Crosby, Stills & Nash, Steven Van Zandt, Robert Plant, Danny Kortchmar, Seldom Scene's John Duffey, and many others; hanging out with George Harrison, the Rolling Stones, Van Morrison, John Entwistle, Jackson Browne, and many more; testifying on Capitol Hill with friend Frank Zappa during the "Porn Rock" hearings; and managing the radio syndication of both G. Gordon Liddy and Howard Stern. Player listings and selected performances at legendary DC music clubs Childe Harold and Cellar Door are also chronicled.

Cerphe's Up is both historically significant and a fun, revealing ride with some of the greatest rock-and-roll highfliers of the twentieth century. Cerphe's Up belongs on the reading list of every rock fan, musician, and serious music scholar.
Praise For Cerphe's Up: A Musical Life with Bruce Springsteen, Little Feat, Frank Zappa, Tom Waits, CSNY, and Many More…
"Colwell's memoir is pure fun and, for many, a joyful trip down musical memory lane." –Booklist

"Colwell's memoir provides the distinctive perspective of a rock personality. . . . When he puts himself into the story, as when he discusses the introductions he used to do for Bruce Springsteen at live shows or his time at D.C. radio station WHFS 102.3, the narrative comes alive." --Publishers Weekly

"Like his voice, Cerphe's book, written with Stephen Moore, is smooth and inviting." --John Kelly, Washington Post

"Somewhere in the 1960s, someone said 'Let's put some rock and roll music on FM.' So there weren't that many people listening, so not much pressure. The FM stations became very creative. You could play what you wanted and you could create an art form out of your own broadcast. Cerphe was involved in this." –Frank Zappa

"I've been a fan of Cerphe for decades, as a friend and a musician. He's always searched for and shared great music with his radio listeners. I always appreciated Cerphe's sharing my own music, too. I've enjoyed many colorful discussions with Cerphe through the years about the wonders of all types of inspired music, and believe we share a common belief that music is truly our planet's sacred weapon. I recommend his book to all music fans." --Nils Lofgren, solo musician, member of the Rock Hall of Fame with the E Street Band
Carrel Books, 9781631440830, 296pp.
Publication Date: April 5, 2022
About the Author
Stephen Moore, a University of Maryland grad and Terrapins fan, is the director of advanced research computing with the Office of Information Services at Georgetown University. A member of the Writers Guild and a veteran rock musician with 30 years' experience on the Washington, DC music scene, he has written over 100 articles for various publications.