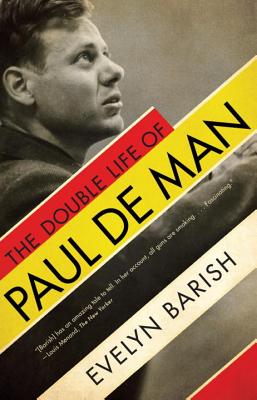 The Double Life of Paul De Man
Paperback

* Individual store prices may vary.
Other Editions of This Title:
Hardcover (3/17/2014)
Description
A Kirkus Reviews Best Book of the Year (Nonfiction)
A landmark biography that reveals the secret past of one of the most influential academics of the twentieth century.
Over thirty years after his death in 1983, Paul de Man, a hugely charismatic intellectual who created with deconstruction an ideology so pervasive that it threatened to topple the very foundations of literature, remains a haunting and still largely unexamined figure. Deeply influential, de Man and his theory-driven philosophy were so dominant that his passing received front-page coverage, suggesting that a cult hero, if not intellectual rock star, had met an untimely end.
Yet in 1988, de Man's reputation was ruined when it was discovered that he had written an anti-Semitic article and worked for a collaborating Belgium newspaper during World War II. Who was he, really, and who had he been? No one knew. Still in shock, few of his followers wanted to find out. Once an admirer, although never a theorist, the biographer Evelyn Barish began her own investigation. Relying on years of original archival work and interviews with over two hundred of de Man's circle of friends and family, most of them now dead, Barish vividly re-creates this collaborationist world of occupied Belgian and France.
Born in 1919 to a rich but tragically unstable family, Paul de Man, a golden boy, was influenced by his uncle Henri de Man, a socialist turned Nazi collaborator who became the de facto Belgian prime minister. By the early 1940s, Paul, while seemingly only a reviewer for Nazi newspapers, was secretly rising in far more important jobs in Belgium's and France's collaborationist regimes.
Postwar, barred from the university, de Man created a publishing house, but stole all its assets; then, facing jail, he fled to New York, abandoning his family (his opportunistic, anti-Semitic writing seemed the least of his crimes). Arriving penniless, he quickly rose again, befriending an entire generation of American writers in New York, including Dwight Macdonald, Elizabeth Hardwick, and Mary McCarthy. Barish sketches de Man's renowned careers at Bard and Yale, as well as the circumstances surrounding his loving—but bigamous—second marriage to former Bard student Patricia Kelley, who created the tranquillity he so lacked.
Juxtaposing this personal story to his meteoric rise through American academia, Barish traces the origins of the philosophical deconstructionism that he later created with Jacques Derrida, showing how de Man attracted followers with his attack on the hypocrisy of society that attempts to cover up the "essential alienation" of art from "the system." While focusing on the biographical facts, this commanding and psychologically probing biography reveals as much about human behavior and the cross-currents of twentieth-century intellectual thought as it does about the man who held an entire generation in his thrall.
Praise For The Double Life of Paul De Man…
In this stunning biography…readers will marvel at how successfully de Man hid his misdeeds behind the luminous persona of a brilliant critical theorist, repeatedly using the plausibility of past lies to leverage yet larger new prevarications…An astonishing exposé.
— Bryce Christensen - Booklist, starred review

The Double Life of Paul de Man revives the man and his fall. This time, we get a story of the professor not just as a young collaborator, but as a scheming careerist, an embezzler and forger who fled Belgium in order to avoid prison, a bigamist who abandoned his first three children, a deadbeat who left many rents and hotel bills unpaid, a liar who wormed his way into Harvard by falsifying records, a cynic who used people shamelessly… Compelling… Picaresque.

— Susan Rubin Suleiman - New York Times Book Review

Evelyn Barish tells us exactly why Paul de Man, a pioneer of Theory, should have favoured notions about the impossibility of an objective narrative or a fixed personality. Viewed objectively, the narrative of his own life was the story of a cheat and a liar; and he made up his personality as he went along. Yet he fooled one high-level American college after another into treating him as a genius. This is one of the most daunting portraits of a literary charlatan since A.J.A. Symons wrote the life of Baron Corvo.
— Clive James, author of Cultural Amnesia

A page-turner, The Double Life of Paul de Man is a brilliant piece of writing—dispassionate in its analysis, moving in its vision of a tortured man.

— Diane Jacobs, author of Dear Abigail: The Intimate Lives and Revolutionary Ideas of Abigail Adams and Her Two Remarkable Sister

A riveting biography of master confidence man Paul de Man (1919–1983), manipulator of the facts and influential literary instructor—a character both preposterous and irresistible…. An extraordinary story of a complex personality presented with a wise dose of irony and respect.
— Kirkus Reviews, Starred review

[De Man's] story, the story of a concealed past, was almost too perfect a synecdoche for everything that made people feel puzzled, threatened, or angry about literary theory. Evelyn Barish's new biography, The Double Life of Paul de Man (Liveright), is an important update on the story… [Barish] has an amazing tale to tell. In her account, all guns are smoking… Fascinating.

— Louis Menand - The New Yorker

Impressively researched… Carefully documented… The story Barish tells is riveting. The de Man family closet was so packed with skeletons that they would have had to spill out into the living room.
— Robert Alter - New Republic

[A] painstaking and probing account… Ultimately, a mark of Barish's achievement is that, by the end of her story, de Man confounds and eludes us no less than he did his contemporaries.
— Robert Zaretsky - The American Scholar

Barish adds much to our knowledge of this brilliant intellectual counterfeit.
— David Lehman - The Wall Street Journal
Liveright, 9781631490057, 560pp.
Publication Date: February 2, 2015
About the Author
Evelyn Barish is a professor at City University of New York's Graduate Center and its College of Staten Island, and the author of Emerson:The Roots of Prophecy, for which she won the Christian Gauss Award. She lives in New York City.
or
Not Currently Available for Direct Purchase