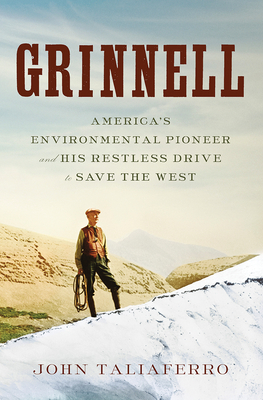 Grinnell
America's Environmental Pioneer and His Restless Drive to Save the West
Hardcover

* Individual store prices may vary.
Other Editions of This Title:
Digital Audiobook (8/26/2019)
Description
Winner • National Outdoor Book Award (History/Biography)

Longlisted • PEN/Jacqueline Bograd Weld Award for Biography
Before Rachel Carson, there was George Bird Grinnell—the man whose prophetic vision did nothing less than launch American conservation.
George Bird Grinnell, the son of a New York merchant, saw a different future for a nation in the thrall of the Industrial Age. With railroads scarring virgin lands and the formerly vast buffalo herds decimated, the country faced a crossroads: Could it pursue Manifest Destiny without destroying its natural bounty and beauty? The alarm that Grinnell sounded would spark America's conservation movement. Yet today his name has been forgotten—an omission that John Taliaferro's commanding biography now sets right with historical care and narrative flair.
Grinnell was born in Brooklyn in 1849 and grew up on the estate of ornithologist John James Audubon. Upon graduation from Yale, he dug for dinosaurs on the Great Plains with eminent paleontologist Othniel C. Marsh—an expedition that fanned his romantic notion of wilderness and taught him a graphic lesson in evolution and extinction. Soon he joined George A. Custer in the Black Hills, helped to map Yellowstone, and scaled the peaks and glaciers that, through his labors, would become Glacier National Park. Along the way, he became one of America's most respected ethnologists; seasons spent among the Plains Indians produced numerous articles and books, including his tour de force,
The Cheyenne Indians: Their History and Ways of Life
.
More than a chronicler of natural history and indigenous culture, Grinnell became their tenacious advocate. He turned the sportsmen's journal
Forest and Stream
into a bully pulpit for wildlife protection, forest reserves, and national parks. In 1886, his distress over the loss of bird species prompted him to found the first Audubon Society. Next, he and Theodore Roosevelt founded the Boone and Crockett Club to promote "fair chase" of big game. His influence among the rich and the patrician provided leverage for the first federal legislation to protect migratory birds—a precedent that ultimately paved the way for the Endangered Species Act. And in an era when too many white Americans regarded Native Americans as backwards, Grinnell's cries for reform carried from the reservation, through the halls of Congress, all the way to the White House.
Drawing on forty thousand pages of Grinnell's correspondence and dozens of his diaries, Taliaferro reveals a man whose deeds and high-mindedness earned him a lustrous peerage, from presidents to chiefs, Audubon to Aldo Leopold, John Muir to Gifford Pinchot, Edward S. Curtis to Edward H. Harriman. Throughout his long life, Grinnell was bound by family and sustained by intimate friendships, toggling between the East and the West. As Taliaferro's enthralling portrait demonstrates, it was this tension that wound Grinnell's nearly inexhaustible spring and honed his vision—a vision that still guides the imperiled future of our national treasures.
Praise For Grinnell: America's Environmental Pioneer and His Restless Drive to Save the West…
Without a doubt, the United States is a better place because of George Bird Grinnell.... [We] finally have an exhaustively detailed biography of an inexhaustible man who deserves his place in the pantheon of environmental founders.... Grinnell's memory lives on in the wild. And with this book, he is given the fresh look that he deserves.
— Timothy Egan - New York Times Book Review

An impressive, eminently readable biography of the great conservationist George Bird Grinnell.... Anyone who's ever set foot in a national park and wondered how it came to be will find an important part of the answer in this expansive look at an equally expansive life.
— Publishers Weekly, starred review

The best book I read this decade was: Grinnell: America's Environmental Pioneer by John Taliaferro.

— Jeff Ament, bassist of Pearl Jam

In Grinnell: America's Environmental Pioneer and His Restless Drive to Save the West, the first full-length biography of the man, John Taliaferro seeks to restore [Grinnell] to his rightful place among the giants of the early conservation movement in the United States. . . . Alas, our current environmental crises reach well beyond the problems that Grinnell and his clique aimed to solve. Even so, his life and work offer valuable lessons.

— Andrew Graybill - Wall Street Journal

A fine biography of a significant environmental champion.
— Kirkus Reviews

George Bird Grinnell is one of fascinating characters of the nineteenth century—a participant in events both heroic and tragic—and so it is good news that we have a full biography. Conservation traces many of its roots to Grinnell, so we need to understand him!
— Bill McKibben, author of Falter: Has the Human Game Begun to Play Itself Out?

George Bird Grinnell, one of the great visionaries in American environmentalism, has long deserved to have his story told. Among our ablest biographers, John Taliaferro has given us a smartly crafted and richly detailed portrait of a sage life that speaks to our often reckless but sometimes responsible ways, past and present.
— Jack E. Davis, Pulitzer Prize–winning author of The Gulf

A meticulous, indelible, and exhilarating portrait of George Bird Grinnell, in which John Taliaferro returns the ardent conservationist and ethnographer to full life. And what a life it was. A steadfast friend to North American wildlands and wildlife—and to its native peoples—Grinnell strides across the pages of this fine biography alive with the same passions that impelled him to roam and to write about the vanishing frontier.
— William Souder, author of On a Farther Shore: The Life and Legacy of Rachel Carson
Liveright, 9781631490132, 624pp.
Publication Date: June 4, 2019
About the Author
John Taliaferro is a graduate of Harvard College, a former senior editor at Newsweek, and the author of five previous books, including All the Great Prizes, winner of the Douglas Dillon Award. He lives in Texas and Montana.