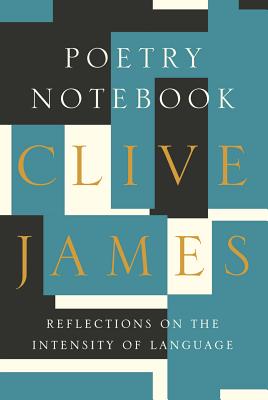 Poetry Notebook
Reflections on the Intensity of Language
Hardcover

* Individual store prices may vary.
Other Editions of This Title:
Paperback (4/4/2016)
Description
"Clive James is more or less the only living poet who manages to be both entertaining and moving." —Edward Mendelson, Columbia University
Clive James is one of our finest critics and best-beloved cultural voices. He is also a prize-winning poet. Since he was first enthralled by the mysterious power of poetry, he has been a dedicated student. In fact, for him, poetry has been nothing less than the occupation of his lifetime, and in this book he presents a distillation of all he's learned about the art form that matters to him most.
With his customary wit, delightfully lucid prose style and wide-ranging knowledge, Clive James explains the difference between the innocuous stuff so prevalent today and a real poem: the latter being a work of unity that insists on being heard entire and threatens never to leave the memory. A committed formalist and an astute commentator, James examines the poems and legacies of a panorama of twentieth-century poets, from Hart Crane to Ezra Pound, from Ted Hughes to Anne Sexton. In some cases he includes second readings or rereadings from later in life—just to be sure he wasn't wrong the first time! Whether demanding that poetry must be heard beyond the world of poetry or opining on his five favorite poets (Yeats, Frost, Auden, Wilbur, and Larkin), James captures the whole truth of life's transience in this unforgettably eloquent book on how to read and appreciate modern poetry.
Praise For Poetry Notebook: Reflections on the Intensity of Language…
This ability to tell which lines live and which only counterfeit life—call it, simply, taste—is Mr. James's great strength as a critic of poetry. His focus on the phrase and the line, rather than the large structure or the governing thought, feels like a poet's way of reading…. Mr. James's generosity of attention, his willingness to trawl through pages of verse in search of the hair-raising line, is his most appealing quality as a critic.
— Adam Kirsch - Wall Street Journal

Clive James's Poetry Notebook reintroduced me to the intense pleasures of close reading. Although he has some hard—and funny—things to say about Ezra Pound, James is firmly committed to celebration. He reminds us that poetry is, or can be, 'the most exciting thing in the world.' And this is what literary criticism, and literary pedagogy, should aim for: not to add a further encrustation of complexity, but simply to instill the readerly habits of gratitude and awe.

— Martin Amis

Clive James has a fantastic range and depth of knowledge. He is, at times, miraculously funny. He writes knowledgeably and with passion about literature, and especially poetry.
— Sam Leith - Spectator

The James voice is immediately recognisable. To describe it as comic does not do it justice: it might be fairer to say that the world it inhabits is prone, at most times, to a comedy of desperate sorts…James's best comedy is in the phrase-making, a craft at which he excels…James was —and remains—far more than a clever boy laughing at muddied oafs. He is a scholar who has preferred wearing his scholarship lightly.
— George Szirtes - New Statesman

As a critic, James is formidable, blending vast reading with the knowledge of practice. He demurs from having an 'aesthetic system,' but this is too modest. There are some clear positions in Poetry Notebook, and they are erudite, strident, but balanced…Poetry Notebook is a stellar collection by a great Australian writer, a man who, '[l]ooking back…with tired eyes,' retains the poetic enthusiasm of his teenage self.

— James McNamara - The Australian

[Clive James] is a unique figure, a straddler of genres and a bridger of the gaps between high and low culture. He will be seen, I think, as one of the most important and influential writers of our time.
— Bryan Appleyard - Sunday Times

This collection of 'miniature essays' on poetry… informs and delights….
— Publishers Weekly, Starred review

[Poetry Notebook is] compact and entertaining… James is still with us and, on virtually every page of Poetry Notebook, shedding sparks. Readers who make the mistake of finding his taste for canonical poems 'conservative' should still get a charge from his bloody-minded drive… A breathtaking book by an old master running out of breaths.

— Jason Guriel - The New Republic

A rousing compendium of short essays about poetry and poets that James has published over the years…. What you will find in Poetry Notebook are charged, idiosyncratic readings of the classics as well as more recent works…. I defy anyone not to be moved by these essays in which a great critic reflects on the works that have shaped him, even as, James says, he prepares himself to head off to 'the empty regions.'

— Maureen Corrigan - NPR

[James] writes with enthusiasm about his favorites—Yeats, Frost, Auden, Wilbur, Larkin…. Here, too, are takes on some fine poets who aren't household names: Louis MacNeice, Les Murray, Michael Longley and Stephen Edgar…. A practical, witty and trenchant assessment of 20th-century British and American poetry.
— Tom Lavoie - Shelf Awareness

A book bursting with quotable moments, many of them spill-your-drink funny…. Indeed, great poetry thrills James in the way roller coasters and celebrity sightings thrill other people. His enthusiasm is infectious.
— Emily Donaldson - Toronto Star
Liveright, 9781631490279, 256pp.
Publication Date: March 30, 2015
About the Author
Clive James (1939—2019), author of the best-selling Cultural Amnesia and Poetry Notebook, was an Officer of the Order of Australia and a Commander of the Order of the British Empire. His writing appeared in the New York Times Book Review, The New Yorker, and The Atlantic.
Coverage from NPR
or
Not Currently Available for Direct Purchase