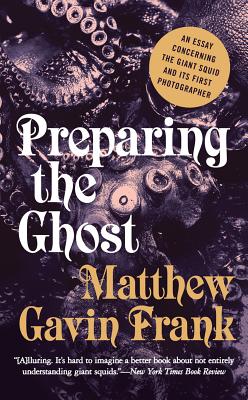 Preparing the Ghost
An Essay Concerning the Giant Squid and Its First Photographer
Paperback

* Individual store prices may vary.
Other Editions of This Title:
Hardcover (7/7/2014)
Description
A New York Times Book Review Editors' Choice Selection

Named one of the Best Books of the Year by Shelf Awareness
Memory, mythology, and obsession collide in this "slyly charming" (New York Times Book Review) account of the giant squid.
In 1874, Moses Harvey—eccentric Newfoundland reverend and amateur naturalist—was the first person to photograph the near-mythic giant squid, draping it over his shower curtain rod to display its magnitude. In
Preparing the Ghost
, what begins as Harvey's story becomes spectacularly "slippery and many-armed" (NewYorker.com) as Matthew Gavin Frank winds his narrative tentacles around history, creative nonfiction, science, memoir, and meditations about the interrelated nature of them all. In his full-hearted, lyrical style, Frank weaves in playful forays about his trip to Harvey's Newfoundland home, his own childhood and family history, and a catalog of peculiar facts that recall Melville 's story of obsession with another deep-sea dwelling leviathan. "Totally original and haunting" (
Flavorwire
),
Preparing the Ghost
is a delightfully unpredictable inquiry into the big, beautiful human impulse to obsess.
Praise For Preparing the Ghost: An Essay Concerning the Giant Squid and Its First Photographer…
Slyly charming. . . . stunning writing and perversely wonderful research. . . . Alluring. It's hard to imagine a better book about not entirely understanding giant squids.
— Jon Mooallem - New York Times Book Review

In a book as coiled, strange and tentacular as its subject, Matthew Gavin Frank considers the squid. . . . An act of love and erudition.

— Annalissa Quinn, NPR

One of the handsomest, most elusive creatures on earth and its first photographer get their close-up in Matthew Gavin Frank's marvelous Preparing the Ghost.

— Elissa Schappell - Vanity Fair

Totally original and haunting in the way you'd expect a book about a real life Presbyterian clergyman and amateur naturalist from the late-19th century—and his relationship with a giant squid—to be.
— Jason Diamond - Flavorwire

A great essay takes us into the author's polymathic mind and out to the wondrous world, teaching us something we didn't know we wanted to know.
— Patrick Madden, author of Quotidiana

Reads like a cross between Walt Whitman and a fever dream. Who would think squid and ice cream go together? I remained riveted to the very last word.
— Sy Montgomery, author of The Good Good Pig

Matthew Gavin Frank reinvents the art of research in extraordinarily imaginative ways. His meditation on the briefly known and the forever unknowable courts lore (both family and creaturely), invites the fantastical, heeds fact, and turns the human drive to notate and list into a gesture of lyrical beauty.
— Lia Purpura, author of On Looking and Rough Likeness

Inventive, original, and endlessly interesting, Preparing the Ghost is a gorgeous exploration of myth, history, language, and imagination. . . . A journey through passion, obsession, fear, and adventure, and the hunger to behold what lurks within the depths of the sea.

— Catherine Chung, author of Forgotten Country

The most original book I have read in years.
— Lidia Yuknavitch, author of The Chronology of Water and Dora: A Headcase

A mysterious but seductive mix of history, creative non-fiction, memoir, and poetry. . . . keeps the reader riveted with the lure of the unknown and dark, sultry prose.
— Megan Mayhew Bergman, author of Birds of a Lesser Paradise

What a marvelous essay. . . . Take it all in. Revel in its majesty.
— Lee Martin, author of Such a Life

A multi-tentacled and entirely captivating saga of profound mystery and relentless pursuit.
— Dinty W. Moore, author of Between Panic & Desire

A mash-up of a meditation on the nature of myth, the magnetic distance between preservation and perseverance, and the "sympathetic cravings" that undergird pain. In Frank's heart-thumping taxonomy, monstrous behemoths square nicely with butterflies and ice cream. Don't ask me how: read this book!
— Mary Cappello, author of Swallow: Foreign Bodies, Their Ingestion, Inspiration, and the Curious Doctor who Extracted Them

Part history, part lyric poem, part detective novel—Matthew Gavin Frank's Preparing the Ghost is just as intriguing and hard to classify as its subject. I never thought I'd care so much about the elusive giant squid, but thanks to this book, I can't help but see its shadow everywhere.

— Brenda Miller, author of Season of the Body and Listening Against the Stone
Liveright, 9781631490569, 320pp.
Publication Date: June 29, 2015
About the Author
Matthew Gavin Frank is the author of Preparing the Ghost and The Mad Feast. He teaches creative writing and lives in Marquette, Michigan.
or
Not Currently Available for Direct Purchase