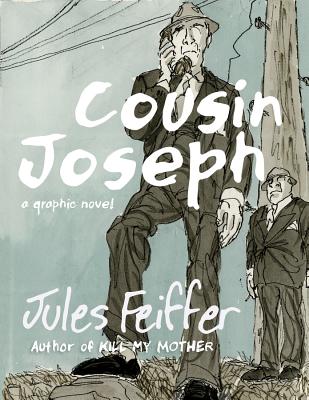 Cousin Joseph
A Graphic Novel
Hardcover

* Individual store prices may vary.
Description
New York Times Bestseller

One of the Washington Post's Best Graphic Novels of the Year

Nominated for the Lynd Ward Graphic Novel Prize
Meet Big Sam Hannigan. Tough, righteous, a man on a mission. Only problem is, it's the wrong mission.
With the New York Times bestseller Kill My Mother, legendary cartoonist Jules Feiffer began an epic saga of American noir fiction. With Cousin Joseph, a prequel that introduces us to bare-knuckled Detective Sam Hannigan, head of the Bay City's Red Squad and patriarch of the Hannigan family featured in Kill My Mother, Feiffer brings us the second installment in this highly anticipated graphic trilogy.
Our story opens in Bay City in 1931 in the midst of the Great Depression. Big Sam sees himself as a righteous, truth-seeking patriot, defending the American way, as his Irish immigrant father would have wanted, against a rising tide of left-wing unionism, strikes, and disruption that plague his home town. At the same time he makes monthly, secret overnight trips on behalf of Cousin Joseph, a mysterious man on the phone he has never laid eyes on, to pay off Hollywood producers to ensure that they will film only upbeat films that idealize a mythic America: no warts, no injustice uncorrected, only happy endings.
But Sam, himself, is not in for a happy ending, as step by step the secret of his unseen mentor's duplicity is revealed to him. Fast-moving action, violence, and murder in the noir style of pulps and forties films are melded in the satiric, sociopolitical Feifferian style to dig up the buried fearmongering of the past and expose how closely it matches the headlines, happenings, and violence of today.
With Cousin Joseph, Feiffer builds on his late-life conversion to cinematic noir, bowing, as ever, to youthful heroes Will Eisner and Milton Caniff, but ultimately creating a masterpiece that through his unique perspective and comic-strip noir style illuminates the very origins of Hollywood and its role in creating the bipolar nation we've become.
Praise For Cousin Joseph: A Graphic Novel…
It's classic noir narrative to the bones, with all the required accouterments: the ceiling fans, the shadows, the tough guys, the morally ambiguous protagonist and the femme fatale, all drawn in Feiffer's signature dancing scribble. . . . Feiffer skates around characters, circling closer, retreating and returning to them, weaving the plot tighter until the pieces fall into place. This is pulp at its best. The book is subversive in a lot of ways—from its occasional bursts of unflinchingly awkward content to its neat commentary on the graphic novel form itself, but it embraces popular culture influences without irony or apology. That may be the most subversive thing about it, actually. And the most romantic. . . . Two books in and Feiffer's noir graphic novel trilogy is starting to feel like a life's work. Smart, weird, political, engrossing; it's exactly the kind of morally complex story Cousin Joseph would have hated.
— Chelsea Cain - New York Times Book Review
Liveright, 9781631490651, 128pp.
Publication Date: July 26, 2016
About the Author
Jules Feiffer is a cartoonist, playwright, screenwriter, children's book author and illustrator, and member of the American Academy of Arts and Letters. He teaches a humor-writing class at Stony Brook Southampton College and lives in East Hampton, New York.
or
Not Currently Available for Direct Purchase