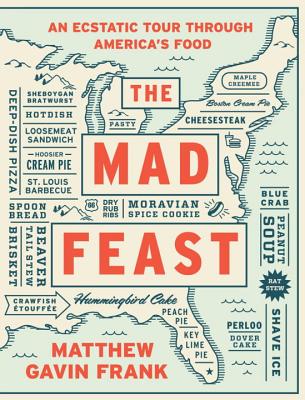 The Mad Feast
An Ecstatic Tour through America's Food
Hardcover

* Individual store prices may vary.
Description
Finalist for the Art of Eating Prize
A richly illustrated culinary tour of the United States through fifty signature dishes, and a radical exploration of our gastronomic heritage.
Following his critically acclaimed
Preparing the Ghost
, renowned essayist Matthew Gavin Frank takes on America's food. In a surprising style reminiscent of Maggie Nelson or Mark Doty, Frank examines a quintessential dish in each state, interweaving the culinary with personal and cultural associations of each region. From key lime pie (Florida) to elk stew (Montana),
The Mad Feast
commemorates the unexpected origins of the familiar. Brazenly dissecting the myriad intersections between history and food, Frank, in this gorgeously designed volume, considers politics, sexuality, violence, grief, and pleasure: the cool, creamy whoopie pie evokes toughness in the face of New England winters, while the stewlike perloo serves up an exploration of food and race in the South. Tracing an unpredictable map of our collective appetites, The Mad Feast presents a beguiling flavor profile of the American spirit.
Praise For The Mad Feast: An Ecstatic Tour through America's Food…
It is the off-the-wall blend of memoir, travel, history and fiction that makes the book unique. This is the cookbook David Foster Wallace might have written…. If you enjoyed J. Ryan Stradal's Kitchens of the Great Midwest and appreciate the style of writers like Geoff Dyer, Maggie Nelson and Will Self, this should be your next food-themed read.

— Rebecca Foster - BookTrib.com

Never has a country-spanning food romp felt this subversive. Frank's essays—which dissect signature dishes from all 50 states—are nothing short of brilliant…. [A]n exploration of humanity, life, and tastes, the book is delicious. A-
— Entertainment Weekly

This is potent stuff, a demi-glace, if you will, that has been reduced down, unnecessary words struck from the page to offer prose akin to poetry, dense and evocative…. A bravado performance…. [The Mad Feast] is a very good book, and one that provides the sense of literary adventure that struck me when I first read the opening lines of Henry Miller's Tropic of Cancer…. Mr. Frank is not 'mad' as the title might imply, nor is he perversely calculating. He feels his way along his travels and connects one notion to another until he develops a literary skein that vibrates with passion. That, I suppose, is a pretty good definition of writing, the good kind.

— Mr. Kimball - Wall Street Journal

[A] raucous gastro-crawl through regional American cuisine.
— Jeffery Gleaves - The Paris Review Daily

[Frank]'s produced a surprising, entertaining look at what Americans eat and why.
— Kirkus Reviews

The Mad Feast is the ideal gift for your closest traveling companion, a self-guided tour crafted with a native's intuition and panache…. Using quirky historical anecdotes that echo a nation's motley coming-of-age, Frank has found a way to serve each state's beating heart on a platter. At turns spunky, wise, and melancholic, The Mad Feast is essential reading material for your next cross-country road trip.

— Ploughshares

This crazy culinary cruise through America is as messy and wonderful as Iowa's Loosemeat Sandwich. …This is no cookbook with practical recipes or a patronizing tour of backwoods eateries, but a meditation on our nation's strange history that stares up at us from the plate, as tart as a Key lime and dense as Mississippi Mud Pie.
— Andrew Lawler, author of Why Did the Chicken Cross the World?

Matthew Gavin Frank's The Mad Feast is like a baby who wants to learn the world by putting everything in its mouth. If eating means bringing everything we're not into our bodies, then this book—rich, exuberant, unexpected—explores how we're contained within everything we bring into ourselves. It's messy and playful; it pushes association to the brink of absurdity and then sits at that border, munching on a slice of cake or spooning some chowder. Every chapter reads less like reportage and more like incantation, assembling from local materials the particular ingredients necessary to cast a singular spell.

— Leslie Jamison, author of The Empathy Exams

In The Mad Feast, Matthew Gavin Frank is our Merry Prankster of literary food writing, taking his readers on a mind-bending trip through the pork-belly of America. Lush, exuberant, and manically associative, this book is so much more than a collection of recipes (but it is that, too); it's an ecstatic and essayistic exploration of culture, community, history, and philosophy. I could not put it down, and I keep going back for more.

— Steven Church, author of Ultrasonic: Essays, founding editor of The Normal School
Liveright, 9781631490736, 432pp.
Publication Date: November 9, 2015
About the Author
Matthew Gavin Frank is the author of Preparing the Ghost and The Mad Feast. He teaches creative writing and lives in Marquette, Michigan.
or
Not Currently Available for Direct Purchase