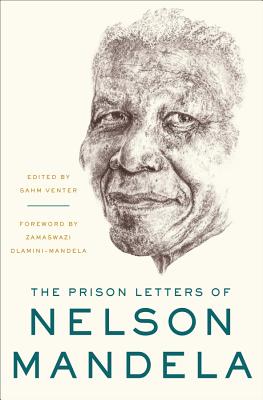 The Prison Letters of Nelson Mandela
Hardcover

* Individual store prices may vary.
Description
One of NPR's Great Reads of 2018
An unforgettable portrait of one of the most inspiring historical figures of the twentieth century, published on the centenary of his birth.
Arrested in 1962 as South Africa's apartheid regime intensified its brutal campaign against political opponents, forty-four-year-old lawyer and African National Congress activist Nelson Mandela had no idea that he would spend the next twenty-seven years in jail. During his 10,052 days of incarceration, the future leader of South Africa wrote a multitude of letters to unyielding prison authorities, fellow activists, government officials, and, most memorably, to his courageous wife, Winnie, and his five children. Now, 255 of these letters, many of which have never been published, provide exceptional insight into how Mandela maintained his inner spirits while living in almost complete isolation, and how he engaged with an outside world that became increasingly outraged by his plight.
Organized chronologically and divided by the four venues in which he was held as a sentenced prisoner, The Prison Letters of Nelson Mandela begins in Pretoria Local Prison, where Mandela was held following his 1962 trial. In 1964, Mandela was taken to Robben Island Prison, where a stark existence was lightened only by visits and letters from family. After eighteen years, Mandela was transferred to Pollsmoor Prison, a large complex outside of Cape Town with beds and better food, but where he and four of his comrades were confined to a rooftop cell, apart from the rest of the prison population. Finally, Mandela was taken to Victor Verster Prison in 1988, where he was held until his release on February 11, 1990.
With accompanying facsimiles of some of his actual letters, this landmark volume reveals how Mandela, a lawyer by training, advocated for prisoners' human rights. It reveals him to be a loving father, who wrote to his daughter, "I sometimes wish science could invent miracles and make my daughter get her missing birthday cards and have the pleasure of knowing that her Pa loves her," aware that photos and letters he sent had simply disappeared.
More painful still are the letters written in 1969, when Mandela—forbidden from attending the funerals of his mother and his son Thembi—was reduced to consoling family members through correspondence. Yet, what emerges most powerfully is Mandela's unfaltering optimism: "Honour belongs to those who never forsake the truth even when things seem dark & grim, who try over and & over again, who are never discouraged by insults, humiliation & even defeat."
Whether providing unwavering support to his also-imprisoned wife or outlining a human-rights philosophy that resonates today, The Prison Letters of Nelson Mandela reveals the heroism of a man who refused to compromise his moral values in the face of extraordinary punishment. Ultimately, these letters position Mandela as one of the most inspiring figures of the twentieth century.
From The Prison Letters of Nelson Mandela
"A new world will be won not by those who stand at a distance with their arms folded, but by those who are in the arena, whose garments are torn by storms & whose bodies are maimed in the course of contest."
"I am convinced that floods of personal disaster can never drown a determined revolutionary nor can the cumulus of misery that accompanies tragedy suffocate him."
"My respect for human beings is based, not on the colour of a man's skin nor authority he may wield, but purely on merit."
"A good pen can also remind us of the happiest moments in our lives, bring noble ideas into our dens, our blood & our souls. It can turn tragedy into hope & victory."
Praise For The Prison Letters of Nelson Mandela…
These messages to family, friends, comrades, elected officials and prison administrators reveal a Mandela as vulnerable as any other human.... Mr. Mandela's prison letters underscore isolation's other violence: every incarcerated human is stripped of family. Separating a person from his kin is the ultimate expression of state power. I can't help seeing, in the image of Mr. Mandela's daughter begging for her father's return, the children weeping at our southern border. Considering the solace and strength he took from these folded sheets of paper, it's a marvel his captors allowed him any mail at all.... Mr. Mandela's letters tell a story beyond their own words.
— Tayari Jones, New York Times

Heartbreaking and inspiring.... This book confronts readers with the most direct evidence yet of Mandela's intellectual evolution into one of the great moral heroes of our time.... With words as his only ammunition, Mandela fought his case patiently, on lined paper, his eloquence inseparable from his rectitude.
— Charlayne Hunter-Gault, New York Times

"It was with considerable delight and relief that I read The Prison Letters of Nelson Mandela, an astonishing outpouring from his 27 years in prison — 10,052 days to be exact. Many of the 255 letters chosen and annotated here have never been published, and because they articulate his thinking and feelings in real time, they provide a new lens to view his personal and political growth. Most of all, they help explain how Mandela survived his grueling incarceration with his passions and integrity intact."

— Bob Drogin, Los Angeles Times

A necessary, intimate portrait of the great leader. The man who emerges is warm and intelligent and a savvy, persuasive, and strategic thinker. During his life, Mandela was a loving husband and father, a devotee of the ANC's struggle, and capable of interacting with prominent statesmen and the ANC's rank and file. He was not above flattery or hard-nosed steeliness toward his captors as suited his needs, and he was always yearning for freedom, not only—or even primarily—for himself, but rather for his people, a goal that is the constant theme of this collection and was the consuming vision of his entire time as a prisoner. Venter adds tremendous value with his annotations and introductions to the work as a whole and to the book's various sections. A valuable contribution to our understanding of one of history's most vital figures.
— Kirkus Reviews [Starred Review]

In 1962, when he was arrested, Nelson Mandela, who would become the first black and democratically elected president of South Africa and Nobel Peace Prize recipient, was a 44-year-old husband, father of five young children, and prominent anti-apartheid activist.... With editor Venter's succinct contextual information, Mandela's reasoned and diligent letters tell the inside story of a freedom fighter who refused to betray his principles and comrades, no matter how much anguish he endured in isolation from his loved ones, who also suffered terribly.... A landmark historical source and a dramatic read, this collection of Mandela's letters illuminates with stunning immediacy the genius, sacrifice, discipline, courage, and commitment of a world-changing civil rights hero.
— Booklist [Starred Review]

This collection of 255 prison letters written by the late revolutionary and former president of South Africa provides a unique glimpse of Mandela during his 27-year incarceration, which he served at four different prisons. Both intimate and diplomatic, these writings showcase Mandela's various roles as a husband, father, friend, and lawyer.... An important work for library collections and voracious readers of history.
— Library Journal
Liveright, 9781631491177, 640pp.
Publication Date: July 10, 2018
About the Author
Nelson Mandela (1918—2013) was a South African anti-apartheid revolutionary, politician, and philanthropist, who served as the first democratically-elected President of South Africa from 1994 to 1999. Mandela established the Nelson Mandela Foundation as his post-presidential office in 1999. It is a not-for-profit organization which has, since 2004, been transformed into an archive and trusted voice on his life and times. It carries out its mandate to promote Mandela's vision and work by convening dialogues and creating platforms for engagement around critical issues to promote social justice.

Sahm Venter is a former Associated Press reporter (who covered and was witness to Mandela's release from prison in 1990) and a longtime researcher. She has co-edited several previous books, including Notes to the Future: Words of Wisdom with Sello Hatang and Doug Abrams); 491 Days: Prisoner Number 1323/69 by Winnie Madikizela-Mandela, with Swati Dlamini; and Something to Write Home About: Reflections from the Heart of History, with Claude Colart; and co-wrote Conversations with a Gentle Soul with the late anti-apartheid struggle hero, Ahmed Kathrada.

Zamaswazi Dlamini-Mandela was born in 1979 in Welkom, South Africa, close to the town of Brandfort to which her grandmother, Winnie Madikizela-Mandela was banished by the apartheid regime. She works as a business developer and is a public speaker and a self-described serial entrepreneur. In 2017 she launched her luxury fashion range Swati by Roi Kaskara. She is the granddaughter of Nelson Mandela and Nomzamo Nobandla Winnie Madikizela-Mandela.
or
Not Currently Available for Direct Purchase