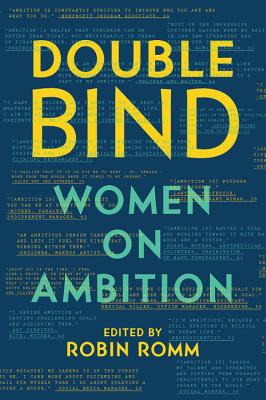 Double Bind
Women on Ambition
Hardcover

* Individual store prices may vary.
Other Editions of This Title:
Paperback (2/27/2018)
Description
Longlisted for the 800-CEO-READ Award for Business Book of the Year
Breaking the last feminist taboo--once and for all.
Even as toweringly successful women from Gloria Steinem to Beyoncé embrace the word "feminism," the word "ambition," for many, remains loaded with ambivalence. Women who are naturally driven and goal-oriented shy away from it. They're loath to see themselves—or be seen by others—as aggressive or, worst of all, as a bitch. Double Bind could not come at a more urgent time, a necessary collection that explodes this conflict, examining the concept of female ambition from every angle in essays full of insight, wisdom, humor, and rage.
Perceptively identifying a paradox at the very heart of feminism, editor Robin Romm has marshaled a stunning constellation of thinkers to examine their relationships with ambition with candor, intimacy, and wit. Roxane Gay discusses how race informs and feeds her ambition. Theresa Rebeck takes on Hollywood and confronts her own unquenchable thirst to overcome its sexism. Francine Prose considers the origins of the stigma; Nadia Manzoor discusses its cultural weight. Women who work in fields long-dominated by men—from butchery to tech to dogsledding—weigh in on what it takes to crack that ever-present glass ceiling, and the sometimes unexpected costs of shattering it. The eternally complex questions of aspiration and identity can be made even more treacherous at the dawn of motherhood; Allison Barrett Carter attempts leaning in at home, while Sarah Ruhl tries to uphold her feminist vision within motherhood's infinite daily compromises.
Taken together, these essays show women from a range of backgrounds and at all stages of their lives and careers grappling with aspiration, failure, achievement, guilt, and, yes, success. Forthright and empowering, Double Bind breaks a long silence, reclaiming "ambition" from the roster of dirty words at last.
Praise For Double Bind: Women on Ambition…
In essays that are bold, absorbing, insightful, and wise, the writers in Double Bind explore the complicated realities of what it means to be an ambitious woman today. I was enthralled by this important book, and moved too. I want to press it into the hands of everyone I know and say, Read it: the truth is inside.

— Cheryl Strayed, author of Wild and Tiny Beautiful Things

Wonderful, readable stories that are as complex and compelling as their authors. Double Bind raises as many questions as it provides answers, but they are questions that women and men with wives, sisters, and daughters should be pondering.

— Anne Marie Slaughter, author of Unfinished Business: Women Men Work Family

Daring, wonderfully readable, and packed with truth. Double Bind is a work of courage and ferocious honesty. A book to inspire us now and the generations of ambitious women to come.

— Diana Abu-Jaber, author of Life Without a Recipe: A Memoir and Crescent

Robin Romm has assembled a terrific group of writers to explore an essential and durable topic. Double Bind is always engaging.

— Meg Wolitzer, author of The Interestings

I read this book from cover to cover on two plane flights, and I instantly felt welcomed into my tribe of women struggling with ambition. Some of these women want ambition; some do not. Some are polite and demur in their expressions of ambition; others are ballsy (!) and forward. Some of the women feel supported in their pursuit of ambition; others struggle alone. Listening to the voices of all these women, I felt embraced and understood.
— Kara Cooney, author of The Woman Who Would Be King

This vital book is full of the true, brave voices of women who've accomplished great things despite living in a culture that pays lip service to the notion of women's full humanity but still does so much to hold us back—including, not incidentally, teaching us to hate and doubt ourselves. Now more than ever, these stories need to be read.
— Emily Gould, author of Friendship

The animating ethos of Double Bind is that there is soft political power in the discussions it offers—in stories that are both intimate and scalable. The book is dedicated to giving voice to a problem, thus humanizing it—and thus, also, productively re-complicating it.

— Megan Garber - Atlantic.com

A welcome addition to the discourse on a topic that rarely receives the kind of honest and wide-ranging consideration these essays offer. A thoughtfully provocative anthology.
— Kirkus Reviews

Women today have been told that they can 'have it all,' but novelist and essayist Romm presents a collection of essays that reveals that the reality is much more complex. . . . Raw, frank, and utterly relatable, this collection is a must-read.
— Kristine Huntley - Booklist (starred review)

Illuminating
. . . . While not an advice book in the traditional form, the experiences
recounted and lessons learned seep as if by osmosis, and Romm's thoughtful
aggregation has provided a diversity of voices.
— Publishers Weekly

Ambition will always be complicated for women, and not just because of external impediments: it is an imperfect drive, enacted in imperfect circumstances, that inevitably leads to imperfect things. The more compelling essays in Double Bind address this head on.

— Jia Tolentino - NewYorker.com

On one hand, women are told to claim their seat at the table and run the world. On the other, society still synonymizes female ambition with bitchiness. Essays by nimble thinkers from Roxane Gay to Molly Ringwald explore and dismantle this maddening paradox.
— O, The Oprah Magazine
Liveright, 9781631491214, 320pp.
Publication Date: April 11, 2017
About the Author
Robin Romm is the author of The Mother Garden and The Mercy Papers. Her work has appeared in the New York Times, The Atlantic, O, The Oprah Magazine, and elsewhere. She teaches at Warren Wilson College and lives in Portland, Oregon.
or
Not Currently Available for Direct Purchase