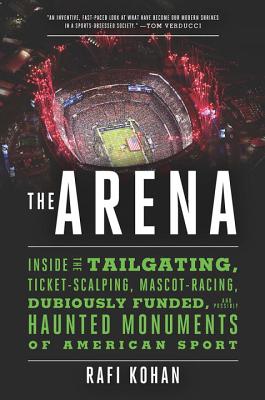 The Arena
Inside the Tailgating, Ticket-Scalping, Mascot-Racing, Dubiously Funded, and Possibly Haunted Monuments of American Sport
Hardcover

* Individual store prices may vary.
Other Editions of This Title:
Paperback (9/4/2018)
Description
Finalist • PEN/ESPN Award for Literary Sports Writing
Riotous fan behavior, behind-the-scenes machinations, and madcap histories dominate in this unrivaled exploration of the modern American sports stadium.
The American sports stadium, for all its raucous glory, is an overlooked centerpiece—a veritable temple—of our national culture. A hallowed ground for communal worship, this is where history is made on grass, artificial turf, hardwood, and even ice; where nostalgia flows as freely as ten-dollar beers; where everything thrills, from exploding fireworks to grinning cheerleaders. In The Arena, "an altogether new and riveting sports classic" (Josh Wilker), intrepid sportswriter Rafi Kohan crisscrosses the country, journeying from one beloved monument to the next. As he finagles access to the unexpected corners and hidden corridors of our most frequented fields, he discovers just what makes them tick—and what keeps us coming back time and time again.
Beginning with the "old-timers," Kohan pays his respects to Chicago's ivy-laced Wrigley and Green Bay's lovable Lambeau, which have creakily adjusted to the twenty-first century while maintaining those age-old quirks fans have prized for generations. Juxtaposing these cherished time capsules with mighty new mammoths like Dallas's shiny AT&T Stadium, Kohan examines the often-punishing realities of how they are built, from architectural ambition to controversial funding and political strong-arming.
Meanwhile, just outside the turnstiles of these commercial cathedrals, whole ecosystems flourish, buzzing with charming merch men and cutthroat ticket scalpers. Trips to Cleveland's Progressive Field and Quicken Loans Arena illuminate such shadow economies, revealing the remarkable impact a team—and even just a single player (yes, we're looking at you, LeBron James)—can have on an entire city. With infectious enthusiasm and wit, Kohan also explores the behind-the-scenes logistics and deeply ingrained traditions within these bustling facilities, cracking open a secret world of unforgettable characters—groundskeepers, mascots, halftime performers—who work tirelessly to make the live event worth the price of admission.
If you've ever wondered how they coordinate those fighter jet flyovers with the national anthem, how many hot dogs they serve in a day at Citi Field, how boozy pregame tailgates are kept in line, or what on earth AstroTurf is made of, look no further. As rowdy and rollicking as its subject, The Arena is a must-read for diehard fans, shameless bandwagoners, umpires, broadcasters, groundskeepers, culture junkies, tailgaters, and anyone else who's ever eagerly headed off to the ballpark to catch a game.
Praise For The Arena: Inside the Tailgating, Ticket-Scalping, Mascot-Racing, Dubiously Funded, and Possibly Haunted Monuments of American Sport…
Smart, readable, deeply reported and researched, engagingly personal, funny and often surprisingly poignant.
— Jay Jennings - New York Times Book Review

[The Arena] covers everything from how those fighter jet flyovers sync with the national anthem to an inside look at the disease that is rabid fandom (in the chapter "Extremely Loud and Incredibly Gross"). Think of it this way: for less than the price of admission to most any of these stadiums, Kohan will let you travel from Wrigley to Lambeau to the Superdome in the most American way possible. Without ever having to leave the comfort of your couch.

— GQ

Fascinating….He comes across as the Studs Terkel of stadium life, demonstrating an easy camaraderie with his sources…It's his sod-level reporting that animates the book, lending a distinctive blue-collar vibe of bantering co-workers who take pride in jobs well done—jobs like painting the logo on a playing field or combing over the bald spots in the ivy-covered outfield walls of Wrigley Field.
— Will Blythe - Wall Street Journal

The Arena is fun because of the author's wit and style – a kind of gonzo/embedded journalism hybrid…But most importantly it's fun because it is, metaphorically speaking, a circus mirror reflection of who we are as a nation 'psychologically, economically, politically, culturally, historically.'

— Christian Science Monitor

The Arena is an inventive, fast-paced look at what have become our modern shrines in a sports-obsessed society. But it artfully illuminates us - including the often quirky people flocking to these shrines - even more than the structures.

— Tom Verducci, Best-Selling Author, Sports Illustrated Senior Writer

This is an irresistible tour de force that reveals how and why our monuments to games are hard-wired to fans' most thrilling and heartbreaking memories. A fabulous book.
— Don Van Natta Jr., ESPN, Pulitzer Prize winner, and New York Times best-selling author

Rafi Kohan's terrific The Arena sees stadiums as a reflection of ourselves, in all of our glory, all our failings, and all our desires. It also made me want to go to a game, immediately.

— Will Leitch, author of Are We Winning? and God Save The Fan, senior writer Sports On Earth and founder of Deadspin

Kohan answers a central question: If every game is on TV, why do we still shell out hundreds to see them live? Hint: Even in this era of HDTV and disposable stadiums, we still need to be together. The Arena is a pioneering work of athletic anthropology—and just plain fun.

— John U. Bacon, New York Times best-selling author of Three and Out, Fourth and Long, and Endzone

An altogether new and riveting sports classic. A copy of Kohan's brilliant, funny, illuminating book should be sealed in a vault beside every one of these places we go to yell ourselves hoarse, so that future archaeologists sifting through our ruins can understand who we were and why we gathered together.
— Josh Wilker, author of Benchwarmer and Cardboard Gods

An addictive, detailed look at the lives of sports arenas . . . . Kohan's curiosity and empathy are infectious as he demonstrates how human this corporate aspect of sports can be. He has created an immersive, informative work that will delight and enlighten a wide range of readers.
— Publishers Weekly

Highly compelling . . . . Part history and sociology, part ethnography, and part journalism—sometimes straight shoe-leather, sometimes participatory, and oftentimes a little bit gonzo—the book features many of the behind-the-scenes questions you have always had and a few that you never considered. . . . Kohan brings the modern sporting arena to life in this fine exploration of the 'corners of American stadiums that aren't necessarily hidden but are almost assuredly unseen.'
— Kirkus Reviews, starred review

Fascinating…comprehensive, accurate, and often quite funny.
— Booklist

A unique and readable perspective on the impact of U.S. sports stadia and arenas.
— Library Journal
Liveright, 9781631491276, 416pp.
Publication Date: August 8, 2017
About the Author
Rafi Kohan is a freelance writer and editor, and an amateur ivy groomer. Formerly, he served as deputy editor at the New York Observer and has written for GQ, Men's Journal, Wall Street Journal, Town & Country, ESPN.com, and more. He lives in New York City and deeply misses the old Yankee Stadium.
Coverage from NPR
or
Not Currently Available for Direct Purchase