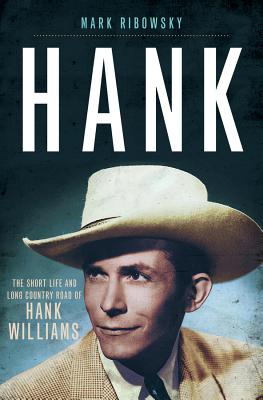 Hank
The Short Life and Long Country Road of Hank Williams
Hardcover

* Individual store prices may vary.
Other Editions of This Title:
Compact Disc (11/22/2016)
Paperback (11/7/2017)
Description
A heartbreaking and unforgettable portrait of country music's founding father.
After he died in the backseat of a Cadillac at the age of twenty-nine, Hank Williams?a frail, flawed man who had become country music's most compelling and popular star?instantly morphed into its first tragic martyr. Having hit the heights in the postwar era with simple songs of heartache and star-crossed love, he would, with that outlaw swagger, become in death a template for the rock generation to follow. But unlike those other musical giants who never made thirty, no legacy endures quite like that of the "Hillbilly King."
Now presenting the first fully realized biography of Hiram King Williams in a generation, Mark Ribowsky vividly returns us to the world of country's origins, in this case 1920s Alabama, where Williams was born into the most trying of circumstances, which included a dictatorial mother, a henpecked father, and an agonizing spinal condition. Forced by his overbearing matriarch to do odd jobs—selling peanuts, shining shoes—young Hank soon found respite in street-corner blues man Rufus "Tee Tot" Payne, who showed him how to make a guitar sing. It wasn't long before young Hank found his way onto those nascent American radio airwaves, where his melodic voice and timely tunes slowly garnered a following. On that dusty path to early stardom, Hank was indefatigably supported by his overbearing mother, who would shepherd his band, the Driftin' Cowboys, to shows along backroads of the Jim Crow South. Yet it was a different woman who would supply Hank with the fuel he needed to explode out of the local spotlight: his sometimes wife, Audrey Mae Sheppard. As Ribowsky brilliantly evokes, their fiery relationship—as abusive as it was passionate—would inform nearly every song he ever wrote, and provide a template for country music for generations to follow.
In chronicling Hank's rise to stardom, Ribowsky also explores all those cautionary tales that have, until now, remained secreted beneath the grooves of his records. Drawing from new interviews, Ribowsky connects those seemingly eternal afternoons and nights spent choked in booze and desperation to the music that Williams would create. With remarkable nuance and insight, Ribowsky allows us to witness the man behind the tipped cowboy hat—the charismatic troubadour who hid the wounds of his domestic quarrels, relied on painkillers to get through the day, and was always teetering on the edge of tragedy, even when he saw the light.
Tracing the singular rise of a music legend from the street corners of the Depression-era South to the now-immortal stage of the Grand Ole Opry, and finally to a haunting, lonely end on New Year's Day 1953, Hank uncovers the real man beneath the myths, reintroducing us to an American original whose legacy, like a good night at the honkytonk, promises to carry on and on.
Praise For Hank: The Short Life and Long Country Road of Hank Williams…
In a year when a number of notable books . . . focused on the history and fate of the white working class in America, Mark Ribowsky's Hank is a timely biography . . . . Ribowsky has taken on a truly harrowing life.

— John Williams

A compassionate yet clear-eyed study of the iconic country star. . . . It's to [Ribowsky's] credit that he gets as close to Williams as any writer could. . . . . Hank Williams was a tortured poet who died before most Americans today were born, but he'll outlive us all.
— David Kirby

A new biography that exhumes the strange case of the poet and the peckerwood. . . . [Hank] offers a feast of juicy anecdotes and sharp analysis that should satisfy devotees and attract newcomers to the fold. It's the most Hank you can get in a single helping—and the most you'd probably want. Williams is always good company, especially around last call.

— Eddie Dean

A sturdy biography of the unsteady icon of outlaw country avant la lettre. . . . Ribowsky covers the details of Williams' untidy personal life without undue sensationalism . .
. [a] decidedly warts-and-all portrait of a man more revered than listened to these days. It's not every 29-year-old who can pack enough into a life to warrant a 500-page biography—and a good one at that.
Liveright, 9781631491573, 496pp.
Publication Date: November 22, 2016
About the Author
Mark Ribowsky is a New York Times acclaimed, best-selling author of fifteen books, including biographies of Tom Landry, Al Davis, Hank Williams, and most recently, In the Name of the Father: Family, Football, and the Manning Dynasty. He lives in Florida.lorida.
or
Not Currently Available for Direct Purchase