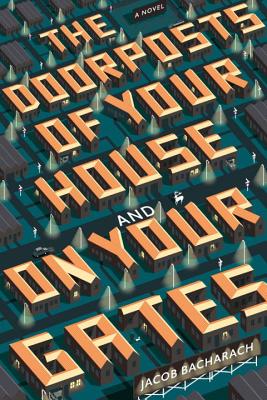 The Doorposts of Your House and on Your Gates
A Novel
Paperback

* Individual store prices may vary.
Description
A biting, tragicomic fable for our neurotic times, The Doorposts of Your House and on Your Gates conquers Tolstoy's adage that "every unhappy family is unhappy in its own way."
Is there any father worse than Abraham?
Are there any unhappier families than the first family of Genesis?
In the follow-up to his acclaimed debut, The Bend of the World, Jacob Bacharach enlivens these existential questions in a madcap tale that replaces the biblical Ur with New York City, the land of Canaan with the rust-belt river valleys of western Pennsylvania. Told in a comic voice that Sam Lipsyte once called "shrewd, deadpan, and dirty," The Doorposts of Your House and on Your Gates hilariously transposes the biblical story of our first patriarchs into a modern world even madder than the ancient Middle East.
Fleeing from a failed relationship, Isabel Giordani leaves Manhattan for Pittsburgh to accept a job at the underachieving nonprofit Future Cities Institute and insinuates herself into the aimless lives of Isaac Mayer and his father, Abbie. An architect turned crooked real estate developer, Abbie claims to be chasing after an unexpected heavenly vision—one that inevitably embroils the Mayer family within the political and familial machinations of Fayette County, Pennsylvania. Bacharach explores the perpetually fraught themes of love, family, God, and real estate in an irreverent and unnervingly tender tale that Edan Lepucki celebrates as "simultaneously funny and tragic, sacred and profane…wise and clever from the first page to the last."
Praise For The Doorposts of Your House and on Your Gates: A Novel…
The question at the heart of this story is a serious one: Modern-day prophets, how are we to see them? Must they be sane? Must they be upstanding in their own lives? Or can they be mad, crooked, hubristic liars, unfaithful husbands, self-absorbed and inattentive parents and still bear urgent messages we do well to heed? . . . . [Bacharach's] energetic prose [is] sure-footed and boldly effervescent. . . . The author's ear for the sidesplitting verbal tics of his quirky and deliciously offbeat characters makes this book well worth the read.
— Shulem Deen

Brilliantly recasts an ancient story for our weird, troubled (but beautiful) times…Jacob Bacharach is a true original.
— Edan Lepucki, author of California

Shot through with brutal, crystalline sentences…Bacharach's combination of intellectual heft, biting wit, and lyrical intensity—his ability to both analyze our world and beautifully satirize it—is unmatched.
— Kerry Howley, author of Thrown
Liveright, 9781631491740, 384pp.
Publication Date: March 14, 2017
About the Author
Jacob Bacharach is the author of The Bend of the World and The Doorposts of Your House and on Your Gates. His writing has appeared in the New Republic and the Pittsburgh Post-Gazette. He lives in Pittsburgh, Pennsylvania.