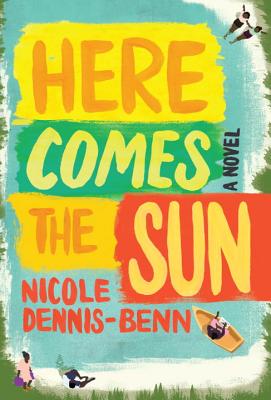 Here Comes the Sun
A Novel
Hardcover

* Individual store prices may vary.
Other Editions of This Title:
Digital Audiobook (7/18/2016)
Paperback (6/6/2017)
Compact Disc (7/19/2016)
MP3 CD (7/19/2016)
Hardcover, Large Print (12/7/2016)
Description
Winner of the Lambda Literary Award, and Finalist for the Center for Fiction's First Novel Prize and the NYPL Young Lions Fiction Award
Named a Best Book of 2016 by: New York Times, NPR, Buzzfeed, San Francisco Chronicle, The Root, BookRiot, Kirkus, Amazon, WBUR's "On Point," and Barnes & Noble
In this radiant, highly anticipated debut, a cast of unforgettable women battle for independence while a maelstrom of change threatens their Jamaican village.
Capturing the distinct rhythms of Jamaican life and dialect, Nicole Dennis- Benn pens a tender hymn to a world hidden among pristine beaches and the wide expanse of turquoise seas. At an opulent resort in Montego Bay, Margot hustles to send her younger sister, Thandi, to school. Taught as a girl to trade her sexuality for survival, Margot is ruthlessly determined to shield Thandi from the same fate. When plans for a new hotel threaten their village, Margot sees not only an opportunity for her own financial independence but also perhaps a chance to admit a shocking secret: her forbidden love for another woman. As they face the impending destruction of their community, each woman—fighting to balance the burdens she shoulders with the freedom she craves—must confront long-hidden scars. From a much-heralded new writer,
Here Comes the Sun
offers a dramatic glimpse into a vibrant, passionate world most outsiders see simply as paradise.
Praise For Here Comes the Sun: A Novel…
[A] lithe, artfully-plotted debut....Margot is one of the reasons to read this book. She is a startling, deeply memorable character. All of Ms. Dennis-Benn's women are. The author has a gift for creating chiaroscuro portraits, capturing both light and dark....Here Comes the Sun is deceptively well-constructed, with slow and painful reveals right through the end.

— Jennifer Senior - The New York Times

One of the most stunningly beautiful novels in recent years…Dennis-Benn's writing is so assured, so gorgeous, that it's hard to believe Here Comes the Sun is a debut novel…it feels like a miracle.

— Michael Schaub - NPR.org

Dennis-Benn's protagonist is refreshingly brave, clever and ambitious. . . . Here Comes the Sun sheds much-needed light on the island's disenfranchised. . . . Readers of this important debut will no doubt see Jamaica in a new and different light.

— Margaret Cezair-Thompson - New York Times Book Review

Impossible to forget. . . . Dennis-Benn's writing is as lush as the island itself. . . . [She] knows how to make the women so complex that we believe every hairpin turn of her plot.
— Caroline Leavitt - The Boston Globe

The book vividly captures the fraught dynamics of familial and romantic relationships . . . Poignant.
— The New Yorker

Similarities to fellow Caribbean writer Edwidge Danticat, or early V.S. Naipaul, are plentiful….[A] rich, accomplished novel.
— Kenneth Champeon - BookPage

Here are visceral, profound writing and invigorating characters. Here, too, is the deep and specific sensation of experience…Haunting and superbly crafted, this is a magical book from a writer of immense talent and intelligence.
— Kirkus Reviews (starred review)

With eloquent prose and unsentimental clarity, Dennis-Benn offers an excellent reason to look beyond the surface beauty of paradise. This novel is as bracing as a cold shower on a hot day.
— Connie Olge - The Miami Herald

Remember this title: It'll likely be the buzzword in all upcoming literary awards competitions.
— Marie Claire

Her prose is lyrical and vibrant, but
Dennis-Benn has a deeper purpose, and she takes the reader on a trip that
is impossible to forget.
— Molly McArdle - Brooklyn Magazine

Here Comes the Sun, like its main character Margot, stuns at every turn, especially when you think you have it figured out. It's about women pushed to the edge, Jamaica in all its beauty and fury and more than anything else, a story that was just waiting to be told.

— Marlon James, author of A Brief History of Seven Killings

Here Comes the Sun is a moving portrait of a Jamaican family and community wrestling with the great questions in life - how to live and love freely in a world filled with obstacles to both. Nicole Dennis-Benn's exploration of Caribbean women's desires for themselves and each other is an important contribution to our literature.

— Naomi Jackson, author of The Star Side of Bird Hill

Here Comes the Sun is every bit as dazzling as its title suggests. Nicole Dennis-Benn draws us so deeply into the fates of her unforgettable characters that we can't help but dream, suffer, celebrate, and grieve alongside them. Each page of this terrific debut vibrates with power, heart, and unflinching honesty—I couldn't put it down, yet didn't want it to end.

— Mia Alvar, author of In the Country

An indelible portrait of a woman in motion. Nicole Dennis-Benn has created in Margot a fierce and fearless striver. A fantastic debut.
— Laila Lalami, author of the Pulitzer Prize finalist The Moor's Account

A finely written (and very much enjoyable) novel.
— Flavorwire

A Best Book of the Summer in: New York Times, BBC, Cosmo Reads, Marie Claire, Elle, and Bustle

Liveright, 9781631491764, 352pp.
Publication Date: July 5, 2016
About the Author
Nicole Dennis-Benn is the author of Here Comes the Sun, a New York Times Notable Book and winner of the Lambda Literary Award. Born and raised in Kingston, Jamaica, she teaches at Princeton and lives with her wife in Brooklyn, New York.
1. Nicole Dennis-Benn brings to life a Jamaica that is removed from, yet also inextricably linked with the fantasy world of the resorts. How does she create a distinct sense of place? Did the Jamaica she conjures surprise you? Did it feel foreign or familiar?
2. "God nuh like ugly," Miss Ruby warns Thandi, and her mother tells her, "nobody love a black girl." How do racism, colorism, and classism shape their society? How do these forces direct the characters' lives, thoughts, and actions?

How did your understanding of Margot's relationship with Delores change over the course of reading the novel? Do you find their actions toward one another understandable? Forgivable?
3. Margot, Thandi, Delores, Verdene, and Sweetness all have distinct, strong voices. Which of these women did you most sympathize (or even identify) with? Which do you hold most accountable for her actions?
4. The ever-expanding resorts threaten the homes of River Bank residents and destroy their livelihoods as farmers and fishermen. Yet the hotel business also brings jobs and, to ambitious people like Margot, the promise of prosperity. Do you consider this kind of development progress? Why or why not? Did the novel change your views?
5. How do the women in the novel relate to men? What effects do men have on women's lives and senses of self?

How do Jamaican religion and tradition interact with encroaching modernity on the island? Which storylines illuminate this tension?
6. What are Margot's motivations? Are they what she says they are?
7. After implementing her scheme, Margot sees Miss Novia Scott-Henry crying in the hotel bathroom, "long streaks down her face. Like scars." Why do you think Dennis-Benn uses this startling imagery?
8. Why does Margot react as she does when she finds out Thandi has been bleaching her skin?
9. What role does language play in this world, and how does Dennis-Benn use it? What social and emotional associations does the local patois carry?
10. The book's title sounds optimistic. Is that expectation borne out?
Coverage from NPR
or
Not Currently Available for Direct Purchase