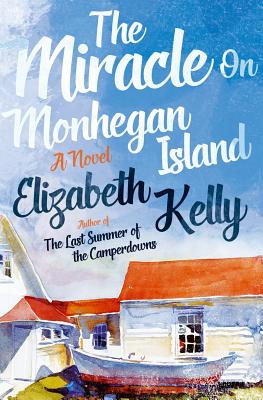 The Miracle on Monhegan Island
A Novel
Hardcover

* Individual store prices may vary.
Other Editions of This Title:
Paperback (5/23/2017)
Description
The best-selling, award-winning author of The Last Summer of the Camperdowns returns with another rollicking, summertime family saga.
Maine's rugged, picturesque Monhegan Island is home to weathered lobster fishermen and curious tourists…a genial if sleepy group. But when Spark Monahan—rakish prodigal son—returns unannounced to the dilapidated family home, his arrival launches a summer the likes of which this quiet town has never seen.
During Spark's absence, his young son Hally has been cared for by what remains of the Monahan family: Spark's gentle brother Hugh and their shrewd, fork-tongued father Pastor Ragnar. Pastor Ragnar has led them with an iron will and a unique religious ideology, while Hugh has been busy mending the scars of a tumultuous family history. Spark's reentry into the family is rocky; even as adolescent Hally warms to his father's flair for mischief, he struggles to define himself against this new paternal figure. Testing the limits with one dangerous prank after another, Hally suddenly stuns the entire island when he claims to have had a spiritual vision.
Though Spark remains permanently dubious about the alleged apparition, Pastor Ragnar pounces on the chance to revive his flagging church. Hally is shoved into the spotlight and, in the frenzy that follows, each man in the family fights for independence, understanding, and ultimately forgiveness against the tide of a phenomenon reaching far beyond the slippery slopes of their remote island home. Their unforgettable saga is narrated by the character best suited to sniff out the family's uneasy secrets: Spark's charismatic, fiercely loyal dog, Ned. Never at a loss for a quip on the stormy affairs of the Monahan family, Ned tells their larger-than-life story with humor and love from his uniquely privileged perspective.
An uproarious tale of an eccentric family of fathers and sons, The Miracle of Monhegan Island is another delightful summer blockbuster from Elizabeth Kelly.
Praise For The Miracle on Monhegan Island: A Novel…
Ned is an excellent guide to the Monahan world…Cleverly, Kelly uses the dog's-eye view to give us access to places and conversations only Ned could witness. Man's best friend turns out—no spoiler alert needed—to be a most reliable narrator.
— Stephanie Clifford - New York Times Book Review

Risk-taking fiction from Kelly (The Last Summer of the Camperdowns, 2013, etc.), this time featuring a canine narrator, an apparition, and a whole mess of trouble between fathers and sons. Whatever resemblance the wry musings of Ned may bear to the inner life of an actual Shih Tzu, he serves Kelly brilliantly as an outside observer suddenly thrown into the dysfunctional interactions of the Monahan family…Kelly allows her vulnerable, fallible characters to grope toward better understandings of themselves and each other, with Ned acting as their engaging and affectionate chronicler. More terrific work from a writer who gets better with each book.

— Kirkus Reviews (starred review)

Who needs a bird's eye view when you can see the world through a dog's eyes instead? All the better if that world happens to be gorgeous coastal Maine, as seen by the opinionated family pup in Elizabeth Kelly's exquisite and occasionally uproarious Miracle on Monhegan Island. If you think your family is dysfunctional, you'll love the madcap Monahans. Their story is so memorable, touching and dog-eat-dog (sorry), it can only be told by a true insider.

— Elisabeth Egan, author of A Window Opens

Serious and thought-provoking, shot through with dark humor and dark observations on religion and faith. . . . The Miracle on Monhegan Island builds slowly from a story about a dysfunctional family to a novel about obsession, religious fervor and mental illness — and the sometimes very fine line between them. Even with a canine storyteller, this is one of the meatier books of the summer.

— Laurie Hertzel - Minneapolis Star Tribune

Charming, witty, and well-paced novel…this novel is equally thrilling and therapeutic.
— Booklist

At once touching and humorous, Kelly's story boasts a plethora of themes and an enticing plot, complete with suspenseful moments . . . While Kelly's multidimensional characters and descriptions—even the olfactory ones—are evocative and engaging, the winning element of this story is Ned's voice, which provides an entertaining perspective on a dog's life.
— Publishers Weekly (starred and boxed review)
Liveright, 9781631491795, 336pp.
Publication Date: May 10, 2016
About the Author
Elizabeth Kelly is the best-selling author of The Last Summer of the Camperdowns (finalist for the New England Society Book Award) and Apologize, Apologize!. She lives in Merrickville, Ontario, with her husband, five dogs, and three cats.
Why do you think Elizabeth Kelly chose to narrate the story from a dog's perspective? What does this accomplish? Do you feel that Ned is a reliable narrator?
Ned is very observant, even judgmental, about his fellow dog breeds. Does this serve merely as comic relief, or something more? How does his own breed affect his personality, and how might this relate to the longstanding familial ties on Monhegan Island?
Ned says of Pastor Ragnor, "You can't beat the combination of a man with wicked margins who plays at being good." Do you believe that Pastor Ragnor is "wicked" at heart? Why or why not?
Do you think Hally is lying about the apparition, among other things? Why might he feel the need to lie?
Describe the island the Monahan family has lived on for generations. How do you think it relates to the story?
Why do you think Spark left for so long and has chosen this moment to return? Was his absence properly explained?
There are a lot of absent female characters in this story: Hally has lost his mother—the woman Spark loved so dearly—and his grandmother. Hugh doesn't have a partner of his own, nor has Pastor Ragnor found a replacement for Hally's grandmother. How does this loss affect the men of the Monahan family?
The idea of certain belief—of proof, loyalty, and truth—is questioned throughout the novel. List several instances and describe. Which character's beliefs do you find most relatable?
Spark is mocked by his father for being an "idealist." Which character do you think best fits that description and why?
As a young boy coming into his own, Hally is concerned about pleasing those around him, while seemingly eager to test his own boundaries. What are Hally's biggest worries, and why?
Do you agree with Ned's suspicion that Spark had always secretly believed Hally, while Pastor Ragnor never had?
or
Not Currently Available for Direct Purchase