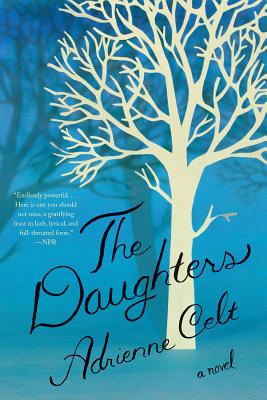 The Daughters
A Novel
Paperback

* Individual store prices may vary.
Other Editions of This Title:
Hardcover (8/3/2015)
Description
An NPR Best Book of the Year

Winner of the 2015 PEN Southwest Book Award

Shortlisted for the IAFA Crawford Award
"Endlessly powerful. . . . Here is one you should not miss, a gratifying feast in lush, lyrical, and full-throated form." —NPR.org
Lulu can't sing. Since the traumatic birth of her daughter, the internationally renowned soprano hasn't dared utter a note. She's afraid that her body is too fragile and that she may have lost her talent to a long-dreaded curse afflicting all of the mothers in her family.
When Lulu was a child, her strong-willed grandmother Ada filled her head with fables of the family's enchanted history in the Polish countryside. A fantastical lore took hold—an incantatory mix of young love, desperate hope, and one sinister bargain that altered the family's history forever. Since that fateful pact, Ada tells Lulu, each mother in their family has been given a daughter, but each daughter has exacted an essential cost from her mother.
Ada was the first to recognize young Lulu's transcendent talent, spotting it early on in their cramped Chicago apartment, then watching her granddaughter ascend to dizzying heights in packed international concert halls. But as the curse predicted, Lulu's mother, a sultry and elusive jazz singer, disappeared into her bitterness in the face of Lulu's superior talent—before disappearing from her family's life altogether. Now, in the early days of her own daughter's life, Lulu now finds herself weighing her overwhelming love for her child against the burden of her family's past.
In incandescent prose, debut novelist Adrienne Celt skillfully intertwines the sensuous but precise physicality of both motherhood and music. She infuses The Daughters with the spirit of the rusalka, a bewitching figure of Polish mythology that inspired Dvorák's classic opera. The result is a tapestry of secrets, affairs, and unimaginable sacrifices, revealing a family legacy laced with brilliance, tragedy, and most mysterious and seductive of all—the resonant ancestral lore that binds each mother to the one that came before.
Praise For The Daughters: A Novel…
In this novel, voice and music and history and storytelling and mythmaking and motherhood and protection of the self are in many ways the same: Living animals, changeable and complex, adaptive and perilous and endlessly powerful…. Here is one you should not miss, a gratifying feast in lush, lyrical, and full-throated form.
— Carmen Maria Machado - NPR

Much of The Daughters is written in a dreamy, mystical key, reminiscent of Alice Hoffman…I admire the way that Celt's novel acknowledges the radical shift of motherhood on a lusty, dark note, without agonizing about parenting choices or apologizing for the mother's creative or sexual needs.

— Lydia Kiesling - The Guardian

[A] lyrical debut novel about the perplexing riddle of inheritance.
— Sarah Meyer - O Magazine

With prose as star-lit and heart-bending as the story itself, The Daughters demands to be read by every sister, mother, daughter, and friend.

— Amy Jo Burns - Plougshares

The journey through song and myth, the cost of motherhood and the price of passion... will resonate long after the last page.
— Jenn Fields - Denver Post

Celt's family saga steeped in folklore and vibrating with music is as much about the power of storytelling as the fraught relationships between mothers and daughters…. A haunting novel with real emotional depth, Celt's psychologically nuanced debut continues to resonate long after the last page has been turned.
— Kirkus Reviews, Starred Review

[D]azzling…. Bouncing back and forth between past and present, The Daughters is a gorgeous, riveting story about family, mythology, and curses. Its dark, dizzying magic practically sings off the page.

— Liberty Hardy - Book Riot

A beautifully written exploration of the myths and the realities that bind families together that will leave readers eagerly awaiting Celt's next novel.
— Booklist

Music and motherhood?that's what you'll find at the core of The Daughters, yet each element is so original, you'll swear you've never read about either before. This debut by Adrienne Celt reads like a warm, cherished folksong.

— Caroline Goldstein - Bustle.com

[A] dazzling debut…The Daughters is about motherhood and daughterhood, of course, but also relationships and fidelity and music and ambition and talent and compromise and scary-ass Polish folktale witchery.

— Rachel Fershleiser

Brimming with sad, delicious folklore and echoing with the voices of five generations of mothers and daughters in a family shaped by music as much as by tragedy, Celt's debut is enchanting.
— Sarah Cornwell, author of What I Had Before I Had You

A story libretto that commands attention from the opening scene. Celt has crafted a modern fairy tale that had me up from my chair in standing ovation.
— Sarah McCoy, New York Times and international best-selling author of The Mapmaker's Children

Gorgeous. The Daughters is lush and dreamy and strange, and it will make you feel like a beautiful witch has put you under a sinister spell.

— Katie Coyle, author of Vivian Apple at the End of the World
Liveright, 9781631491948, 272pp.
Publication Date: June 7, 2016
About the Author
Adrienne Celt's work has been published in Esquire, the Kenyon Review, the Rumpus, and elsewhere, and she holds an MFA from Arizona State University. Her work has been awarded the PEN Southwest Book Award, an O. Henry Story Prize, and a Glenna Luschei Prairie Schooner Award. She lives in Tucson, Arizona.
or
Not Currently Available for Direct Purchase