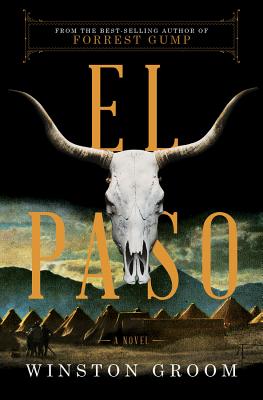 El Paso
A Novel
Hardcover

* Individual store prices may vary.
Other Editions of This Title:
Paperback (9/5/2017)
Hardcover, Large Print (1/4/2017)
Description
Three decades after the first publication of Forrest Gump, Winston Groom returns to fiction with this sweeping American epic.
Long fascinated with the Mexican Revolution and the vicious border wars of the early twentieth century, best-selling author Winston Groom brings to life a much-forgotten period of history in this episodic saga set in six parts. Pitting the legendary Pancho Villa against "the Colonel," a thrill-seeking Bostonian railroad tycoon whose fading fortune is tied up in a colossal ranch in Chihuahua, El Paso opens during a time of dramatic upheaval in Mexico—its government being squeezed on one end by Villa's revolutionaries and on the other by "filthy" American capitalists.
Content to observe the war from aboard his dazzling yacht, the Ajax, the Colonel is suddenly pulled into this drama when his famous Valle del Sol ranch is raided for nearly "two million and a half dollars in beef on the hoof." Oblivious to the realities of war and hoping to salvage his losses, the Colonel whisks his family down to Mexico where they make a disturbing discovery: it was Villa who not only stole the cattle but also murdered their beloved ranch manager. Even worse, Villa's henchmen abduct the Colonel's grandchildren in another daring raid only days later.
Frantic, the aging patriarch and his adopted son race to El Paso, hoping to gather a group of cowboys brave enough to hunt down the generalissimo on his own turf. As the desperate Yankees quickly learn once they return to Chihuahua, their deep pockets and political clout mean next to nothing in a crumbling nation rife with communist sympathizers. After weeks of searching and with no trace of Villa, the Colonel fears all is lost—that is, until a twist of fate unites his party with that of Johnny Ollas, an aspiring matador whose wife has also been kidnapped by the marauding revolutionaries. Bloodied and battered, the two factions unite, galloping off on an extraordinary manhunt through some of the most inhospitable terrain on earth: the vast and snake-ridden Sierra Madre.
The novel explodes into an epic as an extraordinary cast of characters from both history and imagination begin to emerge, all vying to get their hands on the ever-elusive Villa. But no matter what prize each player ultimately seeks, no one is left unscathed in this sprawling story of heroism, injustice, and love. Replete with shootouts, daring escapes, and an unforgettable bullfight, El Paso brings to life a crucial moment in history and, in the process, becomes an indelible portrait of the American Southwest in the final days of the wild frontier.
Praise For El Paso: A Novel…
Groom has unleashed a new work of imaginative, peripatetic fiction. . . . [El Paso] is a rich and engrossing tale — something Hollywood will, no doubt, take little time to notice.

— The National Book Review

[Groom] combines military savvy with storytelling skill for a satisfying saga pitting an American railroad tycoon against Mexican revolutionary Pancho Villa…An engaging epic that could be headed for the bestseller lists and then the big screen. This is the big one that fans have been waiting for, and they'll grab it up like they would a delicious box of chocolates.
— Michele Leber - Booklist (starred review)

El Paso is sure to entertain. . . . To Groom, the public is likely to say, 'Welcome back to the land of fiction.'

— Jim Ewing - Clarion-Ledger

Winston Groom proves life — and fiction — really is like a delicious box of chocolates. . . . The novel has it all — heroes, villains, family, rescues, shootouts, cattle, bits of history and much more. And maybe a feature film in its future?
— Celeste Williams - Fort Worth Star-Telegram

Groom's epic narrative is a hefty yet entertaining page-turner, at times funny, heartbreaking, emotional, and brutal. An involving, intricate story vividly told.
— Donna Bettencourt - Library Journal (Starred Review)

Groom's expansive, rich novel is set in the harsh deserts and mountains of northern Mexico during the 1916 Mexican revolution, with sharply drawn fictional characters in a bloody mix with Gen. Pancho Villa and a cast of true-life personalities. . . . Battles, a tense prisoner exchange, and clever ransom negotiations round out this historically vivid and marvelously complex tale.
— Publishers Weekly

Dark and daring, El Paso does for the West what Gump did for the South — it takes a tumultuous, crucial time in American history and feeds it to us in ways acute and unforgettable.

— Laura Taylor - Oxford Exchange

El Paso has the drama, coincidence and class intrigue of Dickens's Great Expectations in a setting reminiscent of Larry McMurtry's Lonesome Dove. . . . In Groom's capable hands, this history mixes easily into what is at its core a story of family, class warfare, loyalty and the violence of revolution.

— Bruce Jacobs - Shelf Awareness
Liveright, 9781631492242, 496pp.
Publication Date: October 4, 2016
About the Author
Winston Groom is the author of twenty previous books, including Forrest Gump, Conversations with the Enemy (Pulitzer Prize finalist), Shiloh 1862, and The Generals. He served in Vietnam with the Fourth Infantry Division and lives in Point Clear, Alabama.
1. When we first meet Arthur Shaughnessy, he receives a telegram from his father stating, "See if you can handle it; when we first meet Pancho Villa, he is remembering the night he witnessed Halley's Comet—a sighting he interpreted as a bad omen. How did these first impressions set the tone for your reading? What did you anticipate?
2. Consider the significance of place: the juxtaposition between cities and countries, the vast landscapes, the wildlife, the extreme weather. How does the setting speak to greater themes of the novel?
3. The Shaughnessy men make a game out of racing to Mexico, the Colonel by train and Arthur by plane. Later in the novel, they find themselves in a very different race to save the children. What does this irony say about the characters?
4. Pancho Villa says, "You see, Mexico is a strange place. The things we do don't always make sense to you Americanos, but that's not the important thing. The important thing is that they make sense to us." What other moments in the novel could this quote apply to?
5. Racism plays a significant role throughout El Paso, with characters experiencing it to varying degrees. Colonel Shaughnessy, for example, is both a victim and an offender. How does racism inform the way different characters move through the world? Are perceptions altered?
6. Everyone wants to get their hands on Pancho Villa. Who has the highest stakes for finding him? Who did you find yourself rooting for? Against?
7. The misanthropic satirist Ambrose Bierce and the young journalistsocialist John Reed butt heads upon first meeting. What does their relationship say of the time period? What does it say of the younger and older generations in the novel?
8. How did your perception of Pancho Villa evolve throughout the book? Do you sympathize with him at any point?
9. How did knowing—or discovering in the end—that many of the characters were real people affect the way you read the story? Did the epilogue surprise you?
10. Why do you think the Colonel sacrifices himself in the end? Could this have been avoided, or was it crucial?
Coverage from NPR
or
Not Currently Available for Direct Purchase