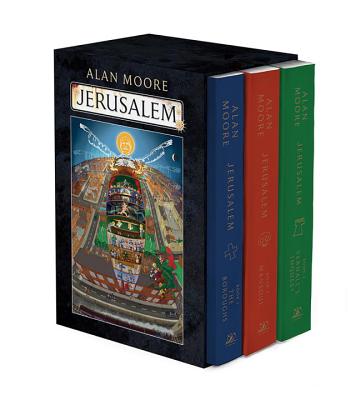 Jerusalem
Paperback

* Individual store prices may vary.
Other Editions of This Title:
Paperback (9/25/2018)
Hardcover (9/13/2016)
Paperback (9/13/2016)
Hardcover (9/5/2016)
Compact Disc (9/13/2016)
Description
Ten years in the making, comes a literary work Like no other, from the legendary author of Watchmen, V for Vendetta, and From Hell.
In the half a square mile of decay and demolition that was England's Saxon capital, eternity is loitering between the firetrap housing projects. Embedded in the grubby amber of the district's narrative among its saints, kings, prostitutes, and derelicts a different kind of human time is happening, a soiled simultaneity that does not differentiate between the petrolcolored puddles and the fractured dreams of those who navigate them. Fiends last mentioned in the second-century Book of Tobit wait in urine-scented stairwells, the delinquent specters of unlucky children undermine a century with tunnels, and in upstairs parlors laborers with golden blood reduce fate to a snooker tournament.
An opulent mythology for those without a pot to piss in, through the labyrinthine streets and pages of
Jerusalem
tread ghosts that sing of wealth and poverty; of Africa, and hymns, and our threadbare millennium. They discuss English as a visionary language from John Bunyan to James Joyce, hold forth on the illusion of mortality post-Einstein, and insist upon the meanest slum as Blake's eternal holy city.
Fierce in its imagining and stupefying in its scope, Alan Moore's epic novel,
Jerusalem
, is the tale of Everything, told from a vanished gutter.
Liveright, 9781631492433, 1312pp.
Publication Date: September 13, 2016
About the Author
Alan Moore is a magician and performer, and is widely regarded as the best and most influential writer in the history of comics. His seminal works include From Hell, V for Vendetta, and Watchmen, for which he won the Hugo Award. He was born in 1953 in Northampton, UK, and has lived there ever since.