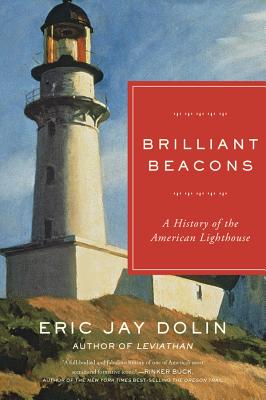 Brilliant Beacons
A History of the American Lighthouse
Paperback

* Individual store prices may vary.
Other Editions of This Title:
Digital Audiobook (4/17/2016)
MP3 CD (4/18/2016)
Compact Disc (4/18/2016)
Hardcover (4/18/2016)
Description
"What Moby-Dick is to whales, Brilliant Beacons is to lighthouses—a transformative account of a familiar yet mystical subject." —Laurence Bergreen, author of Columbus: The Four Voyages
In this "magnificent compendium" (New Republic), best-selling author Eric Jay Dolin presents the definitive history of American lighthouses, and in so doing "illuminate[s] the history of America itself" (Entertainment Weekly). Treating readers to a memorable cast of characters and "fascinating anecdotes" (New York Review of Books), Dolin shows how the story of the nation, from a regional backwater colony to global industrial power, can be illustrated through its lighthouses—from New England to the Gulf of Mexico, the Great Lakes, the Pacific Coast, and all the way to Alaska and Hawaii.
A Captain and Classic Boat Best Nautical Book of 2016
Praise For Brilliant Beacons: A History of the American Lighthouse…
A fascinating incidental history of the U.S…War and peace, economic boom and bust, technocratic muddles and political power-plays all come under his scrutiny, with illuminating, Fresnel-worthy results.
— Michael Upchurch - Seattle Times

A splendid history…[Brilliant Beacons] would be a good companion on any lighthouse excursion.

— Tim Bross - St. Louis Post-Dispatch

This magnificent compendium is a paean to the buildings that guided safe passage for the economic prosperity of a young nation with huge, dangerous coastlines…Dolin is a brilliant researcher and seasoned writer, allowing this mostly chronological sweep moments to pause and eddy into all the stories bound to emerge from heroic engineering, isolation, and fortitude.
— Ben Shattuck - New Republic

While there have been a score of books on Maine lighthouses in the past few decades, this is by far the best national coverage since Francis Ross Holland's American Lighthouses: An Illustrated History, from 1972…[Dolin] is a sure-handed researcher and a most enjoyable author.

— William David Barry - Portland Press Herald

A comprehensive…survey of a romantic subject…[with] many fascinating anecdotes…Dolin has read deeply in the lighthouse literature, perusing not only the histories but presidential lighthouse correspondence, lighthouse legislation, lighthouse engineering studies, lighthouse arcana…The most vivid (illuminating) passages describe the solitary and often desolate lives of the keepers.
— Nathaniel Rich - New York Review of Books

A must-read for anyone interested in lighthouses or America's maritime history…This history of American lighthouses is both engaging and enjoyable, whether for academics, who will not be disappointed in the thoroughness of the author's research, or for lighthouse history buffs who will enjoy its compelling narrative.
— C. Douglas Kroll - Sea History Magazine

Brilliant Beacons is the best history of American lighthouses ever written.

— Jeremy D'Entremont, historian at the American Lighthouse Foundation, and author of The Lighthouse Handbook: New England

A masterwork of research and storytelling…[A] fascinating ride through the rich history of lighthouses as strategic prizes in war, sources of technological innovation and inspiration for architectural ingenuity that combines grace and strength. This is a book for anyone who has gazed with awe upon the sea.
— Brian Murphy, author of 81 Days Below Zero

Eric Jay Dolin has done an amazing job of compiling the history of American lighthouses. No other book on the topic is as detailed and well written. Brilliant Beacons should be required reading for anyone interested in American history.

— Tim Harrison, founder and editor of Lighthouse Digest

Eric Jay Dolin looks beyond the postcard romance of lighthouses to reveal a vibrant and vital history. From shipwrecks and wartime raids to poetry, bird migration, and the physics of refraction, Brilliant Beacons is a fascinating, page-turning, and yes, illuminating read.

— Thor Hanson, author of The Triumph of Seeds and Feathers
Liveright, 9781631492501, 560pp.
Publication Date: April 25, 2017
About the Author
Eric Jay Dolin is the author of fourteen books. His most recent is A Furious Sky: The Five-Hundred-Year History of America's Hurricanes, which received a number of accolades, including being chosen by the Washington Post as one of 50 Notable Works of Nonfiction in 2020, by Kirkus Reviews as one of the Best Nonfiction Books of 2020 (in addition to being a Kirkus Prize finalist), by the Library Journal and Booklist as one of the Best Science & Technology Books of 2020, and by the New York Times Book Review as an "Editor's Choice." Other books include Leviathan: The History of Whaling in America, which was chosen as one of the Best Nonfiction Books of 2007 by the Los Angeles Times and the Boston Globe, and also won the 2007 John Lyman Award for U.S. Maritime History; and Black Flags, Blue Waters: The Epic History of America's Most Notorious Pirates, which was chosen as a "Must-Read" book for 2019 by the Massachusetts Center for the Book, and was a finalist for the 2019 Julia Ward Howe Award given by the Boston Author's Club. A graduate of Brown, Yale, and MIT, where he received his Ph.D. in environmental policy, Dolin lives in Marblehead, Massachusetts, with his family.