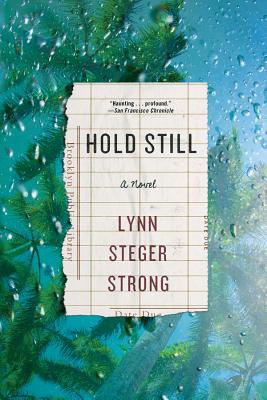 Hold Still
A Novel
Paperback

* Individual store prices may vary.
Other Editions of This Title:
Hardcover (3/21/2016)
Description
A "wildly evocative" (Elle.com) family portrait that explores the depths and limits of a mother's love.
When Maya Taylor, an English professor with a tendency to hide in her books, sends her daughter to Florida to look after a friend's child, she does so with the best of intentions; it's a chance for Ellie, twenty and spiraling, to rebuild her life. But in the sprawling hours of one humid afternoon, Ellie makes a mistake she cannot take back. In two separate timelines—before and after the catastrophe—Maya and Ellie must try to repair their fractured relationship and find a way to transcend not only their differences but also their more troubling similarities. "[Melding] psychological insight, precise plotting and limpid prose" (Huffington Post), Lynn Steger Strong traces the anatomy of a mistake and the weight of culpability. Hold Still marks a taut and propulsive debut that "builds to a perfect crescendo, an ending that is both surprising and true" (Marcy Dermansky, author of The Red Car).
Praise For Hold Still: A Novel…
Haunting…Strong's characters are achingly detailed, and undeniably real.
— San Francisco Chronicle

Lynn Steger Strong has a great eye for the visible world, a near perfect sensor for those of us living in it, and a deep compassion and curiosity for how we go astray and find ourselves again.
— Richard Ford

[An] assured, illuminating examination of the complex ties between mothers and daughters.
— Gina Webb - Atlanta Journal-Constitution

Ms. Strong has a highly sensitive awareness of the special kind of disappointment—and the painfully undying connection—that comes with family. There's mercifully little armchair psychology about Ellie and no blatantly obvious reason that she should be so damaged or careless. She just is, and in that way feels authentic.
— John Williams - New York Times

A tragedy lurks at the heart of Lynn Steger Strong's achingly sad, achingly beautiful debut novel. How do you forgive your child after she does the unthinkable? How can you not? Hold Still quietly builds to a perfect crescendo, an ending that is both surprising and true.

— Marcy Dermansky, author of Bad Marie

In this compelling debut, Lynn Steger Strong paints a portrait of familial love that is real, visceral, and all the more dangerous for being unconditional. Her characters show us that loving someone deeply can be a fraught act—and trying to gain distance from them, even more so.
— Alexandra Kleeman, author of You Too Can Have a Body Like Mine

Who do we blame when a good kid makes one disastrous mistake? The parents? The child? The bad influences lingering at the margins? Lynn Strong's captivating novel explores questions of blame and guilt from many points of view, all of them rendered with tenderness, compassion, and surprising humor. A little bit Lionel Shriver, a little bit Virginia Woolf. Hold Still is a terrific debut.

— Victor LaValle, author of The Devil in Silver

Lynn Strong is clearly a spy. The espionage-level attention paid to the most seemingly invisible things and words and gestures that comprise the world, well, I feel like Strong broke a code that nobody else has broken. She allows us to better understand what we often see but fail to fully comprehend. Also this novel is really heartbreaking. And I loved these characters. 'Strong debut' has a whole new meaning after Hold Still. Keep an eye on Strong, that's my advice. And not because she's likely watching you. Because she is a writer worth watching.

— Heidi Julavits, author of The Folded Clock
Liveright, 9781631492655, 272pp.
Publication Date: March 21, 2017
About the Author
Lynn Steger Strong holds an MFA in fiction from Columbia University, where she teaches freshman writing. She lives in Brooklyn, New York, with her husband and two young daughters.
1. Although Maya has never had many friends, the few she does have are extremely important to her. Two of them are former students—one of them a nonconformist not unlike Ellie. Another is a free-spirited colleague. Given Maya's personality, did this surprise you? How do these unusual dynamics play out? Did you find them relatable?
2. Why did Ellie become so rebellious? Why does she later often secretly wish she were different? Does she make an effort to change? Why or why not?
3. Maya is simultaneously consumed by love for her children and determined to retain a separate identity. In what ways does this tension reveal itself? Do you think she succeeds?
4. Hold Still straddles two parts of America, two distinct worlds. How does she contrast life in New York and Florida? If you've been to either or both of these places, do her observations ring true to you?
5. What role does communication (or lack thereof) play in the novel? What thoughts do the characters leave unspoken? How does this affect their interactions and the outcome of the story?
6. Maya has always escaped into books when the real world was too overwhelming. She is also an avid runner who enjoys pushing her body to its limits. Why does she run? How do these two sides of her fit together?
7. How does Strong portray the reality, the ideal, and the meaning of parenthood? Are they the same for all of the parents in the novel?
8. Benny often sees similarities between his mother and sister. Do you see them too? How do Ellie and Maya view one another, both before the accident and after?
9. Stephen and Maya's fragile marriage begins to buckle under the weight of tragedy; Ellie uses sex as an escape; stolen glances and shared desires blur the lines of infidelity. Explore how women and men relate to one another in the novel.
10. Did you like the novel's leaps back and forth in time? Why or why not? Why do you think the author chose this structure over a traditional linear narrative?
11. Annie tells Maya that they are ultimately more responsible for the accident than Ellie is. Who do you think is most culpable and why?
or
Not Currently Available for Direct Purchase