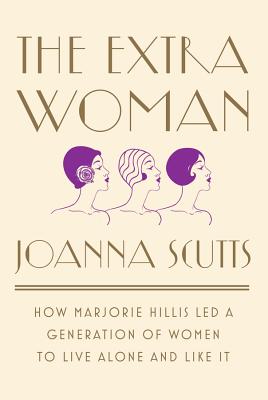 The Extra Woman
How Marjorie Hillis Led a Generation of Women to Live Alone and Like It
Hardcover

* Individual store prices may vary.
Other Editions of This Title:
Digital Audiobook (11/13/2017)
MP3 CD (11/14/2017)
Compact Disc (11/14/2017)
Description
From the flapper to The Feminine Mystique, a cultural history of single women in the city through the reclaimed life of glamorous guru Marjorie Hillis.
You've met the extra woman: she's sophisticated, she lives comfortably alone, she pursues her passions unabashedly, and—contrary to society's suspicions—she really is happy. Despite multiple waves of feminist revolution, today's single woman is still mired in judgment or, worse, pity. But for a brief, exclamatory period in the late 1930s, she was all the rage. A delicious cocktail of cultural history and literary biography, The Extra Woman transports us to the turbulent and transformative years between suffrage and the sixties, when, thanks to the glamorous grit of one Marjorie Hillis, single women boldly claimed and enjoyed their independence.
Marjorie Hillis, pragmatic daughter of a Brooklyn preacher, was poised for reinvention when she moved to the big city to start a life of her own. Gone were the days of the flirty flapper; ladies of Depression-era New York embraced a new icon: the independent working woman. Hillis was already a success at Vogue when she published a radical self-help book in 1936: Live Alone and Like It: A Guide for the Extra Woman. With Dorothy Parker–esque wit, she urged spinsters, divorcées, and "old maids" to shed derogatory labels and take control of their lives, and her philosophy became a phenomenon. From the importance of a peignoir to the joy of breakfast in bed (alone), Hillis's tips made single life desirable and chic.
In a style as irresistible as Hillis's own, Joanna Scutts, a leading cultural critic, explores the revolutionary years following the Live-Alone movement, when the status of these "brazen ladies" peaked and then collapsed. Other innovative lifestyle gurus set similar trends that celebrated guiltless female independence and pleasure: Dorothy Draper's interior design smash, Decorating Is Fun! transformed apartments; Irma Rombauer's warm and welcoming recipe book, The Joy of Cooking, reassured the nervous home chef that she, too, was capable of decadent culinary feats. By painting the wider picture, Scutts reveals just how influential Hillis's career was, spanning decades and numerous best sellers. As she refashioned her message with every life experience, Hillis proved that guts, grace, and perseverance would always be in vogue.
With this vibrant examination of a remarkable life and profound feminist philosophy, Joanna Scutts at last reclaims Marjorie Hillis as the original queen of a maligned sisterhood. Channeling Hillis's charm, The Extra Woman is both a brilliant exposé of women who forged their independent paths before the domestic backlash of the 1950s trapped them behind picket fences, and an illuminating excursion into the joys of fashion, mixology, decorating, and other manifestations of shameless self-love.
Praise For The Extra Woman: How Marjorie Hillis Led a Generation of Women to Live Alone and Like It…
Scutts should feel proud that she did what she set out to do: return Hillis to her rightful place in the pantheon of women who made it possible for the rest of us to enjoy that freedom. 'Recovering the spirit of daring that defined the Live-Alone heyday can remind us that a different story is always possible,' Scutts writes, 'and might just inspire us anew, to resist and rebel against convention, and to fight to create the life we really want.' Here's hoping every reader has the chance to do just that.
— Ellen McCarthy - Washington Post

Smart and enjoyable. . . Scutts's affectionate portrait of Hillis helps draw a line from her subject's cheerful independence to the choices we enjoy today.
— Barbara Spindel - Christian Science Monitor

In 1936, a Vogue editor named Marjorie Hillis published Live Alone and Like It, a jubilant guide for the single working woman, which offered advice on how to find an apartment, mix a cocktail, and manage a love affair. As Scutts writes in this study of Hillis and her era, the idea that unmarried women could be happy and fulfilled challenged 'the very basis of American women's citizenship.'

— New Yorker

Both absorbing and, in the best way, unsettling. The Live-Aloner's fight to be accepted in her full humanity is a battle her great-granddaughters (or great-grandnieces) are still waging.
— Dawn Raffel - San Francisco Chronicle

The Extra Woman reacquaints us with the feisty movie star heroines of the 1930s, the wartime rise of Rosie the Riveter, the 1950s retreat into domesticity and 'gender extremism,' and the first stirrings of second-wave feminism. . . . But the most interesting aspect of Scutts' project, as well as its unifying thread, is the story of Hillis herself.

— Julia M. Klein - Chicago Tribune

It has long been my belief that the greatest advice book ever published is Marjorie Hillis's 1936 tract Live Alone and Like It. And now, there's a companion to Hillis's wisdom...Historian Joanna Scutts puts Hillis into the context of her time, in an engrossing book that's part biography of Hillis and part cultural history of women in 20th century America.

— Constance O'Grady - Vox

In The Extra Woman, Joanna Scutts makes it clear that somebody was working those fields long before the ineffable [Helen Gurley Brown] stuck in her spade. . . . Part biography, part social history, The Extra Woman is Ms. Scutts's eye-opening . . . attempt to rescue Hillis from obscurity and to make the case for her as a proto-feminist. . . . Hillis was surely a fascinating figure, someone way ahead of her time.

— Joanne Kaufman - Wall Street Journal

Before there was a Carrie Bradshaw or a Mary Richards, a Bridget Jones or a Holly Golightly, there was Marjorie Hillis. . . . Scutts' biography of this Depression-era feminist positions Hillis very much as a woman of her own time, and her thorough scholarship deftly illustrates how Hillis' iconic views continue to make her a woman for all time.
— Carol Haggas - Booklist

The fascinating and formidable Marjorie Hillis has at last found her rightful biographer, champion, and exegete in Joanna Scutts. This is a beautifully written, insightful, and wise account of the life and work of an important but heretofore largely unremembered writer, wit, and proto-feminist.
— Rosie Schaap, author of Drinking with Men

Long before Girls, Carrie Bradshaw, and Mary Tyler Moore, Marjorie Hillis inspired women to live more independently as 'Live-Aloners,' and she deserves more recognition than she gets. Joanna Scutts' account of Hillis and the cultural transformations she made possible is as witty, forthright, and elegant as its subject.
— Lauren Elkin, author of Flâneuse

[A] smart, informative and insightful cultural history . . . . Hillis's celebration of solitude, independence and integrity is, as Scutts reminds us, worth reviving.
— Linda Simon - Newsday

As a 'Live-Aloner,' I couldn't resist Joanna Scutts' The Extra Woman. Thanks to Scutts' scholarship, Marjorie Hillis and her self-help books for single women feel as relevant in 2017 as they were in the 1930s.

— Elliott Holt, author of You Are One of Them

I adored The Extra Woman…With confidence and dry wit, Scutts reveals Hillis as a key link between first- and second-wave feminism, and that living alone and liking it is as radical a concept now as it was eighty years ago.

— Sarah Weinman, editor of Women Crime Writers: Eight Suspense Novels of the 1940s & 50s

Exhilarating in content, magnetic in clarity, vital in its message, The Extra Woman is a much-needed addition to the tapestry that tells the history of the people of our country. I urge anyone who wants to be a well-rounded individual to pick up this book immediately.

— Mira Ptacin, author of Poor Your Soul

Rich in historical detail, Scutts' book is not just an elegant biography of a neglected protofeminist figure and a vivid exploration of American sociological history; it is also an important homage to a woman's right to choose how to live her life. A sparklingly intelligent and well-researched cultural history.
— Kirkus Reviews

Literary critic Scutts unabashedly celebrates the midcentury single working woman using the life and works of Marjorie Hillis. . . . Like her protagonist, Scutts has a voice that is zesty, dashing, and full of verve. . . . Scutts uncovers the life of a little-known feminist hero in this thoroughly enjoyable romp through 20th century American history.
— Publishers Weekly
Liveright, 9781631492730, 336pp.
Publication Date: November 14, 2017
About the Author
Joanna Scutts is the inaugural Andrew W. Mellon Foundation Postdoctoral Fellow in Women's History at the New-York Historical Society and a contributor to the New Republic, the Guardian, and other publications. She lives in New York.
or
Not Currently Available for Direct Purchase