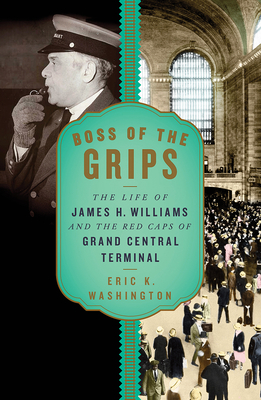 Boss of the Grips
The Life of James H. Williams and the Red Caps of Grand Central Terminal
Hardcover

* Individual store prices may vary.
Other Editions of This Title:
Compact Disc (10/22/2019)
Description
Winner • Herbert H. Lehman Prize for Distinguished Scholarship in New York History

Finalist • Brendan Gill Prize (Municipal Art Society of New York)

Open Letters Review • 10 Best Biographies of 2019

The Bowery Boys Podcast • 10 Favorite Books of 2019
A long-overdue biography of the head of Grand Central Terminal's Red Caps, who flourished in the cultural nexus of Harlem and American railroads.
In a feat of remarkable research and timely reclamation, Eric K. Washington uncovers the nearly forgotten life of James H. Williams (1878–1948), the chief porter of Grand Central Terminal's Red Caps—a multitude of Harlem-based black men whom he organized into the essential labor force of America's most august railroad station. Washington reveals that despite the highly racialized and often exploitative nature of the work, the Red Cap was a highly coveted job for college-bound black men determined to join New York's bourgeoning middle class. Examining the deeply intertwined subjects of class, labor, and African American history, Washington chronicles Williams's life, showing how the enterprising son of freed slaves successfully navigated the segregated world of the northern metropolis, and in so doing ultimately achieved financial and social influence. With this biography, Williams must now be considered, along with Cornelius Vanderbilt and Jacqueline Onassis, one of the great heroes of Grand Central's storied past.
Praise For Boss of the Grips: The Life of James H. Williams and the Red Caps of Grand Central Terminal…
An at once inspiring and cautionary new social history of Harlem and beyond in the first half of the 20th century. Mr. Washington, an independent historian, reanimates a lost world of strivers who created a protean civic, artistic and commercial society to subvert the Jim Crow bias still resilient in the most liberal city in America.... An illuminating chronicle of success against the odds... It's poignant to read all the stories of dogged advancement through deft maneuvering within a rigged system.
— Edward Kosner, Wall Street Journal

A thoroughly researched and illuminating biography.... Washington gives a palpable sense of the myriad obstacles blacks faced.... An absorbing, fresh perspective on black history.
— Kirkus Reviews [starred review]

In this illuminating debut biography, historian Washington celebrates a black New Yorker who won authority and influence in a segregated economy.... He paints a vivid portrait of the bustling golden age of train travel, and makes Williams a fitting exemplar of Harlem's ambitious black middle class... The result is a rich, stirring social history of African-Americans' struggle to succeed in an unfair system.

Washington's illustrated and well-researched work will have some appeal for rail fans, but its true value is for readers interested in the social condition of African Americans in New York during this period.

Written with a curator's eye for compelling detail.... Washington does a masterful job detailing the struggles and triumphs of a family determined to make America live up to its promise of democracy.
— Ginger Adams Otis, author of Firefight: The Century-Long Battle to Integrate New York's Bravest

If you are nostalgic for the grand days of rail travel, you need to read this book.  If you have been pondering the prevalence of systemic racism in American society, you also need to read this book.
— Janet Wells Greene, New York Labor History Association

[Washington] connects the dots with a deep and nuanced understanding of the people, the politics and the times. Boss of the Grips really is a reclamation of the historical record with a respect and a reverence for James Williams and the people he knew in the community that he was a part of.

— A'Lelia Bundles, author of On Her Own Ground: The Life and Times of Madam C.J. Walker

Few of us will have known anything about James Williams, and in this sense Washington's book is similar to the overlooked lives featured these days in the New York Times obituary section. But as these fascinating obits tell us, these overlooked lives provide a fabulous insight into our shared history.
— Kai Bird, Pulitzer Prize-winning author and executive director of the Leon Levy Center for Biography

Eric K. Washington's Boss of the Grips: The Life of James H. Williams and the Red Caps of Grand Central Terminal is a deeply informed and personal story of the Harlem-based black men who worked at New York City's major train station. The book is a remarkable telling of a story about race, class, labor, and social and economic history. This highly personal story speaks to much larger and universally significant issues.

— Jonathan Haworth, Chair of the Gill Prize Jury

The subject of this tremendously involving book, James Williams, the chief porter for the "Red Caps" of Grand Central Station, is less well-known than virtually any figure on this list [of favorite biographies], but. . . Washington does a masterful job of showing how important - and fascinating - his life and times were."
— Steve Donoghue, Open Letters Review, "Ten Best Biographies of 2019"

[T]he strength of Boss of the Grips is Washington's absolute command of the broader story surrounding Williams, the lives of urban African-Americans in the late 19th and early 20th centuries. This is an indispensable story of the black experience and one that seldom gets noticed in other New York City history books on this period."

— The Bowery Boys, "Ten Favorite Books of 2019"

A sensitive and detailed life of James Williams, in the context of the city's emerging African-American middle class.
— Tom Lewis, Chair of the judging panel for the New York Academy of History
Liveright, 9781631493225, 352pp.
Publication Date: October 22, 2019
About the Author
Eric K. Washington is an independent historian who has held fellowships at Columbia University and the CUNY Leon Levy Center for Biography, as well as the MFAH Dora Maar House in Ménerbes, France. He lives in New York. Learn more about Eric's news and upcoming events at www.ekwashington.com.