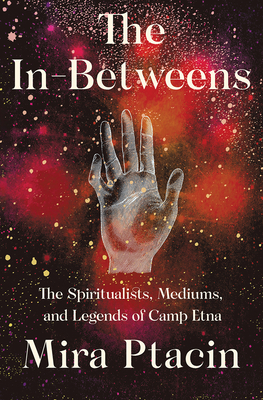 The In-Betweens
The Spiritualists, Mediums, and Legends of Camp Etna
Hardcover

* Individual store prices may vary.
Other Editions of This Title:
Compact Disc (10/29/2019)
Description
A young writer travels to Maine to tell the unusual story of America's longest-running camp devoted to mysticism and the world beyond.
They believed they would live forever. So begins Mira Ptacin's haunting account of the women of Camp Etna—an otherworldly community in the woods of Maine that has, since 1876, played host to generations of Spiritualists and mediums dedicated to preserving the links between the mortal realm and the afterlife. Beginning her narrative in 1848 with two sisters who claimed they could speak to the dead, Ptacin reveals how Spiritualism first blossomed into a national practice during the Civil War, yet continues—even thrives—to this very day. Immersing herself in this community and its practices—from ghost hunting to releasing trapped spirits to water witching— Ptacin sheds new light on our ongoing struggle with faith, uncertainty, and mortality. Blending memoir, ethnography, and investigative reportage, The In-Betweens offers a vital portrait of Camp Etna and its enduring hold on a modern culture that remains as starved for a deeper sense of connection and otherworldliness as ever.
Praise For The In-Betweens: The Spiritualists, Mediums, and Legends of Camp Etna…
Engaging.... [Ptacin] is on a quest to understand the peculiar nature of belief, the power of faith – pure, unquestioning and even unreasoning – to shape the way we see the world around us.... This is a place and a story rooted in the very human hope that life is more than a handful of years on a lonely planet. And that if we believe hard enough we may find proof of that, shining in the shadows, just beyond our reach.
— Deborah Blum, New York Times Book Review

Who doesn't like a good ghost story? And in Camp Etna, the 143-year-old Spiritualist summer retreat located in the Maine hinterland just west of Bangor, author Mira Ptacin has found a whopping good one.... Ms. Ptacin's depiction of Camp Etna's residents—a 'quirky underworld of fringe characters' and 'their truth'—is both nonjudgmental and, pardon the pun, dead-on.
— Marc M. Arkin, Wall Street Journal

A deft account.... Ptacin nimbly traces the movement from the early days — when Spiritualism offered women (often via mediumship) a public voice and sense of authority — to its heyday as a ghostly carnival, into the public backlash at the hands of skeptics like Harry Houdini, to the New Age of crystal healing and the even newer age of high-tech ghost hunting.
— Genevieve Valentine, NPR.org

Best to go into this book open-minded. Leave a crack open for wonder – or belief – to slip through.
— Elena Nicolau, Refinery29

Enchanting.... Ptacin locates the roots of Spiritualism and traces the rise and decline of this female-dominated world that challenged institutions of the 19th-century patriarchy, offered comforting connection with the dead, and supported both abolition and suffrage. Blending history and her firsthand experience, Ptacin summons the spirits of this rich past and conveys the emotional needs it has satisfied over the years.
— National Book Review

A fascinating look at the history and cultural influence of Camp Etna, the 143-year-old Spiritualist community in Maine.... Ptacin, who is receptive to the spiritual experiences and stories of the community, delivers her narrative evenhandedly and with genuine curiosity. This is an eye-opening and informative peek into a little-known but influential community.
— Publishers Weekly [starred review]

With mediums, rocking healing, tables, divining, ghost hunting, and faith healing in the mix, Ptacin's history of the Spiritualist religion in America will entertain practitioners and naysayers alike.... Ptacin's writing is educational, entertaining, and well-researched. Readers interested in Spiritualism as a contemporary religion as well as the people who are currently involved with programs, services and educational opportunities at Camp Etna will find this of particular interest.
— Joyce McIntosh, Booklist

The Maine-based author immersed herself in the community, and her reportage reflects equal amounts of diligent journalism and wide-eyed fascination.... Both thrilling and unsettling.... In appropriately affable and accessible prose, the author describes what separates spiritualists from more common American religious traditions.... An eye-opening, consistently fascinating, and engrossing profile of the modern spiritualist movement.
— Kirkus Reviews

Writing about her time spent in the company of the mediums of Camp Etna during its 141st summer in operation, Ptacin reflects on spiritualism's place in an increasingly secular culture, the changes and controversies in the camp's management, and the nature of faith itself. But this is as much a meditation on healing as a history of a spiritualist camp. With great empathy and insight, Ptacin shows how spiritualist practices have aided the healing process in the lives of its practitioners, followers, and in Ptacin herself. A colorful, quirky, and ultimately moving look at a misunderstood faith and the iron-willed women who continue to sustain it.
— Library Journal

The In-Betweens is a truly fascinating history of a little-known American community of Spiritualists. I'd never heard of Camp Etna before reading this book, and I can't imagine how I'd missed it. This is a story of a deeply female, fiercely autonomous, open-hearted and searching group of spiritual seekers, whose ranks have refused for well over a century to comply with any conventional ideas about religion, power, and women. Ptacin approaches her subjects with a mind that is both open and enthusiastic, without ever losing her keen reporter's edge. It's a brilliant work, and a fabulous read.

— Elizabeth Gilbert, author of The Signature of All Things and Eat, Pray, Love

Deft, immersive, and smart, The In-Betweens is a marvelous exploration of a lost bit of history as well as a journalist's deep dive into the idiosyncratic world of American Spiritualism. How lucky we are that Ptacin stumbled onto Camp Etna! The book is equal parts funny and strange and surreal, and entirely engaging.

— Susan Orlean, author of The Library Book

By narrating the rise and fall of modern American Spiritualism through an amusingly detailed history of one of the movement's forgotten summer camps, Mira Ptacin brings to life one of the nation's most politically consequential – and most maligned – homegrown religions. Enthusiasts of occult Americana will delight in this book.
— Adam Morris, author of American Messiahs

With this book, Mira Ptacin has performed a small miracle of empathy, beauty , and clear-eyed wonder.... Her kind, caring exploration of this astonishing community of believers will resonate with even the most skeptical of hearts.
— Emily Flake, New Yorker cartoonist and author of Mama Tried
Liveright, 9781631493812, 288pp.
Publication Date: October 29, 2019
About the Author
The author of the acclaimed memoir Poor Your Soul, Mira Ptacin has written for NPR, Guernica, New York, Tin House, and Vice, among other publications. She teaches memoir-writing to women at the Maine Correctional Center and lives on Peaks Island, Maine.