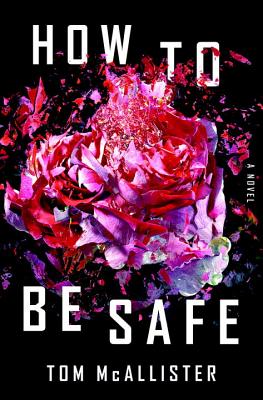 How to Be Safe (Hardcover)
A Novel
Liveright, 9781631494130, 240pp.
Publication Date: April 3, 2018
Other Editions of This Title:
Compact Disc (4/3/2018)
* Individual store prices may vary.
Description
A Washington Post Notable Book of the Year

A Kirkus Reviews Best Book of the Year

"Explosive" –Entertainment Weekly
"Scalding" –The New Yorker
"One of the most highly acclaimed novels of the year thus far." –Bustle
FORMER TEACHER HAD MOTIVE.
Recently suspended for a so-called outburst, high school English teacher Anna Crawford is stewing over the injustice at home when she is shocked to see herself named on television as a suspect in a shooting at the school where she works. Though she is quickly exonerated, and the actual teenage murderer identified, her life is nevertheless held up for relentless scrutiny and judgment as this quiet town descends into media mania. Gun sales skyrocket, victims are transformed into martyrs, and the rules of public mourning are ruthlessly enforced. Anna decides to wholeheartedly reject the culpability she's somehow been assigned, and the rampant sexism that comes with it, both in person and online. A piercing feminist howl written in trenchant prose,
How to Be Safe
is a compulsively readable, darkly funny exposé of the hypocrisy that ensues when illusions of peace are shattered.
About the Author
Tom McAllister is the author of The Young Widower's Handbook and nonfiction editor of Barrelhouse magazine. A graduate of the Iowa Writers' Workshop, he is an associate professor at Temple University in Philadelphia, Pennsylvania.
Praise For How to Be Safe: A Novel…
Tom McAllister's How to Be Safe is as startling as the crack of a bullet. The story's volatile tone tears through the despair of our era's devotion to guns. . . . Like nothing else I've read, How to Be Safe contains within its slim length the rubbed-raw anxieties, the slips of madness, the gallows humor and the inconsolable sorrow of this national pathology that we have nursed to monstrous dimensions.

— Ron Charles

Anna sees that something is rotten in these United States, and she refuses to gloss over it. . . . [How To Be Safe's] brutal honesty befits the times.

— Sarah Begley

Scalding. . . .[How to Be Safe] captures the unreality and absurdity of the American mass-murder playbook. . . . In McAllister's passion and exhaustion, in his struggle to communicate the incommunicable, one hears murmurs of Emma González's speech at the protest on Saturday.

— Katy Waldman

Vicious, hilarious, shocking and sad, How to Be Safe is biting political satire that levels its targets, soft and hard. Tom McAllister's vision of a violent, pious, hysterical America is worthy of Denis Johnson, Margaret Atwood and, yes, Mark Twain.

— Stewart O'Nan, author of The Speed Queen

Explosive, senseless, and utterly chaotic, Tom McAllister's How to Be Safe depicts the aftermath of a school shooting in a way that sadly befits the times. His book centers on Anna, an English teacher stunned to see herself named as a suspect. Her anger, which threads the book, is cathartic.


A gutting, shocking novel that circles a small-town tragedy, How to Be Safe is one of the most highly acclaimed novels of the year thus far. When she becomes the primary suspect in a school shooting, English teacher Anna Crawford is suddenly subjected to cruel, relentless scrutiny, sexism, and judgment — even after she's exonerated of the crime.

— Bustle

Haunting.
— O, The Oprah Magazine

Combining a deep character study, prescient satire, and an unfortunately all-too-timely evisceration of U.S. gun culture, McAllister's well-voiced and remarkably observed page-turner is in almost all ways an anti-thriller—itself a comment on the current, terrifying mundanity of similar events.

It's heartening to see a male writer explore the issue [of toxic masculinity] with such nuance. McAllister deserves tremendous credit for his perceptive work here. . . . The author's indictment of a violent, paranoid society is searing.
— Shawna Seed

This darkly humorous primal scream of a novel takes as its subject the madness of modern American life. . . . this book is compelling from start to finish.

Brilliant, tragically timely . . . . This novel is an indictment of gun culture, hot-take journalism, and social media, and if that sounds like a miserable premise for a novel, fear not: McAllister is a brave and stylish writer, and Anna is a singular creation. . . . Intensely smart. Sharply written.

How to be Safe is a blistering indictment of America's insanity: our devotion to guns, our addiction to masculinity, our obsession with muscling our way toward an exceptionalism built upon our own inflated sense of self. Tom McAllister is an exceptionally talented novelist: funny, biting, and bold. I'd be inclined to call him a satirist if not for the fact that every word in this novel is true.

— Wiley Cash, author of The Last Ballad

This is one of those books you don't know if you can read, and then after you don't know how you lived in a world without it. It's chock full of the things that are killing us: mass shootings, misogyny, the internet, media frenzies, tribalism. And it's so wonderful - so furious and so funny and urgent and needed in this mad ugly space we're sharing with each other. I can't believe this book was written by a man - but I'm so happy Tom McAllister wrote it.
— Amber Sparks, author of The Unfinished World

A kaleidoscopic portrait of a Pennsylvania town in the aftermath of a school shooting, How to Be Safe is a haunting bulletin from the fever dream that is the contemporary United States, a nation on the verge of self-destruction. Former teacher Anna Crawford is very reasonably at her wit's end, and her vision of her hometown is relentlessly dark and relentlessly beautiful, and also, don't shoot me, relentlessly funny. Tom McAllister's searing novel won't make you feel safe, but it will almost certainly make you feel connected to everyone who knows that everything must change.

— Katherine Hill, author of The Violet Hour