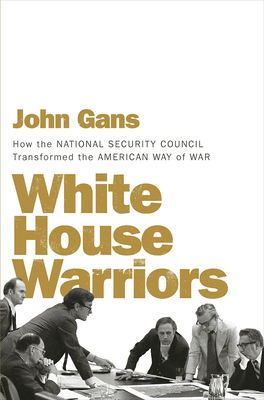 White House Warriors
How the National Security Council Transformed the American Way of War
Hardcover

* Individual store prices may vary.
Other Editions of This Title:
Digital Audiobook (5/13/2019)
Compact Disc (5/14/2019)
MP3 CD (5/14/2019)
Description
"The NSC, part star chamber, part gladiator arena, and part Game of Thrones drama is expertly revealed to us in the pages of Gans' primer on Washington power." — Kurt Campbell, Chairman of the Asia Group, LLC
Since its founding more than seventy years ago, the National Security Council has exerted more influence on the president's foreign policy decisions—and on the nation's conflicts abroad—than any other institution or individual. And yet, until the explosive Trump presidency, few Americans could even name a member.
"A must-read for anyone interested in how Washington really works" (Ivo H. Daalder), White House Warriors finally reveals how the NSC evolved from a handful of administrative clerks to, as one recent commander-in-chief called them, the president's "personal band of warriors."
When Congress originally created the National Security Council in 1947, it was intended to better coordinate foreign policy after World War II. Nearly an afterthought, a small administrative staff was established to help keep its papers moving. President Kennedy was, as John Gans documents, the first to make what became known as the NSC staff his own, selectively hiring bright young aides to do his bidding during the disastrous Bay of Pigs operation, the fraught Cuban Missile Crisis, and the deepening Vietnam War.
Despite Kennedy's death and the tragic outcome of some of his decision, the NSC staff endured. President Richard Nixon handed the staff's reigns solely to Henry Kissinger, who, given his controlling instincts, micromanaged its work on Vietnam. In the 1980s, President Ronald Reagan's NSC was cast into turmoil by overreaching staff members who, led by Oliver North, nearly brought down a presidency in the Iran-Contra scandal. Later, when President George W. Bush's administration was bitterly divided by the Iraq War, his NSC staff stepped forward to write a plan for the Surge in Iraq.
Juxtaposing extensive archival research with new interviews, Gans demonstrates that knowing the NSC staff's history and its war stories is the only way to truly understand American foreign policy. As this essential account builds to the swift removals of advisors General Michael Flynn and Steve Bannon in 2017, we see the staff's influence in President Donald Trump's still chaotic administration and come to understand the role it might play in its aftermath.
A revelatory history written with riveting DC insider detail, White House Warriors traces the path that has led us to an era of American aggression abroad, debilitating fights within the government, and whispers about a deep state conspiring against the public.
Praise For White House Warriors: How the National Security Council Transformed the American Way of War…
This forceful historical account is a much-needed published assessment, given that NSC members are generally not known to the public. . . . This book is essential reading for all interested in politics, government, and contemporary history.
— Booklist [starred review]

This is an especially lucid account of how Washington came to deal with the rest of the world, full of lively anecdotes that make the book not just good history but a good read. John Gans is one of the most knowledgeable experts we have on the National Security Council staff, how it works, and how it doesn't. He's studied foreign policy both as a scholar and a public official, and the lessons he learned have gone into this book.
— James Mann, author of Rise of the Vulcans and The Obamians

Serving at the pleasure of the president is a one-of-a-kind experience. With keen insights, deep research, and just the right amount of empathy, John Gans takes us inside the long and sometimes crisis-filled days of some of the lucky few who have worked in the White House. Readers will come away better informed about the successes and setbacks not just of the public servants so adroitly profiled here but the United States itself.
— Alyssa Mastromonaco, former White House Deputy Chief of Staff, New York Times bestselling author, and co-host of the Hysteria podcast

In the White House briefing room, I was often asked about the power of the National Security Council. John Gans was one of my best sources to help explain the ways this unique and elusive institution has served the American president, including the one I worked for. In White House Warriors, Gans proves as good a guide for readers as he was for me, taking all of us inside the staff's daily work as well as the debates and decisions that continue to transform America's relationship with the world.

— Josh Earnest, former White House Press Secretary

When it comes to US national security policy, some of the most powerful and consequential people in Washington are also the least well known. John Gans shines a bright light on these National Security Council staffers and shows how they have influenced presidential decisions on war for decades. White House Warriors is must-read for anyone interested in how Washington really works.

— Ivo H. Daalder, former US Ambassador to NATO and coauthor of In the Shadow of the Oval Office

In the tradition of David Halberstam, John Gans Jr. has provided an essential account of one of Washington's most consequential, but also most misunderstood, working parts.
— Graeme Wood, author of The Way of the Strangers: Encounters with the Islamic State

This insightful and compelling book helps make sense of how the White House's powerful National Security Council staff works and also why it often doesn't—sometimes helping presidents make sound foreign policy, but all too frequently getting the policy wrong with terrible human consequences. Richly detailed from interviews with White House staffers, the book disproves Donald Trump's feverish claims of a 'deep state' out to undermine the presidency.
— Gary J. Bass, author of The Blood Telegram: Nixon, Kissinger, and a Forgotten Genocide

In White House Warriors, John Gans superbly describes how the National Security Council (NSC) — the most secretive and powerful institution in the country — shapes America's role in the world, particularly during periods of conflict. The NSC, part star chamber, part gladiator arena, and part Game of Thrones drama is expertly revealed to us in the pages of Gans' primer on Washington power.

— Dr. Kurt M. Campbell, Asia Group, LLC and former Obama Administration Assistant Secretary of State for Asia and the Pacific

John Gans shows us how the staff of the National Security Council has gradually accumulated or been given extraordinary influence over American national security policy. Sharply critical of this development, the author understands and even admires the people whom he believes have, less through ambition than the abdication of others, inadvertently undermined democratic governance. Controversial, compellingly written, and above all an essential read for anyone who wants to know not only why the United States goes to war, but how.
— Eliot Cohen, professor at The Johns Hopkins University School of Advanced International Studies and author of Supreme Command
Liveright, 9781631494567, 272pp.
Publication Date: May 14, 2019
About the Author
John Gans, PhD, runs the Global Order Program at the University of Pennsylvania's Perry World House. A former chief speechwriter at the Pentagon and frequent teacher at John Hopkins University, he lives near Philadelphia.